Exploring Entrepreneurship for Fashion Retailers/Designers, Crafters & Hobb...
Location
Sherwood Recreation Center
640 10th Street Northeast
Washington, DC 20002
Description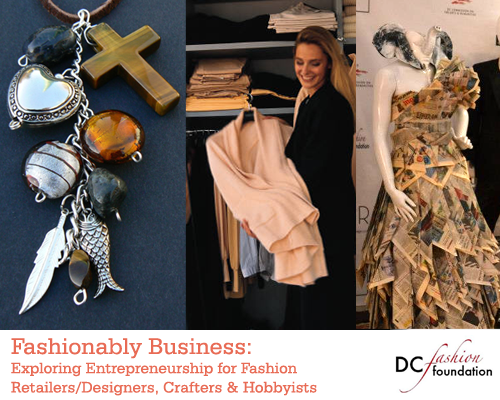 Date: Saturday, August 17, 2013 or by Appointment for technical assistance

Time: 1PM-3PM
Location: Sherwood Recreation Center, 640 10th Street NE 2nd floor or by appointment contact info@dcfashionfoundation.org to schedule.

Description:
You have the desire to make a difference. You are confident enough to reach outside the box; and stepping away from your comfort zone. You have a burning passion for design and fashion. Then you have a mind built for exploring fashion as an entrepreneur. The goal of the course is to form the ability to recognize opportunities within the world's dynamic fashion business environment, which can send you global in seconds, viral in minutes, and transform you into a household name in days. You will be introduced to the importance of developing a brand, branding, and brand imaging. Grasping the talents needed to identify a profitable product and then targeting the right target market for that product. Understanding the necessity to have influence over your logistics, focusing on the distribution channels you can use to procure your product, as well as, make your product available to the consumer. You will explore ways to establish attainable goals through strategic planning, discover creative promotional ideas, and communicate the advantages and disadvantages of self-employment.
About the Instructor:
Mr. Raji Rankins is a Professor within the University of the District of Columbia infrastructure. As a part of the Fashion Merchandising Department, his primary strengthens lie in organizational development, marketing, entrepreneurship, and retail management. Mr. Rankins has been a part of the Washington DC fashion industry since 2000, since that time he has pioneered several clothing retail operations. His last storefront venture led him to the Shops at Georgetown Park in 2009, and 2010. Mr. Rankins is passionate about the business concepts that shape the fashion industry, and even more enthusiastic about educating others eager to learn those concepts.
ADVANCE REGISTRATION REQUIRED!

+ + + + + + + + + + + + + + + + + + + + + + + + + + + + + + + + + + + + + + + + + + + + +
Technical Workshop Policy:
Payment: All participants must pre-register and pre pay for the class, no exceptions. In order to receive the DCFF member price, all members must be current on their dues and must present their membership number at the time of registration. All information will be verified. Non-current members and nonmembers will pay the regular course fee.
Missed Sessions: Students are advised not to miss any scheduled sessions as there is a "no make-up class policy".
Arrival: Students are advised to arrive prior to the start of each session so that they may set up their learning stations.
Refunds: The workshop will be fully refundable up to 10 days before the first session. Cancellations prior to the day before the workshop starts are entitled to a 50% refund. There are absolutely no refunds on or after the first class session. DCFF reserves the right to cancel and/or reschedule the class of minimum numbers are not met. DCFF will either issue full refunds or apply fees paid to the next scheduled class.
About Fashionably Business
Fashionably Business is a dynamic program that aims to provide multiple levels of support for existing and emerging fashion businesses. From January 2013 - August 2013, fashion entrepreneurs will have access to a variety of FREE workshops, business checkups and one-on-one technical assistance to help grow, nurture and strengthen their businesses.
Questions? Email info@dcfashionfoundation.org.


*This program is made possible by a generous Neighborhood Investment Fund grant provided by the Department Housing and Community Development (DHCD)*