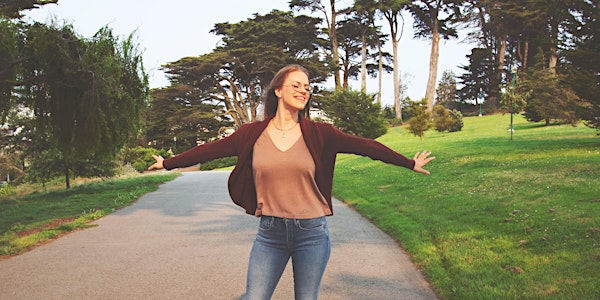 Exploring Embodiment
Explore embodiment - connect with your body, discover somatic transformation, and be guided in somatic practices to regulate nervous system
About this event
Let me guess - you've tried a million times to think your way to a different life but it hasn't worked? You've journaled and done talk therapy but haven't made the progress you're looking for? You feel frustrated your patterns keep playing out the same way?
We're taught we should be able to simply think our way to a change but for most of it is far from that simple. Emerging science tells us how our nervous system dictates our perception and physiological response. Our state dictates our story. Meaning how you feel influences how you see the world. We can't think our way to feeling differently. We have to speak body language to do that.
Embodied transformation is the process of creating real, sustainable change in your life. We work through the body, instead of bypassing it or working on it. Through increasing somatic awareness, using somatic practices, processing emotions and stress, and embodied thoughtwork you can transform your life for real.
We are an embodiment of what allowed us to survive our past and get to this moment. But for many of us our habitual ways of being won't get us to the life we want. To change our lives we have to change our shape, change how we show up.
Somatics is about increasing our range of embodied possibilities so we have more capacity, agency, and options. It's about going from default to intentional. From reactive to purposeful.
In this free workshop you will:
Connect with the felt sense and your body in a new way
Learn what embodiment and somatics are
Discover the components of embodied transformation
Understand the stress response cycle, what happens when it gets blocked, and how to somatically soften these blocks
Be guided through a somatic practice to move through stress
Walk away with practices you can use in your daily life
About Jaclyn Shea
I'm Jaclyn Shea, MPH aka Jaclyn Explains (she/her). I am a researcher, coach, facilitator, and science communicator. I bridge science and the body. I translate the latest research findings into actionable practices to help you connect with your body and transform your life. I am certified in Somatic Stress Release, a holistic way of connecting with your body and moving through current stress and past trauma.
My life has been profoundly shaped by trauma resulting in worsening mental health and chronic pain. Everything changed when I turned to somatics and learned how to be with difficult sensations, regulate my nervous system, process activated energy, and embody possibility.
The field of mental health care is transforming as research has shown the impact of trauma on our bodies and minds. By working through the body, not just our mind, we can transform how we see the world and our default ways of being. The result is nothing short of magic and I look forward to sharing it with you. You can find me on instagram at JaclynExplains and my website www/jaclynexplains.com