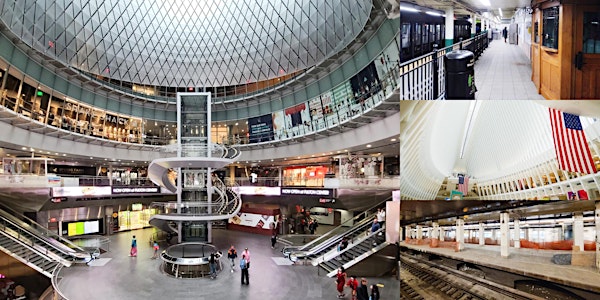 Exploring Downtown Manhattan's Transit History: Oldest to Newest Stations
New York Adventure Club | www.AdventureClub.com
When and where
Location
Staten Island Ferry (Inside Main Entrance) 4 Whitehall Street New York, NY 10004
About this event
Have you ever wondered what original details still remain inside New York's oldest subway stations? Why there are so many abandoned platforms and stations? What the politics were surrounding some of the MTA's costliest stations? Or even why your subway train is delayed? With the help of a former transit planner, it's time to head underground to uncover the past, present, and future of mass transit in our region of 20+ million people.
Join New York Adventure Club as we explore the history and subway operations behind Downtown's Manhattan's most important transit landmarks, from the very first subterranean stations on the island to modern-day multi-billion dollar transit hubs.
Led by licensed guide and urban planner Rayn Riel, our unique subterranean experience will include:
An overview of how and why Manhattan's transit system was built underground at the beginning of the 20th century
The meaning behind the art and architecture surrounding some of the system's oldest subway stations — and the stark differences with stations built in the 21st century
Transit secrets surrounding some of the older stations, such as a former wine cellar under the Brooklyn Bridge connected to NYC Subway tunnels
A peek at several abandoned stations and platforms hidden in plain sight, including the famous 1904 City Hall Station
The catastrophic effects of 9/11 and Hurricane Sandy on New York's downtown transit system, along with how the subterranean network is now more resilient than ever
A walk through the newest downtown subway stations, including the $1.4 billion Fulton Center and $4 billion World Trade Center Oculus
Our experience will conclude at the World Trade Center Transportation Hub, which has food and drinks available for purchase.
See you there!
*Since our tour starts outside, a MetroCard swipe or OMNY tap will be needed to enter the subway system
**Please bring water and comfortable shoes as we'll be doing a lot of walking and stair-climbing
***The MTA requires a facial mask at all times once you enter the system
****This tour does not access the Old City Hall Station platform or any restricted areas
*****This tour concludes at the World Trade Center Transportation Hub
******Exact route and tour length may vary slightly based on the MTA's weekend schedule
About Rayn Riel
Rayn is a big believer in big cities and fascinated by the urban transportation infrastructure that supports such levels of density and dynamism. He is from NYC and has worked for MTA NYC Transit as well as the NYC water utility (DEP) & Sanitation Department. He is an AICP certified urban planner and is a licensed NYC tour guide, as well as a member of the Guides Association of NYC (GANYC) and Young Professionals in Transportation (YPT-NYC).
Testimonials
"Guide was well informed and pointed out things we do not normally notice on the subway playforms" -Sharon
"Guide was very knowledgeable and it was well organized." -Lee
"Rayn conducted a great tour. It was extremely well planned and interesting and he has a vast knowledge of the MTA's subway system in lower Manhattan. During the event, I actually felt excited to see what the next stop on the tour would be. This tour is most highly recommended." -Bruce
"Rayn has really done his homework! This tour was well timed, expertly researched, had great photos and was really interesting. He planned out a route to take us through well travelled places and pointed out things we probably had seen 1000's of times and never knew the meaning of. I loved it and would highly recommend for anyone the least bit curious about the history, infrastructure and operations of the greatest Subway system in the world!" -Ann
"Excellent tour! Thorough, full of surprises, well paced. Rayn Riel has a real passion for NYC history, with particular expertise in the city's vast, storied, and complex subway systems. A must-do tour for anyone interested in urban infrastructure, transportation logistics, and city life." -RZ
"Wonderful tour. Rayn has amazing knowledge of NYC, subways, and infrastructure. He is passionate and kind. If you want to know more about how New York City came to be, this tour is a good start or a further exploration in your journey." -Douglas
"Unique, original experience. Highly recommend to anyone visiting NY, whether you have a specific interest in urban issues or just want a new angle on the backbone of transportation in the city. As a former MTA employee, Rayn is extremely knowledgable about subway operations, history, and politics. The tour covered a large amount of physical ground in the two hours, and the sheer density of facts and information is impressive. Topics range from technical bits (how the signal system is still essentially entirely mechanical and uncomputerized, just like when it was built) to the current politics around infrastructure projects in NY. Rayn did a good job of balancing objective information and history with some of his own opinions and suggestions for improving the subway." -Nhvtraveler
"Great information, well-organized." -Linda
Disclaimer
Event takes place rain or shine.
By attending a New York Adventure Club experience, you accept our terms of service.
Categories: In-Person, Neighborhood Tours