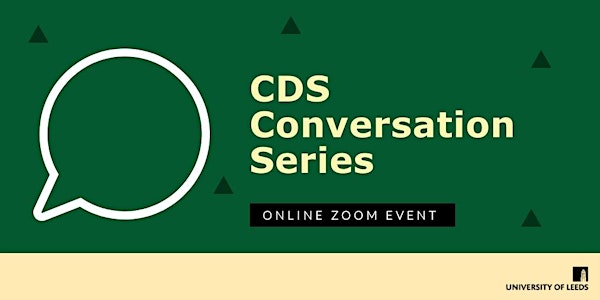 Exploring disabled people's position in contemporary economic models
Join the CDS and Bauman Institute for the latest Conversation Series event
About this event
The Centre for Disability Studies and Bauman Institute are collaborating to host an event that will explore disabled people's position in contemporary economic models and policy responses. The event will interrogate the exclusionary conditions of current economic models and consider disabled people's marginalisation across social policy areas. The event will also explore the principles of inclusive futures and consider disabled people's position within the imagination, development, and realisation of fairer economies.
This event will be hosted online via Zoom. There will be live captions available.
Please email CDS' administrator, Gemma, via unigt@leeds.ac.uk if you want to inform the CDS about specific access requirements. The CDS is committed to providing an accessible experience and will, where possible, utilise available resources to accommodate specific access requirements. We ask for your understanding, given that our event budget is limited. The CDS will endeavour to identify solutions to remove barriers and welcome comments to improve event accessibility.
How to Register: Once you have booked a ticket - you will have access to a Zoom URL which will be emailed to you by midday Monday 16th May. Please register with the email address you would like the URL invite link to go to. This will be the only way to access the event. If you have any questions about accessing the event, please contact Gemma via unigt@leeds.ac.uk
Presenters:
- Associate Professor Paula Campos Pinto
- Professor Lucie Middlemiss
- Emma Åstrand
Structure of event:
- Presentations (20 minutes per presenter)
- Audience Questions for remaining time
Biographies:
Associate Professor Paula Campos Pinto
Paula Campos Pinto holds a PhD in Sociology from York University, Toronto, Canada. She is an Associate Professor at the School for Social and Political Sciences/ University of Lisbon (ISCSP-ULisbon), where she also founded and coordinates the Observatory on Disability and Human Rights (OODH), a platform that brings together academics, disability organisations and decision-makers to support disability research and advance disability rights in Portugal (http://oddh.iscsp.ulisboa.pt/index.php/en/ . ODDH produces annually a report with disability equality indicators, which is a unique publication in Portugal and is widely used by disability activists to support their advocacy efforts. A founding member and a current vice-director of CIEG, the Interdisciplinary Centre on Gender Research, hosted by ISCSP/University of Lisbon, she is also Adjunct Coordinator of the Sociology Unit of the same institution and chair of the coordinating committee of the Interuniversity PhD Programme in Sociology OpenSoc, a consortium of six higher education institutions in Portugal (2020/21- 2022/23). From December 2016 to March 2021, she was also the Chair of the National Independent Mechanism for Monitoring the Implementation of the CRPD in Portugal.
Paula Campos Pinto has been the Principal Investigator and researcher in numerous national and international projects related to disability, gender, social policy analyses and the impact of policy on people's lives, including more recently the projects Ge-HEI, Gender Equality in Higher Education Institutions, and DARE, Disability Activism and Research in Europe, a Marie Slodowska-Curie Innovative Training Network and PASSDA, Production and Archive of Social Science Data. She is a Member of the Board of ALTER, the European Association of Disability Research (2016-18, 2019-2021, and 2022-2024), and Co-Chair of the Research Committee on Poverty and Social Exclusion of the Portuguese Association of Sociology.
Pinto is the author of many national and international publications related to disability, gender human rights, and social policy, including books, edited books, and articles in peer-reviewed journals as well as conference presentations, many of whom as invited keynote speaker.
Professor Lucie Middlemiss
Prof. Lucie Middlemiss is Professor of Environment and Society in the Sustainability Research Institute, at the University of Leeds in the UK. She wrote the first textbook on Sustainable Consumption (Routledge, 2018), and has research interests in sustainable consumption, energy poverty and participation in sustainable development. Her interests in disability and environment were triggered by her son's diagnosis with a rare condition, and the resulting recognition of his experience of disability, as well as the silence about disability in environmental thinking. She has collaborated with fabulous others (as an active co-author) to write about disabled environmentalisms, the impact of disability on energy consumption across EU nations, and the possibility for the concept of mixed ability to broaden conversations about inclusion in environmentalism.
Emma Åstrand
Emma Åstrand, communicator editor/communicator executive/project administrator at STIL (The Founders of Independent Living in Sweden).
Emma manages several different projects on disability rights and independent living. Emma gives talks and educates on norms, intersectionality, disability rights, and disability identity. She is one of the co-founders of Handikapphajk; a Swedish cross-disability rights space, as well as the project administrator of STIL's international projects. Outside of her work at STIL, Emma has a podcast and produces the crip theory podcast Full rulle together with Tobias Holmberg.