| | |
| --- | --- |
| Exploring Collaboration with Digital Rebellion's Kollaborate + SFX Make-Up Artist KC Mussman | |
Event Details
*** PLEASE NOTE THIS MEETING IS ON A TUESDAY AT CROSSROADS' COMMUNITY ROOM ON 18th STREET. ***

Filmmaking is not a single person endeavor. At this month's meeting we'll be exploring the collaborative nature of the industry. Plus, we invite you to come and enjoy some frozen treats with us as we celebrate summer!


MEETING AGENDA:

 
DIGITAL REBELLION:

Kollaborate & Workflow and Maintenance Tools

 

We're excited to have Digital Rebellion Founder/CEO Jon Chappell returning to the group this summer to demo the new File and Upload Workflow features of the Kollaborate cloud platform

and to show how they can be a powerful addition to your workflow. Plus Jon will be doing a roundup of Digital Rebellion's other incredibly powerful maintenance and workflow tools for post production that are used every day by freelancers, major studios and Fortune 500 companies alike.

Digital Rebellion was created by video professionals to offer solutions to real-world problems faced every day in production and post. Come find solutions and learn how to better optimize your workflow.

+

CHARACTER DESIGNER KC MUSSMAN:

VFX and SFX- The Best of Both Worlds
 


Character designer KM Mussman will show how practical on-set make-up effects are being
enhanced with the visual effects of the post production world.  She will discuss how in her creative work she bridges the gap between pre and post production by building digital asset packs with the practical department.

Get ready to see some of her mind blowing creations as she demonstrates how integrating VFX and SFX allows for full control, time management and optimal performance and creates refined and revolutionary characters.
 

KC's Shop:
Nocturnal Designz is an innovative practical effects shop in the heart of Los Angeles CA.
 Producing characters from concept art to camera on numerous projects from film to VR as well as a variety of other media.

They are a progressive team of artists enthusiastic about bringing realism and high quality creations to you, integrating practical with digital effects and using cutting-edge methods to cater to an industry that is evolving into an exciting era of technological advancement in film making.

Here are some links to her work:

website:         http://nocturnal-designz.com/
Facebook:     https://www.facebook.com/nocturnaldesignz/
Instagram:     https://www.instagram.com/nocturnal_designz/?hl=en

**In addition to our usual valuable monthly prize giveaway, including many of Digital Rebellion's programs, we will also be giving away one of KC's collector's item creations of a Demogorgon head made to be worn by James Franco on his show, "Making a Scene with James Franco." (Valued at $3500.)**
 
***As always there will be plenty of time to network, enjoy some coffee and participate in our great giveaway which includes thousands of dollars of amazing prizes from our generous partners!

$5.00 cash kindly requested at the door will include 1 giveaway ticket.
Location:

 Sports Complex - Community Room (2nd Floor)

1634 18th Street

Santa Monica, CA 90404
Click for a map here.
***Street parking is available as well as a Crossroads parking behind the Sports Complex building. 

---
DEADPOOL 2 GRADED IN DAVINCI RESOLVE STUDIO BY EFILM's SKIP KIMBALL

Blackmagic Design announced that Deadpool 2, the highly anticipated sequel in the 20th Century Fox/Marvel franchise, was colored by EFILM Senior Colorist Skip Kimball using DaVinci Resolve software. The irreverent series, starring Ryan Reynolds as a wisecracking reluctant superhero, is unique not only because of its main character, but also for the style of imagery used to depict the dark world surrounding Deadpool and his adventures.



Despite the fact that the Deadpool franchise exists in an adjacent world to the X-Men universe, the two have very different looks. With expansive visual effects and diverse shooting conditions, Kimball worked closely with cinematographer Jonathan Sela, to establish a straightforward approach to color.

"I've worked on several previous films with (Sela). It's an absolute pleasure to work with him. Jonathan's work is so even and straightforward, I'm able to get what he exposed on the screen fairly quickly, which is a testament to his craft," Kimball said.  (Read more here.)
---
TAKE ADVANTAGE OF THE ADOBE MAX DISCOUNT BEFORE IT EXPIRES ON AUGUST 31

---
SUBSCRIBE TO LAPPG'S YOUTUBE CHANNEL TO CATCH UP ON MISSED MEETINGS

For those of you who just saw or are going to see Marvel's Ant Man and the Wasp this summer be sure to take a look at hightlights from popular editor Dan Lebental's presentation where he discussed his incredible workn on the first Ant Man.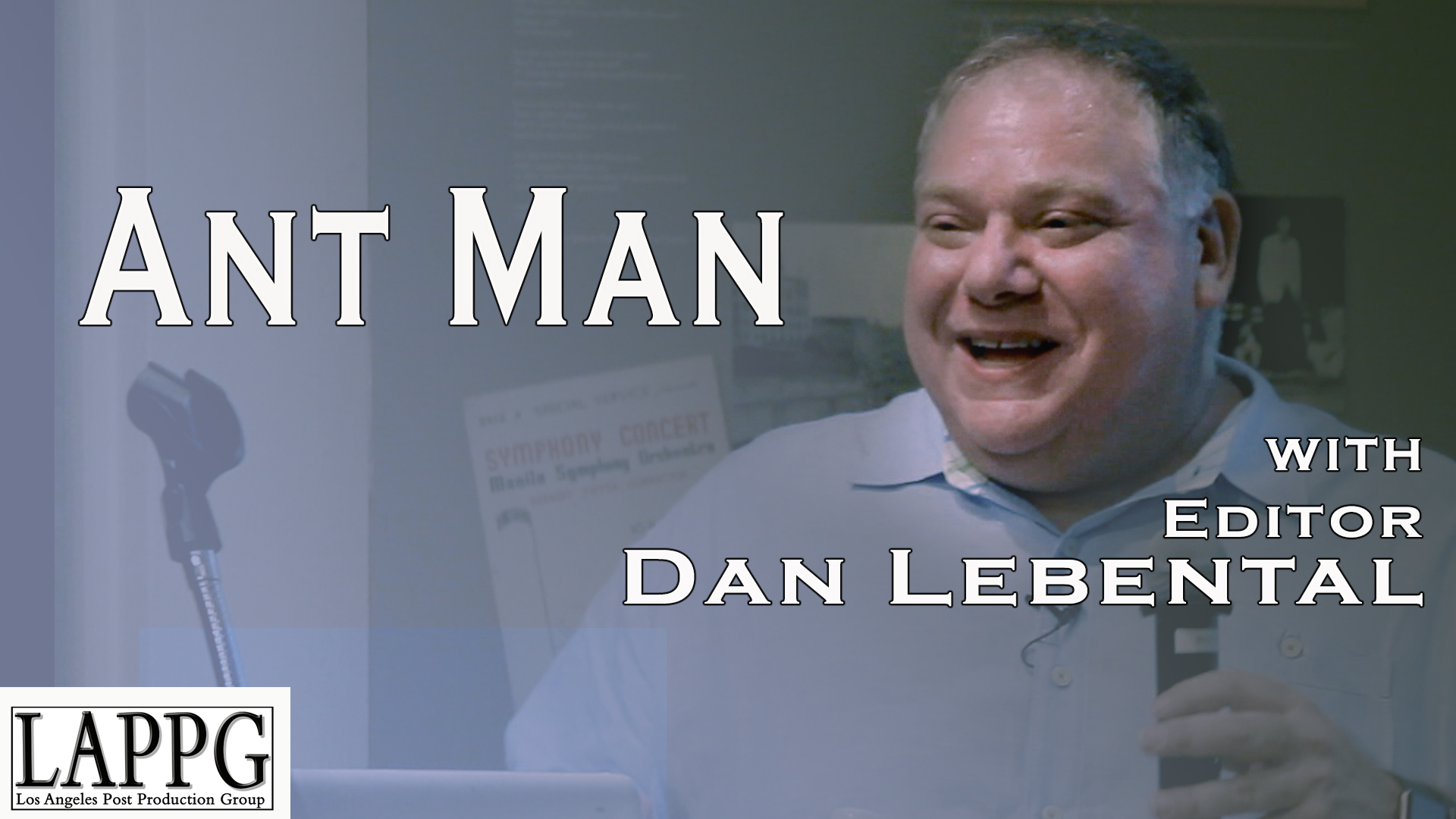 Watch here:

https://youtu.be/GcpVjw6Kv2o
Click the button below to SUBSCRIBE and be notfied as new videos hit our

---
MARK YOUR CALENDAR FOR THESE UPCOMING MEETINGS

August 7, 2018 – LAPPG Meeting (Community Room)
September 12, 2018 – LAPPG Meeting (Roth Hall)
October 10, 2018 – LAPPG Meeting (Roth Hall)
November 15, 2018 – LAPPG Meeting (Roth Hall)
---
NEWFILMMAKERS LOS ANGELES (NFMLA) FILM FESTIVAL - AUGUST 25, 2018

NewFilmmakers Los Angeles (NFMLA) spotlights stories from Developing Nations and a selection of works by emerging local and US filmmakers, in partnership with the film commissioners' association Film Liasons In California Statewide (FLICS).

The night begins with a powerful shorts program highlighting stories set in or about communities from developing nations, made by filmmakers who are either local to or intimately familiar with those communities. The
themes in this program span the collision of worlds and cultures, the evolution of family dynamics, and the powerful bond between humans and the natural world.

Second in the night is Lonely Hearts Club, the feature directorial debut of award-winning director and NFMLA alumni Jason O. Silva. Three lives converge in this exploration of love and loss during a long flight layover in Los Angeles, starring Camille Guaty (Daytime Divas, Scorpion, Las Vegas).

The evening concludes with a shorts program offering a selection of surreal and comedic films that bring their own takes to topics including heartbreak, xenophobia and superstition, challenging us to look at them with fresh eyes.

$5 for single film programs or $15 for all films with open bar!
 
For more event information and tickets, visit: https://www.newfilmmakersla.com/events/event/monthly-film-festival-august-25th-2018/
---
CONNECT WITH US!              

---
We thank the following partners for their generosity and support of our monthly meetings. Please visit them:
Adobe, Advantage Video Systems, Blackmagic Design, BorisFX, Creative Handbook, Digital Rebellion, Glyph Production Technologies, Imagineer Systems, Indie Shooter, Intelligent Assistance, iZotope, LaCie, Mercury Production Report, Other World Computing, Pro Sound Effects, Pro Video Coalition, ProductionHUB, Shutterstock, Sound & Picture, Vimeo, Zeiss. 

We look forward to seeing you on Tuesday, August 7th!
<span style="font-family: arial, helvetica, sans-serif; font
When & Where

Crossroads School's Sports Complex - Community Room
1634 18th Street
2nd Floor
Santa Monica, CA 90404


Organizer
The Los Angeles Post Production Group is a professional organization for people with a passion for film, video and the digital media finishing process.

The LAPPG discusses all aspects of post production, from picture and sound editing to color correction, visual effects, codecs, storage and post workflows.

Expert presenters and leading companies come to our monthly meetings and share new technologies, techniques, tools, products and best practices to aid us in telling great stories.
We also provide our members with great offers and discounts as well as opportunities to network and make industry connections.
Membership is free and you need not live in Los Angeles to take advantage of this great resource.
To become a member please email your name and information about yourself to membership@lappg.com.