Description
Exploring Artificial Intelligence
What is human intelligence and what is artificial intelligence? How will we work and live with artificial intelligence, intelligent machines, and robots in the future? This retreat examines theoretical and technological issues while walking outdoors and on trails where we can think more clearly about them.
This retreat is guided by professional philosophers and examines the theoretical and technological issues of artificial intelligence/machine learning—specifically concerning how humans will respond and adapt to it. We will be meeting in both indoor classrooms as well as on outdoor excursions on trails in Sedona's Red Rock State Park. Why go outside to think about technology? Because sometimes the best way to think clearly about something is to get some distance from it—so check your mobile twitter feed at the door and get ready to think seriously about our relationship with technology.
Join us for an educational weekend filled with engaging discussion at one of Sedona's gems: Red Rock State Park. This is one of the coolest and quietest places to access Oak Creek in Sedona. Registration includes admission to Red Rock State Park, and three guided hikes with interactive, themed dialogues.

Your philosophy guides for the weekend will be Matt and Andrea.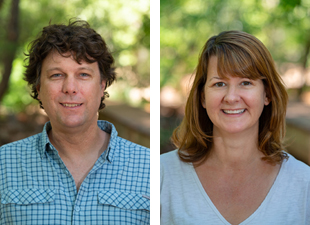 Testimonials
"The genius concept: there is no better place to contemplate the big ideas (think: anything you have been struggling with or thinking about) than in the vast expanses of nature (and especially Sedona!)" – Bo B.
"If you have burning philosophical questions and want a captive audience with whom to discuss or you're struggling with life conundrums, this is for you. You will get an absolutely knowledgeable, personable, educated and friendly individual with whom to have a chat outdoors in the beautiful AZ landscapes." – Kay B
Schedule
Friday evening – informal meet and greet at a local restaurant to be announced (no-host)
Adjourn for the day
Saturday morning – First Session at Red Rock State Park
Break for Lunch
Saturday afternoon – Second Session at Red Rock State Park
Adjourn for the day
Sunday morning – Third Session at Red Rock State Park
End of retreat
Each of the three sessions will last 2-2.5 hours. There will be lots of extra time afterwards for you to explore and plan additional activities like hiking, mountain biking, or Jeep tours.
Registration is limited to 15 seats.
Image credit: Matthew Goodwin. A pictograph near Sedona created by the Sinagua, ancestors of the Hopi, who lived in the area from 1100 C.E. to 1300 C.E.