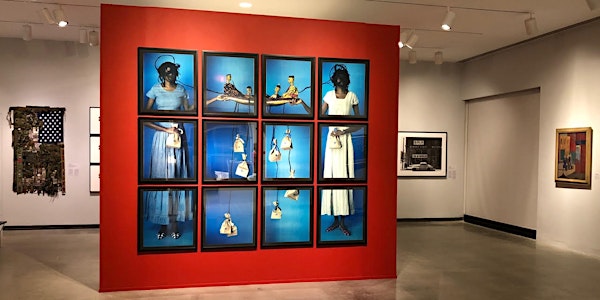 Exploring American Arrival Stories at the Katonah Museum of Art
Curator Heather Ewing gives a virtual tour of ARRIVALS, an exhibition that looks at immigration stories on view at the Katonah Museum of Art
Refund Policy
Contact the organizer to request a refund.
About this event
Over the past year, we have heard from lecturers about specific artists in the Foundation's collection who were also immigrants. We learned about their trials, tribulations, and successes individually. For our final program of 2021, we want to address the history of immigration in a larger context.
We invite you to join us for a virtual tour of ARRIVALS, on view through January 23, 2022 at the Katonah Museum of Art, led by Heather Ewing, curator of the exhibition. The show is organized around a series of "arrival moments" — Columbus, the Middle Passage, the Mayflower, Ellis Island / Angel Island, WW2, 1965, and Today — in order to explore some of the myths and origin stories that have shaped American identity. ARRIVALS asks how artists over several centuries have helped to construct, disrupt, or challenge these stories, how they have navigated their own arrival stories, and how they are imagining new kinds of stories to tell in the future.
Some of the 50+ artists represented include Hannelore Baron, María Magdalena Campos-Pons, Enrique Chagoya, Willie Cole, vanessa german, Mohamad Hafez, Dorothea Lange, Titus Kaphar, Cannupa Hanska Luger, Annu Palakunnathu Matthew, Sara Rahbar, Faith Ringgold, Ben Shahn, Bernarda Bryson Shahn, Roger Shimomura, Jaune Quick-to-See Smith, Saul Steinberg, Stephanie Syjuco, Hank Willis Thomas, Kara Walker, and N.C. Wyeth.
The virtual progam takes place on Wednesday, December 15 at 6 pm EST. The event is free, but donations are greatly appreciated. Registration is required.
Heather Ewing is Associate Dean for Administrative Affairs at the New York Studio School and, since 2000, has been a Research Associate of the Smithsonian Institution Archives. From 2013 to 2018, she was the founding Executive Director of the Center for Italian Modern Art. She is the author of a number of books, including The Lost World of James Smithson: Science, Revolution, and the Birth of the Smithsonian (Bloomsbury, 2007).
Image credit:
Installation view of "ARRIVALS" at Katonah Museum of Art, showing works by Sara Rahbar, María Magdalena Campos-Pons, Dorothea Lange, and O. Louis Guglielmi. Photo by Heather Ewing, 2021.