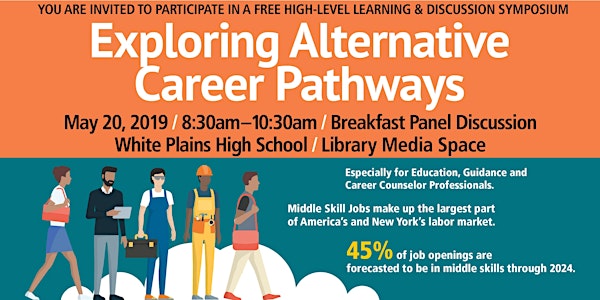 Exploring Alternative Career Pathways Breakfast Panel
When and where
Location
White Plains High School (Library Media Lab) 550 North Street White Plains, NY 10605
Description
The Westchester-Putnam Workforce Development Board will host a high-level learning and panel discussion on Monday, May 20th to address the shortage of middle and soft skills training in our youth and illuminate options for mapping sector specific career paths through stackable credentials as a viable choice. School board presidents, superintendents, guidance counselors, employers, higher education professionals, career counselors and others who work with students are encouraged to attend.
The event is free and will be held at White Plains High School / Library Media Space, 550 North Street, White Plains, NY 10605. Breakfast and registration will take place at 8:30am and the program will run from 9:00am – 10:30am.
The May 20th panel will be moderated by Thom Kleiner, Executive Director, Westchester-Putnam Workforce Development Board, with panelists:
Dr. Belinda Miles, President, Westchester Community College;

Dr. Michael Baston, President, Rockland Community College;

Dr. Joseph Ricca, Superintendent of Schools, White Plains Public Schools;

Dr. LaTasha Hamlett-Carver, Career Center Program Specialist;

Carolyn Chieco, High School Guidance Counselor and Consultant;

Daniel Bonnet, Deputy Executive Director, Center for College & Careers at the Guidance Center of Westchester; and

Orane Barrett, Chief Executive, Kool Nerd Club
Goal and Objective for the Panel Discussion:
Harness the energy and continue the conversation that was started at the Talent Shortage Symposium held in October of 2018. Employers, higher education, workforce and economic development professionals gathered to discuss the Talent Shortage and Skills Gap that is occurring and how it not only hurts the local economy, but does a disservice to the workforce, especially the underserved population. Topics included Career Pathway options, lack of soft skills, READI training, S.T.E.M. opportunities and more. All attendees at the symposium agreed and concluded that middle and high school students require more information about career pathway options that may or may not require a 4-year degree earlier in their middle and high school years so that they can prepare to stack the credentials towards a career not just a "job."
The May 20th Breakfast Panel is Part 2 of the Discussion. This event will bring together the parties who set policy and advise students and parents in middle school and high school, such as superintendents, guidance counselors, career counselors, teachers, PTA presidents and principals so the discussion can be explored and expanded.
Talking points to include:
Clarify the concept of middle skills;
Define the high demand sectors, the ongoing skills gap and talent shortage;
Discuss the changing job market and then identify and discuss the options for preparing youth for a career that has varying credential/certificate requirements;
How to reduce stigma and highlight options for a high paying career and success. What is the current environment? What is working? What is not? What are the obstacles? What is systemic? What is required to enact real change?
How to guide students to explore their natural interests and passions while building marketable skills