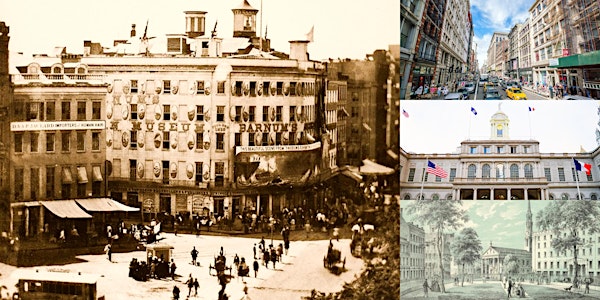 Exploring 1850s Broadway: Site of P.T. Barnum's Museum to NY City Hall
New York Adventure Club | www.AdventureClub.com
When and where
Location
Han's Deli Grocery (Outside) 645 Broadway New York, NY 10012
About this event
If you walked down Broadway in Manhattan's SoHo neighborhood back in the 1850s, those fast-fashion and expensive sneaker stores of today would instead be replaced by an eclectic mix of theatres, luxury hotels, brothels, and everything in between. What were some of the most important sites that once lined this great street, and what remnants of this bygone era still remain? It's time to take a journey down lower Broadway to hear the stories, and uncover some of the characters and institutions, that shaped this unique two-mile stretch over 150 years ago.
Join New York Adventure Club as we hit the streets and walk down Broadway from SoHo to City Hall Park to discover the history and stories behind the buildings, moments, and people (some of the unsavory type) of 1850s New York City.
Led by licensed NYC tour guide Jason Stein, this unique experience down a portion of one of New York's most storied streets will include:
A brief overview of Broadway in the 1850s, which was known as a shopping district by day, theater district by night, and the red light district every other time in between
A discussion of Walt Whitman's connection to the area, and the early days of the Bohemians meeting and drinking at their local hangout
A visit to the exact location where P.T. Barnum made his show business debut
Stories of Madam's running their brothels all along Broadway in the 1850s
A walk to the site of the first building in NYC to cost $1M to develop, first hotel to offer a room designated as "The Honeymoon Suite," and where the first safety elevator was installed
A trip to City Hall Park to hear stories about real election fraud including the 1857 riots
See you there!
*Please bring a water bottle and comfortable pair of shoes as we'll be doing a lot of walking!
**The tour ends at City Hall Park
About Jason
Jason is a licensed NYC tour guide and Municipal Art Society (MAS) Docent. A native New Yorker, he is a history enthusiast who enjoys sharing his knowledge and experiences with others. He has a passion for NYC and a background in stand-up comedy and improv, which provides for an awesome "infotaining" experience.
Testimonials
"I liked the NYC history and architectural detail." -Laura
Disclaimer
Event takes place rain or shine.
By attending a New York Adventure Club experience, you accept our terms of service.
Categories: In-Person, Neighborhood Tours