Description
Dear Valued Investors,

Hear directly from David Ng, a proprietary trader, in our "Explore the Trading Opportunities in Malaysia Futures Market" seminar on Saturday, 28th September and find out how you can get started and capture the opportunities using Bursa Malaysia Derivatives products.

Seminar Outline:
Introduction to Futures market and its relevant concepts
Difference between stocks and futures
Get started with Bursa Malaysia Derivatives products
Study the importance of fundamental and technical analysis
Steps to start your trading journey
Trading simulation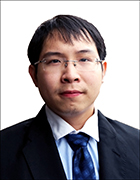 Speaker: David Ng
Proprietary Trader
David Ng is currently a proprietary trader with IcebergX Sdn Bhd. In his present role, David does extensive research in commodities and indices, including Crude Palm Oil Futures (FCPO) and Kuala Lumpur Composite Index Futures (FKLI). In his previous role, David was a Derivatives Specialist with Phillip Futures. In his time with Phillip Futures, David's views on FCPO was regularly featured on Bloomberg, The Business Times and The Edge In total, he has more than 5 years of stock trading and futures trading experience. David holds a Bachelor's degree in Economics and Social Sciences from University of Manchester.