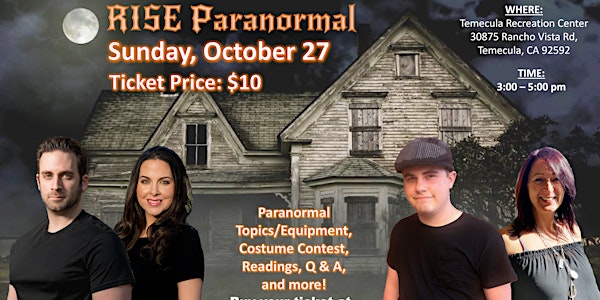 Explore The Mystery Of The Paranormal
RISE Paranormal presents a fun afternoon of learning about the paranormal, Q&A, potentially receive Medium Readings, and a costume contest!
When and where
Location
30875 Rancho Vista Rd 30875 Rancho Vista Road Temecula, CA 92592
Refund Policy
Contact the organizer to request a refund.
Eventbrite's fee is nonrefundable.
About this event
An Afternoon of Legends, Mysteries, and Tales of Adventure!
Local paranormal team RISE Paranormal presents an afternoon of fun and spiritual clarity as they host an event that will enlighten, inspire, and help you to better understand spirit and the paranormal in general. As a paranormal group the team strives to find the truth behind hauntings in people's homes and businesses. But as mediums, RISE uses their gifts to not only help the living in the space, but to also help the spirits that are in the area to raise their vibration so that they can rise to the light. RISE team members will talk about who they are and how they came into their individual and unique gifts as well as how they work as a group of mediums investigating the paranormal.
The RISE team are avid paranormal explorers whose unique brand of humor and deep-rooted passion for adventure propels them to the farthest corners of the world. They are always on a quest to find the truth behind legends, paranormal mysteries and to help the living and spirit alike. Angel Whisperer Michael's connection with the Angels gives them a unique perspective that can potentially solve these mysteries.
Just this past year RISE has investigated Poveglia Island in Venice, Italy, Rome, Croatia, and Greece! Later this year RISE will be investigating Coombe Abbey in Coventry, England! More recent local investigations were with Nick Groff at the Queen Mary in Long Beach and the USS Hornet in San Francisco!
From Elementals and spirits/ghosts, to the truth behind UFOs and AATIP (Advanced Aerospace Threat Identification Program) RISE is always in search of answers.
When the team is not paranormal investigating and solving hauntings and mysteries, they have their "normal" day jobs. Angel Whisperer Michael Terzi is a local Eye Doctor, his wife Greta Terzi is a Website Designer and Marketing/Branding Artisan, Psychic Medium Gena Zittlow is a Real Estate Broker (intuitive Realty Group), and Psychic Medium Trevor is a college student while working at a local movie theater!
They will discuss their methods of investigation and mediumship during cases, equipment used as well as any evidence they have discovered, and their experiences with the paranormal as a group and as individuals. A Question and Answer session will be held throughout the event and Angel Whisperer Michael will be giving free Guardian Angel readings of guidance and empowerment during the event to random people in the audience. Mediums Trevor and Gena will also be scanning the crowd to see if any loved ones may want to come through to offer messages of comfort. A costume contest (for those who wish to dress up for Halloween) will also be held and the prize for best costume will be a free Triple Medium Reading with the RISE Team!
RISE Paranormal was formed with the purpose of helping those experiencing paranormal activity by investigating their claims in a professional and confidential manner. RISE utilizes both paranormal research equipment and their extraordinary gifts and abilities. The professionals at RISE specialize in transmuting negative energy to positive energy, and this is done in order to help lost souls RISE to the light by helping them raise their vibration so they can find the light for themselves and to aid those still living to cope with various paranormal issues. RISE Paranormal brings both a scientific and spiritual approach to solve any paranormal activity. RISE hopes to revolutionize the way spirits and hauntings are perceived by removing the fear and teaching self empowerment and love. Another part of our mission is to educate people that forgiveness, love and inner strength are more powerful than fear and anger. These virtues empower each person to better themselves and those around them. Truly understanding these values reveals to us that we must never give our power away to these entities by reacting with fear and anger.
RISE is unique in that they have the ability to communicate with the soul causing the activity and the soul's Guardian Angel to help him/her rise to the light. We all have Guardian Angels and when someone passes away that does not change, even in death the Guardian Angel is there waiting to help their charge. Because of RISE Paranormal's league of extraordinary Mediums, investigative techniques, and assistance from the Angels, they are able to explain what is happening and the circumstances related to each individual case. RISE also wants to educate people not to be afraid of what they do not understand. No lost, confused, or angry fear based entity has more power than you do.
If you would like to learn more about our team you can visit our website!
www.riseparanormal.com
Snacks and beverages will also be provided.
Disclosure: The readings, insights, and healing provided are for guidance only. You are solely responsible for all the decisions and choices you make based on any feedback or perceived advice given. All readings and questions answered should at no time be regarded as legal, medical, financial, psychological or business fact and are subject to your own interpretation and judgement. For legal reasons, please be advised that readings are for entertainment purposes only. Booking and paying for a ticket confirms that you understand and agree to these terms.