Sales Have Ended
Ticket sales have ended
We are sorry, if this event is unavailable before the class date, it is full. Please check out our other offerings for future events and join the waiting list.
Sales Have Ended
Ticket sales have ended
We are sorry, if this event is unavailable before the class date, it is full. Please check out our other offerings for future events and join the waiting list.
Dive into the creative process and let go of what is holding you back! Explore collage with Cathy Cruz of Be You Art Studio
About this Event
This workshop is designed for people with no previous art experience as well as artists interested in exploring a new medium. With the help of artist Cathy Cruz of Be You Art Studio, participants will create an abstract collage. The size is up to you, but we have recommended materials and sizes below. The goal of this workshop is to provide a non-judgemental and supportive setting where participants can challenge themselves to respond intuitively to their art and unleash their creativity. We will discuss materials, composition and abstraction, and participate in a group share at the end of the workshop. Students will be able to use what they have on hand at home, or purchase a workshop kit for an additional cost. The instructor will go over paper choices and how to use hand-painted, patterned, and vintage papers, how to select images that speak to individual students, and how to use literal images or abstract shapes and patterns.
Materials you need:
(A kit can be purchased for an additional fee which includes these recommended materials)
- You will need something to glue your collage papers onto. We recommend a hard board like masonite, thin plywood or dense cardboard (not corrugated). You will need to prime your board with Gesso or white acrylic paint a few hours (or the day before) the class so it can dry fully. You can also use thick paper like Bristol if you only have that.
- You will need some paper. You can use any kind of paper to cut up and collage with including notebook paper, blank paper to hand paint yourself, origami paper, cardstock, ephemera, and any other kind of paper you can think of! If you need some paper, you can purchase the workshop kit in the add-on section of the tickets.
- Scissors or other cutting implement to cut your collage papers.
- You will need some kind of adhesive to glue your papers to your substrate. We recommend a white glue or liquid glue you can paint on with a brush such as Elmer's glue (mixed 50% with water), Acrylic matte or gel medium
- Container to put glue in-
- You will need a brush for spreading your glue on the back of your collage papers. This can be a cheap bristle brush or a foam brush from the hardware store
- You will also likely need some newsprint or newspaper to protect your table or work surface (old newspapers or magazine papers work great!)
Materials NOT recommended:
Mod Podge, shiny papers or photographs, 3-dimensional objects like buttons or beads.
Schedule:
- The first part of the class will cover introductions to the instructor, each other and materials
- The second part of the class we will go over design principles and how to arrange different textures, colors and values on your matrix to create a visually pleasing image
- Then we will start cutting and gluing our papers to the matrix.
- Lastly we will have a little show and tell to talk about the work and how the process went for all of us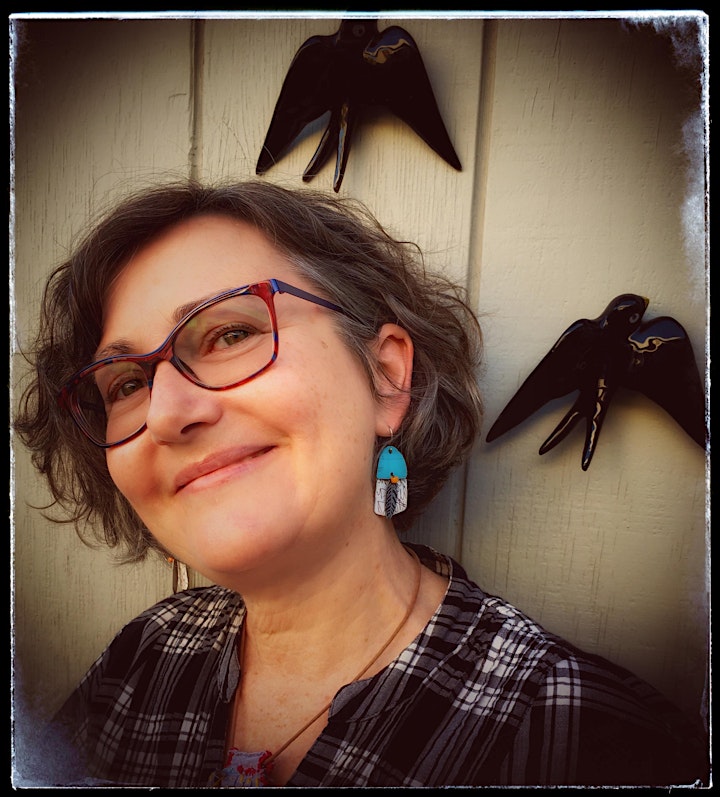 Meet the Instructor
Informed by more than 25 years of experience in the design world, French artist Cathy B Cruz takes inspiration from a unique perspective, which spans architecture, furnishings, textiles, and sustainability.
Cathy has always been a creative maker of things. Growing up in France, she learned drawing, crafting, sewing and embroidery from family members. In her teenage & adult years, she experimented with paint, pastels, collage, monotype printing, and pottery.
Cathy approaches art intuitively by giving herself entirely to the process of discovery.
When she starts a piece, she works fast and spontaneously without much advanced planning, and often painting to music. Her creative process involves building layers and making expressive marks with various tools and materials. There is a lot of pushing forward and pulling back, questioning, adding, subtracting, and adapting as shapes and textures appear. Her process is completely intuitive and sometimes meditative.