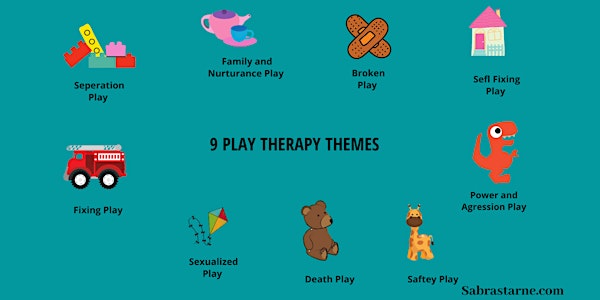 Explore The 9 Play Themes In Child-Centered Play Therapy Sessions
Hbrid Training: Attend in person or virtually the play themes that emerge in play therapy room with clients using Child Center Play Therapy
About this event
 Please read From the Association for Play Therapy:
Who this webinar is for: Mental Heatlh Clinicans Going Through To Become A Registerd Play Therapist Or Mental Health Clinican/Graduate Student.
Effective July 1, 2022, the required 150 hours of play therapy instruction may be earned via contact training (in-person only), non-contact training, and live webinars. Of the 150 hours of play therapy instruction, a minimum of 75 hours must be met by in-person training (more is encouraged, but not required). Please read teh information on the Association For Play Therapy.
This workshop meets APT's definition of a hybrid training.
Hybrid Webianr /In Person Training:
3 Non-Contact or 3 Contact APT CE hours (Live Webinar). T of Live Webinar and In Person Training (3 Play Therapy Contact Hours)
Please Sign up for either A Webiar Ticket or In Person Ticket.
A quiz and evaluation is required for Non Contact hours. An Evaluation is reguierd for in person webinars.
There are no CEUs for this webimar/training;
APT Topic Area- Participants choice or History and Theory
This engaging webinar will identify the play themes that emerge in the play therapy room with children and teens. The session will discuss the different themes and a child's emotional and development response.  The session will discuss ways to use play themes both in play assessment and therapy. 
 Learning Objectives: 
1. Review Child-Centered as one of the historically significant theory to the field of play therapy.
2. List the 9 Play Therapy Themes in Child Centered Play Therapy Sessions
3. Describe the ways children can display the 9 themes and relationships in child -centered play therapy sessions.
4. Learn the patterns of themes and how they connect with the powers of play therapy.
Next Place Therapy Services is an approved Provider at the Association for Play Therapy #17-526
*By registering for this event, you acknowledge that this webinar/in person training may be cancelled, within prior to the scheduled webinar/in person training, if an adequate number of participants do not register to attend. *