Sales Have Ended
Registrations are closed
Thank you! We will contact you via email and Whatsapp to share the assembly point!
Sales Have Ended
Registrations are closed
Thank you! We will contact you via email and Whatsapp to share the assembly point!
A walk through the souq and an architecture commentary!
About this event
We love Souq Waqif! Its hidden gems and nooks. We will be walking through selected spots and finishing at the Jomrok Boutique hotel where one of our members will be sharing architectural insights about this unique hotel.
Bring along your water and healthy nibbles if you like. Be ready to meet new people, make new friends and experiences a cultural journey.
The Tour will start at the New Al Najada Hotel Lobby. We will then make our way through the under pass to the Mirqab Hotel and continue to Najd hotel and through the main souq to Al Jasra, Al Bidda and finally to Al Jomrok. You will be able to access select spaces in each hotel and hear some of the stories about them. Please see map below.
Download the Official Hotels Fact Sheet
YOUR TOUR
Mr.Rabie Hamoud - your tour guide: Assistant Director of Sales at Souq Waqif Boutique Hotels.
Bachir El-Saghir: will be talking about the landscape at the New Al Najada Hotel and share his insights on some unique aspects.
Bachir (landscape architect) is a Volunteer Advisory Board member with the Architects Hub-Qatar, member with the Lebanese Landscape Association and former Senior Landscape Architect with Dar Al-Handasah (Shair & Partners). He has worked on several high profile projects in both Lebanon and Qatar in landscape contracting, project management and engineering consultancy.
Architect Reham Qasim: will be talking about the Jomrok Boutique Hotel. "Back in the 50's this building used to host the custom department offices with a close proximity to the port . In 2004 and after the instruction of H.H The father Emir Shk. Hamad Bin Khalifa and his wife H.H Shaikha. Muza bint Nasse Al Misnad to renovate the old historical Souq Waqif area to it is original features , the work started and completed in 2008 including 9 boutique hotels. Sophisticated contemporary interior design combined with historical and traditional touches gives this hotel a social authentic feel , inspired by the Qatari local architecture. The visitors of Al Jomrok hotel will be surrounded by traditional Arabic hospitality in a modern five star hotel . The furniture of the 11 rooms and suits is custom - made from wood and lavish oriental fabrics and the walls are decorated with artwork designed by local artists . In Al Jomrok hotel the guests will find Heritage that meets luxury in the heart of DOHA the capital of the state of Qatar .
Reham is a Passionate Jordanian Architect Living in Qatar since 1985. Graduated from Jordan University of Science and Technology. Currently working in ASHGHAL as Senior Project Engineer . With more than 20 years of experience in managing public projects in Qatar during design and construction stages . Been honored to be part of the Design Managment team for the Museum of Islamic Art , Ministry of Finance building , the new Doha zoo and recently the 2021 DOHA horticulture expo plus many other. One of the 9 jewels of souq Waqif , al Jomrok hotel , known for the unique mix of traditional and modern design with proper preservation of the original. Successful adaptive reuse of the old custom department.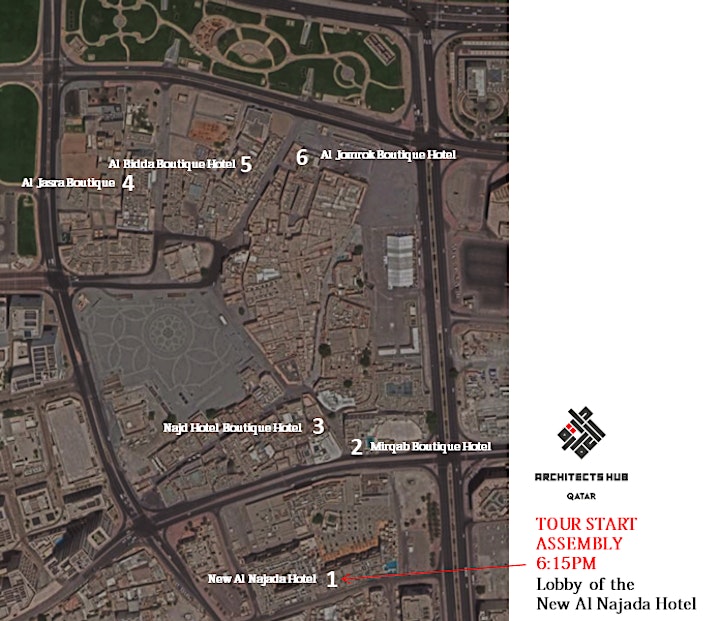 Organizer of Explore Souq Waqif with us! A walking night tour.