Create a lovely lunch with the National Chef of Scotland as your guide.
About this event
On this live video call, Chef Maclean will show you how to cook two quick and easy seafood dishes - one featuring Scottish smoked salmon and the other langoustines. You'll have the option to cook along with the chef as he creates Fillet of Native Hebridean Salmon with Warm Potato Salad, Capers, Poached Egg & Asparagus. And for dessert — you didn't think we'd forget dessert, did you? — you'll make a traditional Scottish treat sure to please.
You'll have the opportunity to cook along and create:
Fillet of Native Hebridean Salmon with Warm Potato Salad, Capers, Poached Egg & Asparagus
Chef Maclean will also demonstrate:
Smoked Salmon Salad with French Beans, Snap Peas, Pea Puree & Almonds with Mixed Lettuce Leaves
Grilled (Broiled) Langoustine with Tain Cheddar, Fennel, Pea, Herb Salad & Aioli
Cranachan with Seasonal Fruit, Stoats Oats, Equi's Ice Cream & Heather Hills Honey with Chocolate Shavings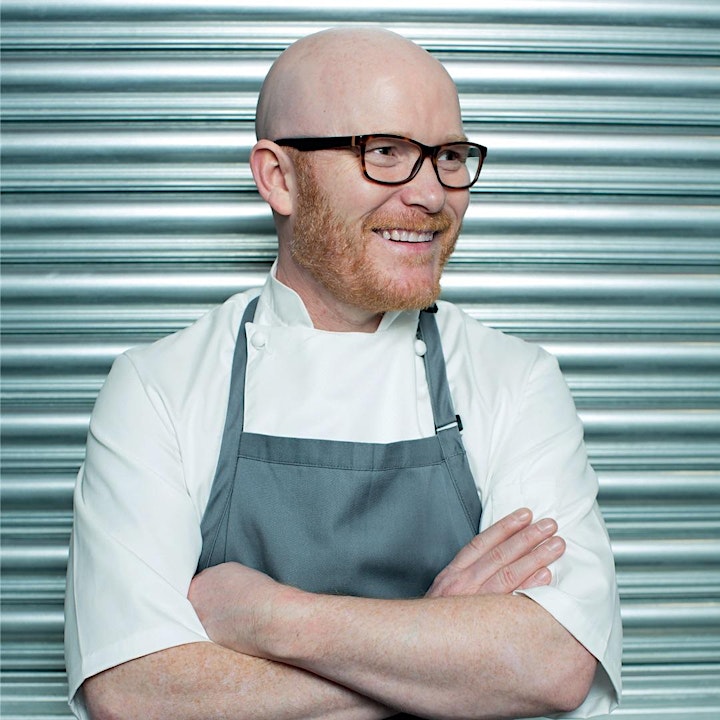 About Chef Gary Maclean:
Born in Glasgow, 48-year-old multi-award-winning chef Gary Maclean spent his early career working in hotels, as Head Chef of a small fine dining restaurant, and running the kitchens at Glasgow's Gallery of Modern Art and the Burrell Collection. His current role as Executive Chef at City of Glasgow College is what really drives his passion for mentoring other young chefs and creative cooking.
His work in education has been recognized with these honors: Craft Guild of Chefs Chef lecturer of the Year 2015, CiS Excellence awards Hospitality Educator of the Year 2017, as well as winning four international and fourteen national college culinary competitions as coach of the College culinary team. He has recently been named as a Fellow of the Master Chefs of Great Britain.
He was crowned BBC MasterChef: The Professionals Champion 2016, after taking on 47 other professional chefs in the pursuit of gastronomic glory.
Since winning Gary has embarked on a whole host of activities, from public appearances all over the UK to opening pop up restaurants and events in Miami, New York, Hollywood, Singapore, India, New England, Indonesia, Malaysia, Colombia, Cuba, Canada the Highlands and Islands. Gary has also spent a lot of time working in the media being a regular on TV, radio and printed press and embarked on presenting with a job on BBC Landward and has his own BBC show, Corner Shop Cook Off. Gary has also published his first book Kitchen Essentials The Joy of Home Cooking.
Gary is an ambassador for Scottish food and food education and fully believes that every child should be entitled to quality food education.
Gary also has the honor of being Scotland's National Chef awarded to him by the Scottish Government a world first for a country to select a National Chef. For additional information, visit www.garymacchef.com.
Organizer of Explore Scottish Seafood with Chef Gary Maclean
Perfect your pairings, practice new techniques, expand your repertoire, and improve your confidence in the kitchen! Taught by our expert cooking school instructors, Central Market cooking classes offer fun for all ages. So, join us for your next date night, quality time with the kids, or relaxing time away on your own!