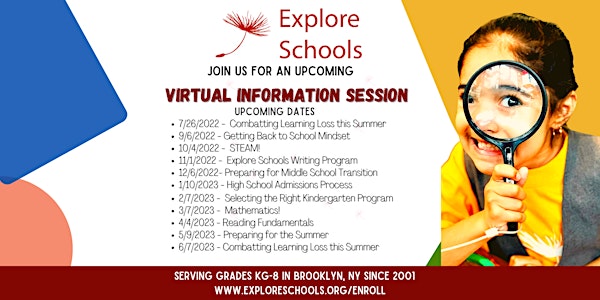 Explore Schools of Brooklyn Information Session Series
Join us to learn information and more about Explore Schools of Brooklyn at an upcoming information session covering an array of topics.
About this event
Our mission is to provide our students with the academic skills and critical thinking abilities they need to succeed in a college preparatory high school. We serve over 1900 students in grades Kindergarten through 8 across Brooklyn, NY.
7/28/2022 - July Information Session: Combatting Learning Loss this Summer
9/6/2022 - September Information Session: Getting Back to School Mindset
10/4/2022 - October Information Session: STEAM!
11/1/2022 - November Information Session: Explore Schools Writing Program
12/6/2022- December Information Session: Preparing for Middle School Transition
1/10/2023 - January Information Session: Preparing for High School Admissions
2/7/2023 - February Information Session: Selecting the Right Kindergarten Program
3/7/2023 - March Information Session: Mathematics!
4/4/2023 - May Information Session: Reading Fundamentals
5/9/2023 - June Information Session: Preparing for the Summer
6/7/2023 - July Information Session: Combatting Learning Loss this Summer