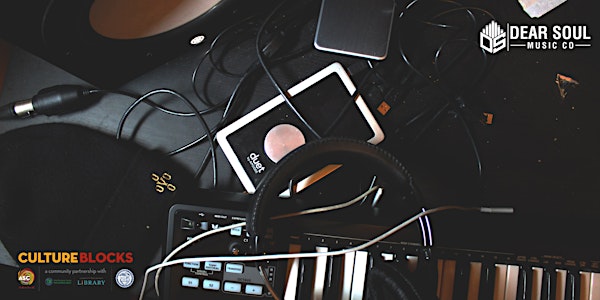 EXPLORE: Music Production Workshop
The EXPLORE: Music Production Workshop is a free online workshop for creatives & music producers of all levels sponsored by Culture Blocks
About this event
42 days 2 hours

Mobile eTicket
The EXPLORE: Music Production workshop is an online course for music producers and artists looking to record their own works! During this 7-week course, participants (ages 18+) will learn the art and technology of music production to create professional music compositions with equipment they have at home - a smartphone, tablet, computer, or home studio.
The EXPLORE: Music Training Workshop Series is sponsored by ASC Culture Blocks, a community partnership funded by Mecklenburg County. Register now and receive a Zoom link 48-hours prior to the first workshop. Instruction by Stellar-award winning, Curt Keyz and Gingercat Studio owner, Chris Suter.
The course overview is as follows:
Week 1: Listening Like A Producer
Workshop Task: Select and dissect an assigned cover song
Week 2: The Digital Audio Workstation (DAW)
Workshop Task: Completing Your Session Checklist
Week 3: Exploring Midi & Software Instruments
Workshop Task: Livebeat Making with Curt Keyz
Week 4: Tracking Live Instrumentation
Workshop Task: Selecting the Right Studio Microphone & Interface
Week 5: Mixing Your Musical Productions
Workshop Task: Completing Your Drafted Song's First Mix
Week 6: Mastering Your Musical Productions
Workshop Task: Completing Your Song's First Master
Week 7: Listening Session
Workshop Task: Present Your Created Work
During the course, participants can use any of the following resources to create sound recordings:
-A Smartphone with an audio recording app such as Spire (free for iOS) or Easy Voice Recorder (free for Android)
-A Tablet with an audio recording app
-A Computer with a digital audio workstation and built-in microphone or an external microphone plugged directly into your computer (via built-in ports or an external audio interface)
-or A Home Recording studio
Recommended Digital Audio Workstations (DAW):
Pro Tools
Logic Pro
Ableton Live
Reason
SONAR
Digital Performer
Reaper
Cubase
There are also Free DAW Options:
Pro Tools First
Garage Band
Audacity
Studio One Free
Podium Free
OhmStudio
Ardour
Each week, participants get first-hand instruction on developing their creativity as a music producer along with learning the technical aspects of music production, including how sound is translated into audio signals, recording techniques, and effects such as reverb, delay, and compression.
Participants can drop in for the weeks that interest them most or attend each week consecutively for community support and Break Out Room exercises.
Questions? Email, info@dearsoulmusic.co