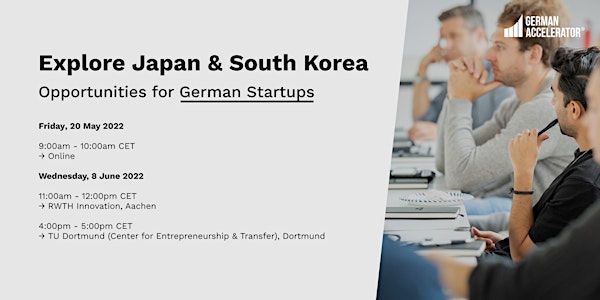 Explore Japan and South Korea: Opportunities for German Startups
Looking to scale your business to Japan or South Korea? Join us to discover the opportunities and hear from the experts!
When and where
Location
Online and Physical Locations Please refer to the details below. - - Germany
About this event
Have you looked east for the enormous potential of Japan and South Korea for your next new market? The German Accelerator team from Asia will be flying into Germany to share the rising trends and opportunities for German startups in Japan and South Korea's thriving startup scene.
Want to venture east? Join them at one of the events below to uncover the right market for your startup:
Friday, 20 May 2022
09:00am - 10:00pm CET
Virtual session
Wednesday, 8 June 2022
11:00am - 12:00pm CET
RWTH Innovation, Collective Incubator
Jülicher Strasse 191-209, 52070 Aachen
Wednesday, 8 June 2022
4:00pm - 5:00pm CET
TU Dortmund (Center for Entrepreneurship & Transfer)
Emil-Figge-Straße 80, 44227 Dortmund