Explore Green Canyon - Pangandaran 25-27 November 2016

Friday, November 25, 2016 at 6:00 PM

-

Sunday, November 27, 2016 at 11:00 PM (PST)
Who's Going

Loading your connections...
3 of your friends are going.
Share it to get more people on board!
Share

Sara Haughty
San Francisco, California

Luke Picard
London, United Kingdom

Rick Vespucio
Florence, Italy
Event Details
Explore Green Canyon yang Eksotik selama 3 hari 2 malam menjelajahi 5 destinasi utama di wilayah Pangandaran. Secara keseluruhan dari kegiatan ini adalah menjelajahi area pantai Pangandaran,Taman Wisata Alam & Cagar Alam Pananjung, pantai Batu Hiu & Penangkaran Penyu, pantai Batu Karas dan Green Canyon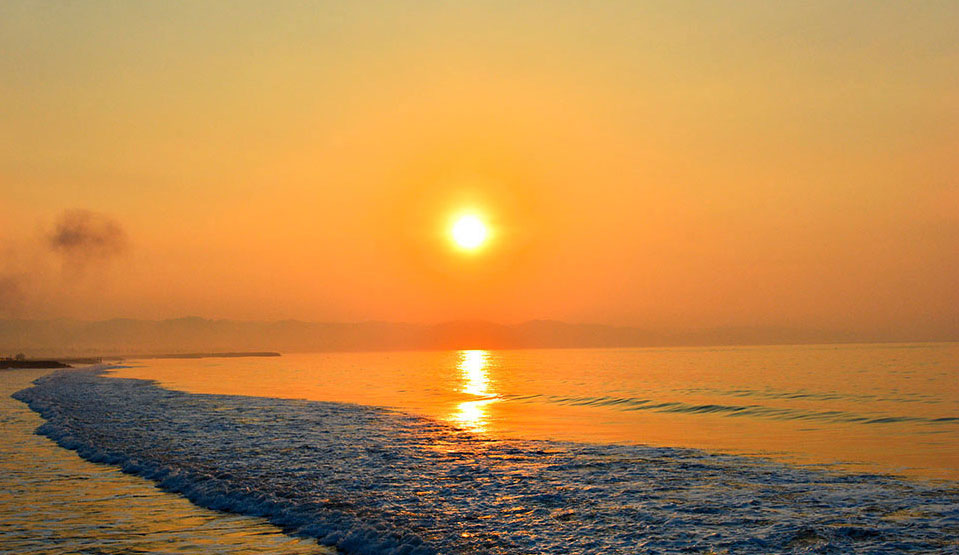 Anda akan mendapatkan pengalaman yang tidak pernah terlupakan melalui beragam aktivitas alam dan bahari, mengarungi samudra di Pantai Timur, menikmati keindahan bawah laut Taman Laut Pangandaran dan Trekking dan Safari satwa di Taman Wisata Alam dan Cagar Alam Pangandaran. Mencari pengalaman baru dengan surfing, anda bisa dapatkan di ombak pantai Batu Karas, dan yang tidak boleh terlewatkan adalah pengarungan sungai Cijulang dengan Body Rafting hingga di Green Canyon.
Destinasi: Pantai Timur Pangandaran, Taman Wisata Alam & Cagar Alam Pangandaran, pantai Batu Karas, pantai Batu Hiu & Green Canyon | Aktivitas Wisata: sunrise, perahu wisata Pangandaran & Green Canyon, snorkeling, trekking, safari satwa, surfing, field trip Penyu dan body rafting | Durasi: 3 hari 2 malam (berangkat jumat malam, pulang minggu siang) | Pickup Point: Jakarta & Bandung | Transportasi: 3 hari, Driver, BBM, Tol & Parkir | Level: Sedang/Menengah | Kategori: Adventure, Wisata Bahari, Satwa Liar, Water Sport | Konsumsi: 4 kali | Penginapan: Homestay Batu Karas 1 malam
Biaya Open Trip
IDR 750.000/pax 
(dibayarkan 2 kali, Uang muka sebesar IDR 350.000 dan pelunasan sebesar IDR 400.000)
---
Kok Lebih Mahal dari yang lain?
Rata-rata paket Open Trip di Green Canyon dengan Body Rafting di tawarkan sebesar IDR 650.000 dengan aktivitas bukan semi Body Rafting.
Dengan tambahan sebesar IDR 100.000,- anda bisa mendapatkan aktivitas tambahan yang tidak kalah menariknya:
Mengarungi Samudra Pangandaran dengan Perahu Wisata (sewa perahu sudah termasuk)
Aktivitas Snorkeling di Pantai Timur Pangandaran (life jacket)
Trekking dan Safari wisata di Taman Wisata Alam dan Cagar Alam Pananjung (tiket wisata sudah termasuk)
---
Masing-masing Meeting Point di Jakarta dan Bandung
+ Jakarta: Mc Donald - Plasa Sentral, Jl, Jendral Sudirman No. 47-48, Setia Budi, JakSel 
+ Bandung: Giant Hyperpoint, Pasteur, Bandung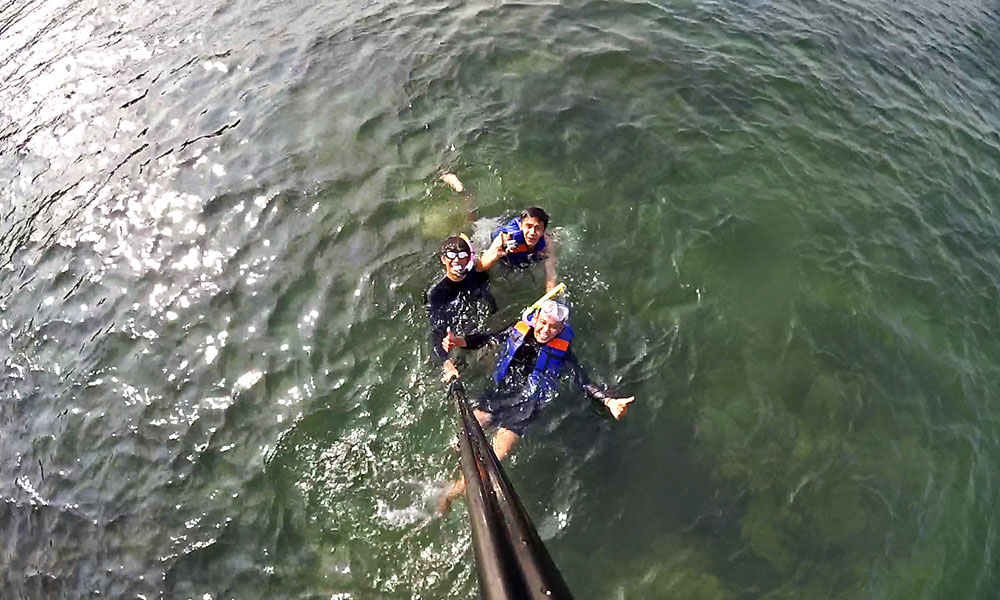 Aktivitas Explore Green Canyon - Pangandaran yang tak terlupakan adalah:
Setibanya pagi hari di Pantai Pangandaran, kita bisa menyaksikan Sunrise di pantai timur Pangandaran dengan pasir putihnya
Setelah sarapan pagi, menerjang ombak dengan Perahu Wisata ke 4 spot unik Pantai Timur Pangandaran, berhenti di Taman Laut dan melihat pesona underwater Pangandaran dengan aktivitas snorkeling.
Eksplorasi di Taman Wisata Alam & Cagar Alam Pangandaran, menyaksikan kehidupan hewan liar dan menjelajahi goa-goa bentukan alam.
Bersantai dan foto aksi dengan background ombak dan karang di pantai Batu Hiu, serta kunjungan ke Penangkaran Penyu Batu Hiu.
Bermain dengan deburan ombak di pantai Batu Karas, mau belajar Surfing? kami sediakan Surfing Board gratis
Mengakrapkan diri bersama Teman Perjalanan (your travelling buddy) dan dijamu makan malam Barbeque dengan masakan khas setempat Batu Karas
Menikmati panorama Green Canyon dengan aktivitas seru Full Body Rafting dari hulu Cijulang mengarungi riam dan jeram dengan jarak tempuh 5 km, dan menjelajahi di sekitar Green Canyon sepuasnya.
Menyusuri sungai Cijulang dengan perahu wisata dan menikmati pesona alami pinggiran sungai hingga berakhir di dermaga.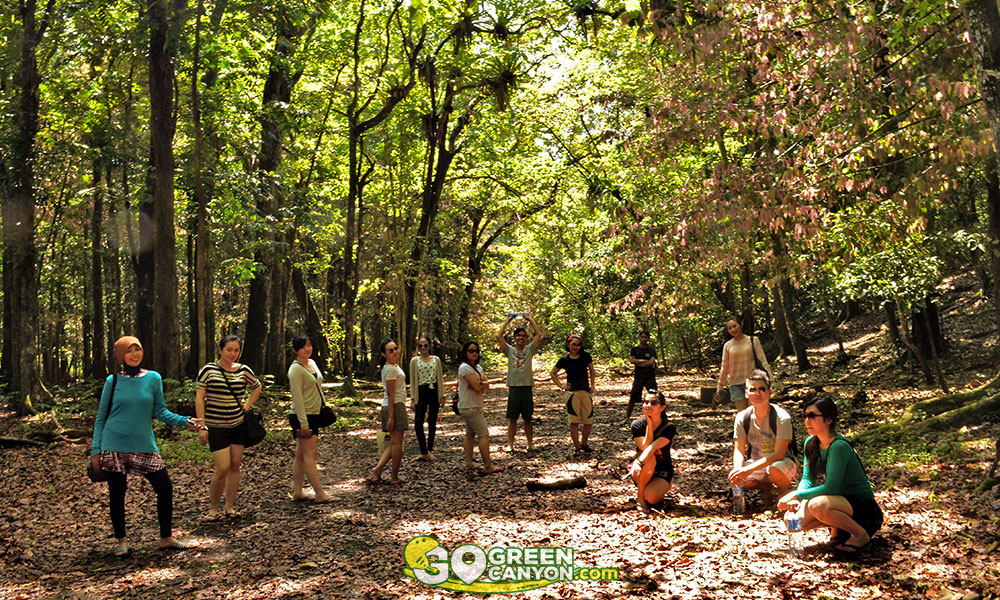 Fasilitas yang tercakup dalam paket Explore Green Canyon
Transportasi Pariwisata AC, LCD TV, Reclining Seat
Driver, Tips, Tol dan Parkir
Menginap 1 malam di pantai Batu Karas (Home Stay)
Tiket masuk Pangandaran, Taman Wisata Alam & Cagar Alam, Batu Hiu, Penangkaran Penyu, Batu Karas dan Green Canyon.
Tour Leader dan Tour Guide lokal di Cagar Alam Pangandaran.
Sewa Perahu Wisata untuk keliling Pantai Timur Pangandaran dan penjemputan di Green Canyon
Dry Bag, untuk menampung peralatan tidak tahan air
Pengaman pelampung (life jacket, helm, deker dan sandal) saat Body Rafting di Green Canyon
Makan 4 kali selama aktivitas wisata berlangsung.
Obat-obatan umum (P3K) 
Dokumentasi photo dan video, termasuk fasilitas foto underwater di Green Canyon dan underwater Pangandaran
Asuransi wisata dibayar dari tiket masuk wisata
Paket Tidak Termasuk
Pengeluaran pribadi untuk sewa sepeda/ATV. sewa papan surfing
Asuransi Perjalanan
Sewa Life Jacket, Gogle dan Snorkel saat snorkeling di Pangandaran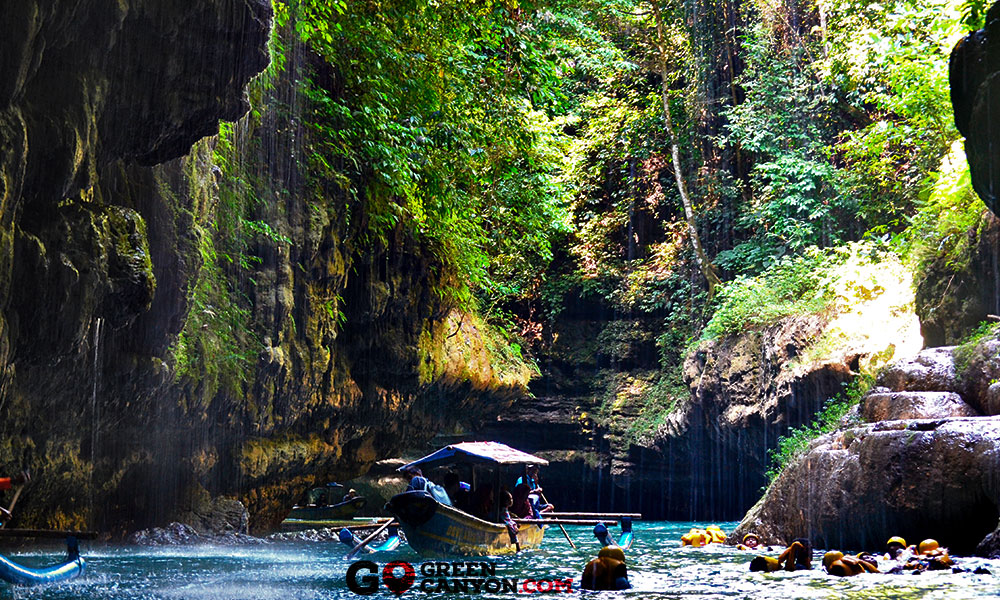 4 kali Konsumsi selama Trip
makan siang hari ke dua di Pangandaran
makan malam dan sarapan pagi di Batu Karas
makan siang di Green Canyon
1 malam Menginap di Homestay Batu Karas
Homestay di Batu Karas cukup bersih dan nyaman, satu rumah dibagi beberapa kamar dan ruangan. Fasilitas kamar mandi dalam, kipas angin dan layanan kekeluargaan.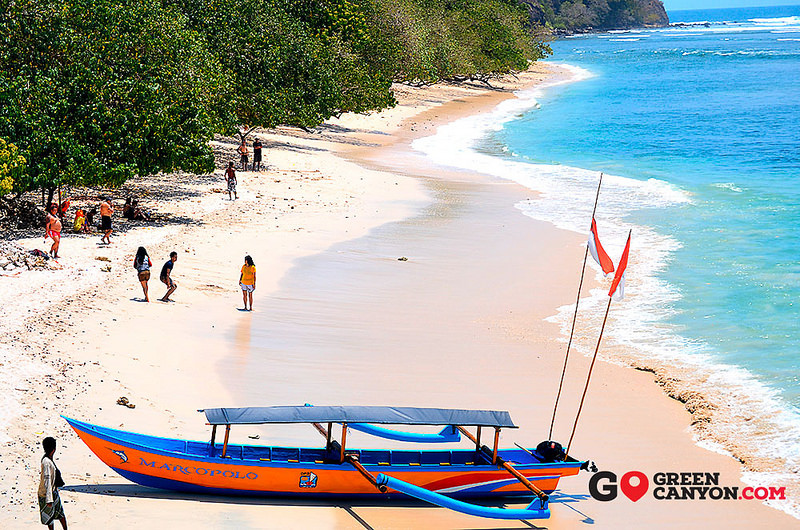 Rencana Perjalanan Open Trip Green Canyon - Pangandaran
Hari 1. Perjalanan Darat dari Jakarta - Bandung - Pangandaran
Berangkat Jum'at malam dari Jakarta dan Bandung, perjalanan berkisar 6-8 jam melalui jalur Bandung - Tasikmalaya - Kota Banjar - Pangandaran. Sangat beruntung jika bisa sampai sebelum Matahari terbit, menikmati sunrise di tepi pantai Pangandaran bisa melepaskan segala penat selama perjalanan. 
Hari 2. Explore Pangandaran, Cagar Alam, Batu Hiu dan Batu Karas
Eksplorasi Pantai Timur Pangandaran Setelah Sarapan, kita menuju Dermaga perahu wisata di Pantai Timur Pangandaran, dengan kapasitas maksimal 10 orang untuk tiap-tiap perahu kita menuju samudra dan menyaksikan beberapa spot unik di sekitar pantai. Batu Layar dan Batu Buaya salah satunya adalah salah satu fenomena alam terpahat secara alami sehingga menyerupai bentuk-bentuk yang kita kenali.
Underwater Taman Laut Pantai Timur setelah berkeliling sekitar pantai, perahu berhenti di lokasi Taman Laut, tidak lengkap jika sudah sampai di laut tapi tidak menyelami keindahan bawah lautnya, aktivitas snorkeling paling cocok disini. Jika anda tidak bisa berenang atau tidak persiapan membawa kaca mata renang, awak perahu menyediakan peralatan snorkeling, satu paket cukup dengan Rp.25.000,- saja. Untuk berhemat sebaiknya bawa kacamata renang dari rumah.
Cukup banyak yang bisa dinikmati disini, karena Taman Wisata Alam & Cagar Alam Pananjung adalah pusat keanekarahaman hayati di Pangandaran. Bisa menyaksikan secara langsung hewan-hewan yang berkeliaran bebas, mengamati ornamen gua di beberapa gua bentukan alam atau menyaksikan peninggalan sejarah perang dunia ke II di beberapa gua Jepang. 
Pantai dan Penangkaran Penyu Batu Hiu, dari Pangandaran perjalanan berikutnya adalah menuju pantai Batu Karas. Tapi sebelumnya kita berhenti sejenak di Pantai Batu Hiu untuk bersantai dan tentu saja berphoto ria bareng rekan seperjalanan. Meski di pantai Batu Hiu kita tidak bisa beraktivitas dalam air karena bahaya ombak dan karang, tapi akan menambah wawasan baru tentang upaya pelestarian fauna langka di Kelompok Pelestari Biota Laut - Batu Hiu yang tidak jauh lokasinya dari pantai. Kita diberi kesempatan bisa lebih dekat dengan Penyu Laut dan berfoto dengannya lho... asikkk kan.. Sambil berwisata kita isi dengan masalah kepedulian terhadap upaya konservasi.
Makan siang dan Checkin di Pantai Batu Karas, perjalanan ± 1 jam dari Pangandaran menuju pantai hening Batu Karas. Makan siang di lokasi penginapan yang tidak jauh dari bibir pantai Batu Karas. Deburan ombak Batu Karas cukup menantang, tapi cukup aman karena pantainya dangkal dan landai.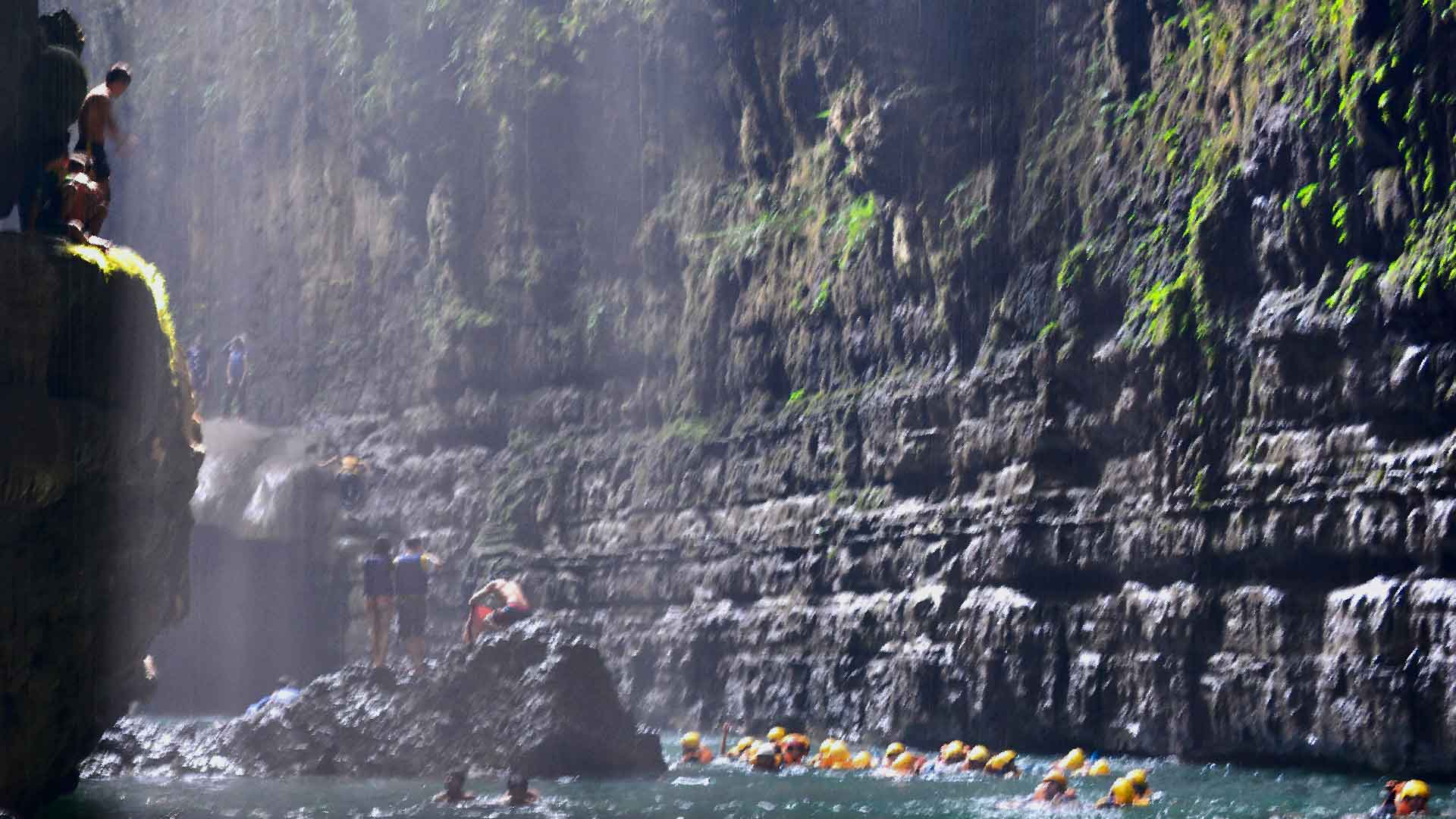 Hari 3.  Body Rafting 5 km dari Hulu Cijulang hingga Green Canyon
Body Rafting di Green Canyon, setelah puas semalaman di pantai Batu Karas, pagi-pagi persiapan menuju Green Canyon. Dari loket Wisata diantar naik perahu motor menyusuri sungai Cijulang hingga Green Canyon. dan akhirnya setelah dua hari bergaul dengan air asin di dua pantai, kini saatnya menetralkan diri dengan fresh water di sepanjang Green Canyon sepuasnya.
Lengkap sudah perjalanan jejalah Green Canyon, setelah ditutup dengan makan siang di dermaga dua, kita kembali ke Jakarta (Bandung) dan perkiraan sampai pukul 23.00 WIB. Pengalaman seru tiada akhir di Green Canyon!!
RESERVASI DAN INFORMASI
Agus Kukus Santosa
(WA) +62 818-935-979 - +62 812-8265-733 - info[at]goexploreindonesia.com
When & Where

Green Canyon - Body Rafting

Ciamis, West Java 46394
Indonesia

Friday, November 25, 2016 at 6:00 PM

-

Sunday, November 27, 2016 at 11:00 PM (PST)
Add to my calendar
Organizer
Explore Indonesia
The Indonesia Adventure Travel - dari Sabang sampai Merauke
Explore Green Canyon - Pangandaran 25-27 November 2016