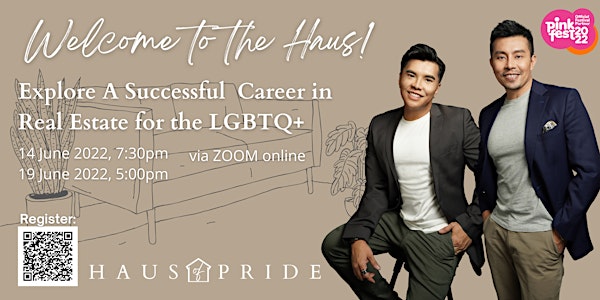 Explore A Successful Career in Real Estate for the LGBTQ+
Find out how being a realtor can be rewarding career path, and how Haus of Pride can help an LGBTQ+ person succeed in a safe environment.
About this event
Diversity and inclusion are about empowering people by respecting and appreciating what makes them different. In the course of our work, we have witnessed a fair amount of discrimination against people of different races and nationality. Working with our clients in the LGBTQ+ community has also make us realise the serious lack of resources and information to educate them on their unique journey of property and financial planning.
At Haus of Pride, we believe that everyone should be entitled to inclusive home ownership regardless of their creed, ethnicity, age, sexual orientation, marital status or any other personal identity marker. That is the ethos of our team.
In this 1-hour career talk, our founders William Tan and Kenny Lohwey will share their backgrounds & experiences as a realtor, and how they formed Haus of Pride to be a real estate collective like non-other - one that embraces diversity and inclusion as its core value.
This talk is open to existing realtors looking to switch to a caring and dynamic team, new agents who have just passed their RES exams as well as anyone who is thinking about a career in real estate but does not know how & where to get started.
For any enquiry, you can also email us at info@hausofpride.sg