This panel discussion will highlight the panelists journey in STEM and suggestions about pursuing an Engineering role.
About this event
The E in STEM
STEM studies and careers have gained prominence over the years. STEM focuses on multiple subjects which are: Science, Technology, Engineering, and Mathematics.
According to the National Action Council For Minorities in Engineering, "Engineering draws on all STEM fields and applies them to solve problems and to create devices, structures, and software applications".
Learn more about Engineering from Engineers
In addition to STEM encompassing all of STEM, there are also many job opportunities for Engineers. This panel discussion will highlight how each panelist became interested in STEM and Engineering, explore their journey to their current role, understand their current role, and listen to their suggestions about pursuing an engineering role.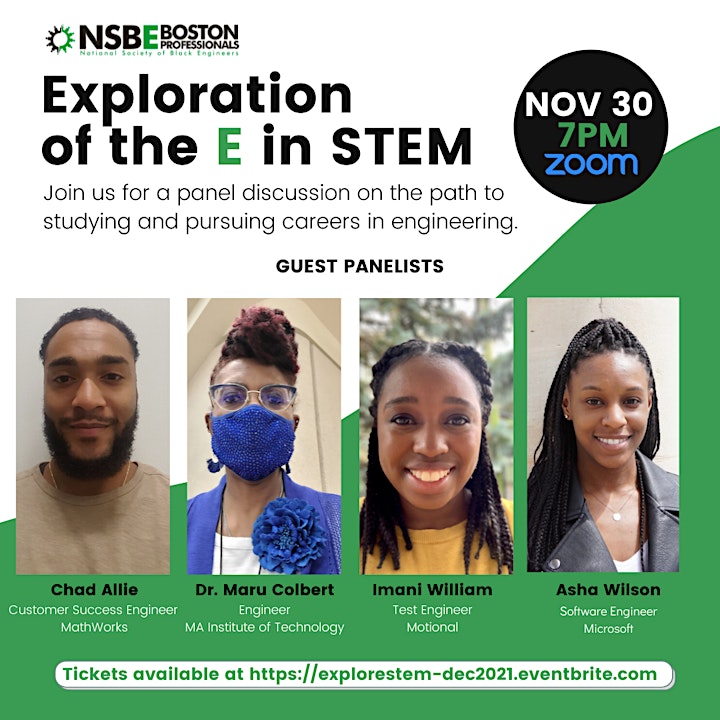 We are excited for this opportunity to engage with our panelists!
Chad Allie
Chad Allie is a Customer Success Engineer for The MathWorks (makers of MATLAB/Simulink) that partners with university faculty in their teaching and research endeavors. The goal of the role is to help customers discover and explore how they can use MATLAB in their work to ultimately create a more interactive learning experience and streamline workflows. Chad mainly supports universities and research labs in the southwest US.
Before joining The MathWorks, Chad worked with Boeing Commercial Airplanes in Seattle, WA as a Propulsion Engineer – focusing on complex fuel systems. This type of work exclusively used MATLAB/Simulink to design, analyze, test and certify the final product. Chad holds a Bachelor of Science in Mechanical Engineering from the University of Central Florida and a Master of Science in Electrical Engineering from the University of Washington.
Dr. Maru Colbert
Dr. Maru Colbert is an engineer, educator, performer and activist. Her research, engineering and education practice projects span ten companies including two start-ups, ten universities and five continents. Her research areas in industry and academia are chemical, environmental and materials engineering and include small-scale process chemistry, reactionware, phytoremediation, nanosensors and atmospheric modeling. She has been a professor for over 30 years with one patent and several "named" senior research appointments/fellowships, visiting scholar positions and teaching awards-one international. Through her five alma maters and several personal partnerships she leads affinity groups and does volunteer work in STEM and entrepreneurship. A professional challenge she has made personal is adding practice elements to her MIT research, combining chemical engineering and urban renewal with environmental and educational justice. Additionally, she contributes to local and regional causes as a BIPOC activist and leader.
Imani William
Imani William is a Test Engineer at Motional, an autonomous vehicle company. She specializes in test planning ,execution, and analysis for autonomy behavior and performance. Previously, she worked at Intel Corporation in pre-silicon hardware verification and SSD security. Imani graduated from a dual degree engineering program between Meredith College and North Carolina State University earning a BS in Electrical Engineering and a BA in Mathematics. Outside of work, she volunteers with Black Girls Code, takes improv classes and plays soccer on the weekends.
Asha Wilson
Asha Wilson is currently a Software Engineer II at Microsoft in their Commerce Platform Experiences group. She began her career in Tech at Liberty Mutual as part of their TechStart program after graduating from the University of Pittsburgh. Outside of work, she is a strong advocate for giving underrepresented groups access to the tech world and volunteers regularly with Black Girls Code and Hack.Diversity. She is also in the process of learning how to sail.