Experts United! Sustainable Fashion Industry, West Coast Conference & Netwo...
Description
SFSFWI...Sustainability is at the core of our work!
Join us!


April/27 8:30 AM
First Sustainable Fashion Industry, West Coast Conference & Networking
Experts United!

We thank our Fiscal Sponsor, Fractured Atlas, for supporting SFSFWI and those Artists and Professionals in the Sustainable Fashion Industry! We are proud to count with their guidance and expertise.
Support the efforts and those professional volunteers working to make this organization a successful contribution promoting sustainable fashion; environmental preservation and the health of future generations.
Donate to SFSFWI Your donation is tax deductible.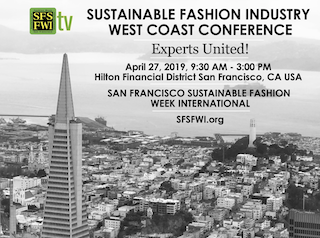 Let's be interested in knowing more about the toxicity we find in the environment that surround us all.
The amount of fresh water used by the fashion industry that is used to process garments are slowly depleting our resources. The manufactures are processing textiles toxic dyes. They freely rinse textiles and dump those polluted waters into rivers leaving no fresh water for drinking, crops, nor for natural life in the natural waterways. That is a important impact on the environment and communities.
Join the conversation of Fashion Revolution bringing the awareness to people who buy products...Who Made Your Clothes?
Join SFSFWI conversation. We are calling the experts, the individuals that want to know more about what you wear and where is the fashion industry going?
Join us at the Conference and be part of the community of Eco-Champs!

If you are interested to know more about the sustainable fashion industry, the impacts and the innovations, this is a great opportunity for you to update and tune up to this fast changing industry.


Join the Conversation!
Care. Be Curios. Take Action.
FashionRevolution.org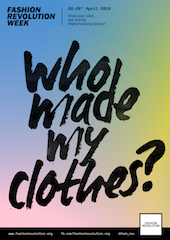 SFSFWI's First West Coast Conference for the Sustainable Fashion Industry in San Francisco devoted to unite educators, organizations, business owners, students and individuals. We are offering a platform for professionals to learn from each other and share ideas about what's next in the fashion industry building a healthier future with sustainability in mind.

We welcome and appreciate the partnership of Sustainable Apparel Coalition delivering a valuable workshop!
Learn about the impacts textiles have on the environment by the leading company changing the manufacturing industry in the world!


:: Attendees will receive a Natural Cotton Flower! ::


YOUR SOUVENIR
9:30 AM Registration Gather network & socialize, bring your
Coffee, Tea and healthy bars!

9:55 AM Conference Recording Session Starts
NO LATE ENTRY-Thank you.
10:00 AM Welcome by MC, Kristy Drutman
Introducing, founder of SFSFWI; Sandra Hanns

10:05 AM Keynote Speaker, Debbie Raphael
Director of San Francisco Department of the
Environment
10:15 AM Sustainable Apparel Coalition, Workshop
by Julie Brown, Director Higg Index
Direction and Innovations in The Fashion Industry
Exercise and Q&A
Designers, discover your POWER in sustainability before the designing process starts!
12:00 PM Fashion Industry, Fair Trade; Honoring those in the Industry
Rachel Fischbein Esq., Executive Director at Fashion Incubator SF; Founder, Law On The Runway Rachel Farell, Founder & Creative Director at Tonlė
Sandra Hanns, Founder SFSFWI & Experts United!
12:15 PM Tyese Cooper; San Francisco Bay Area/Paris
The 2024 Fashion Paris Initiative & The Everyday Day Sustainable Designer in Paris

12:15 PM Lunch Break! Onsite Restaurant Get 10% Discount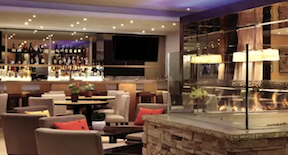 1:00 PM Sustainable Fashion Innovators!
Educational Library: Videos, New Textiles from Waste!

1:15 PM Social Media, Caro Collazos
Co-Founder, Bee Social Group & Tangui
Promoting and Branding Your Fashion Business
Co-Founder, Bee Social Group & Tangui
Promoting and Branding Your Fashion Business

1:30 PM Nika Ivanoff, Felt: Ancient Threads &
Natural Dyes

2:15 PM Video Greetings...I wish I was there!
Sustainable Fashion Industry, Experts United!


They are not in San Francisco, and we are connected!
Valen Suarez, Moda de Latinoamerica [Mola], Uruguay
Susan Steven, Made with Respect; New Zealand
Maria Paz Romero, Cerrito De Indios, Uruguay
2:30 PM Fashion Show

2:30 PM Networking Opportunity: a time to inquire & connect!

3:00 PM Completion
Thank you all for your support!


** Guests are welcome to gather after & socialize by the Bar & Restaurant area.

We are delighted to invite Sustainable Designers! Eco-Textiles Experts! Educators! Students! Together, we will exchange ideas and forecast the solutions needed for a thriving future for all of us. Share this invitation!
Let's welcome the SFSFWI Catwalk Beauties committed to the sustainable fashion movement!
A fashion show is set up to close this event. Forever grateful for the TEAM we have each year committed to support the mission and vision of SFSFWI. Special Thanks to Christopher Otrebla, Miae Nelson, Models, Photographers & Volunteers! To know more about the TEAM, go to SFSFWI.org

SFSFWI brings promotional and educational events that engages with the public and the industry.
Thank you for your support!
TEAM SFSFWI




DISCLAIMER:
Disclaimer: By you purchasing/attending our events, you surrender all rights to photos, sound, video, images and publication about the materials gathered by our photographers. Images belong to photographers and the mentioned are not the responsibility of SFSFWI, Sandra Hanns or our Associates.
Thank you!
Sandra Hanns,
Founder and Organizer
SFSFWI.org