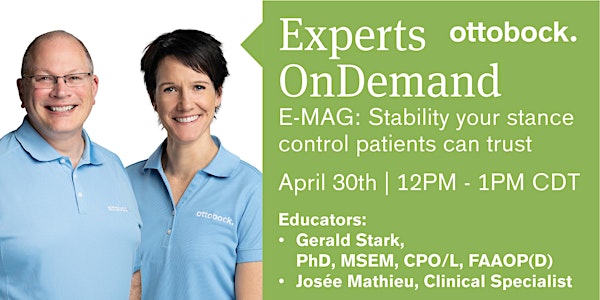 Experts OnDemand: E-MAG: Stablity your stance control patients can trust
By Ottobock North America
Date and time
Thursday, April 30, 2020 · 10 - 11am PDT
Description
Experts OnDemand:
E-MAG: Stability your stance control patients can trust
Description
This course is designed to educate practitioners on the E-Mag Active KAFO. The course covers how the E-Mag Active works throughout the gait cycle, patient assessment, casting, check orthosis fitting and alterations, definitive fitting, troubleshooting tips, and an overview of warning/safety tones and lights. Maintenance recommendations and tips for the patient are also provided.
Objectives
After successfully completing this training, attendees will be able to:
- Understand the differentiation of SCOs and their function.
- Perform patient assessments to ensure they are a favorable candidate for SCO technology.
- Understand proper casting procedure to ensure good foundation for orthosis design.
- Emulate a fitting and setup to ensure favorable outcomes.
- Troubleshoot clinical fitting when less than optimal results present themselves
Instructors
Gerald Stark, PhD, MSEM, CPO/L, FAAOP(D)
Gerald Stark, Ph.D, MSEM, CPO/L, FAAOP(D) is the Orthotics Manager for Ottobock Healthcare based in Austin, Texas. He has written and presented numerous topics in O & P nationally and internationally. In his 27-year career he has held various administrative positions in Engineering, Clinical Care, Product Development, and Education. As well as mechanical engineering degree and Masters of Engineering Management, he holds a Ph.D in Organizational Learning and Leadership from the University of Tennessee of Chattanooga. He currently serves as Chair of the Research Council for the American Academy of Orthotists and Prosthetists. He has been honored as "Outstanding Engineering Alumni, "Outstanding Doctoral Student" and "Outstanding Clinical Educator" by his affiliated universities and the Academy.
Josée Mathieu, Clincial Specialist, Orthotics
Josée Mathieu graduated from Montmorency College in 2001 from the Prosthetics and Orthotics program in Québec. She worked at J.E.Hanger in Montreal for almost 10 years, and joined OPC in 2006. Josée spent two and half years in the Middle East, aiding war and landmind survivors. After returning from the Middle East, she lectured at both Merici and Montmorency College in Québec, while she worked at Prosthetics Rehab Center in Lanaudiere (Bouclier) before joining Ottobock in December of 2018.

Credits
Questions?
If you have any questions, please contact the Ottobock Education Team at US.Education@ottobock.com or call 800-328-4058.
About the organizer
Ottobock uses innovative technology, superior service, and world-class education to help people with physical mobility challenges. Established in 1919 in Germany, Ottobock opened its doors in the U.S. in 1958 and in Canada in 1978. Currently in its third generation as a privately held company, Ottobock offers products and services to help people maintain or regain their freedom of movement.