Description
LUNCH & LEARN
Special Guest: Ted X Speaker & Award Winning Speaker - Mark Gai
A majority of business owners are leaving mountains of money on the table by not being strategic, don't follow the masses be an Expert of Influence and the top in your profession.
If this is your first time experiencing Experts of Influence, please note our events are not for passing business cards, general networking or listening to speaker presentations.
While we do encourage you to connect with other attendees, the goal of our events is to present proven, actionable business growth strategies following a curriculum to amplify your business for growth, profitability and freedom.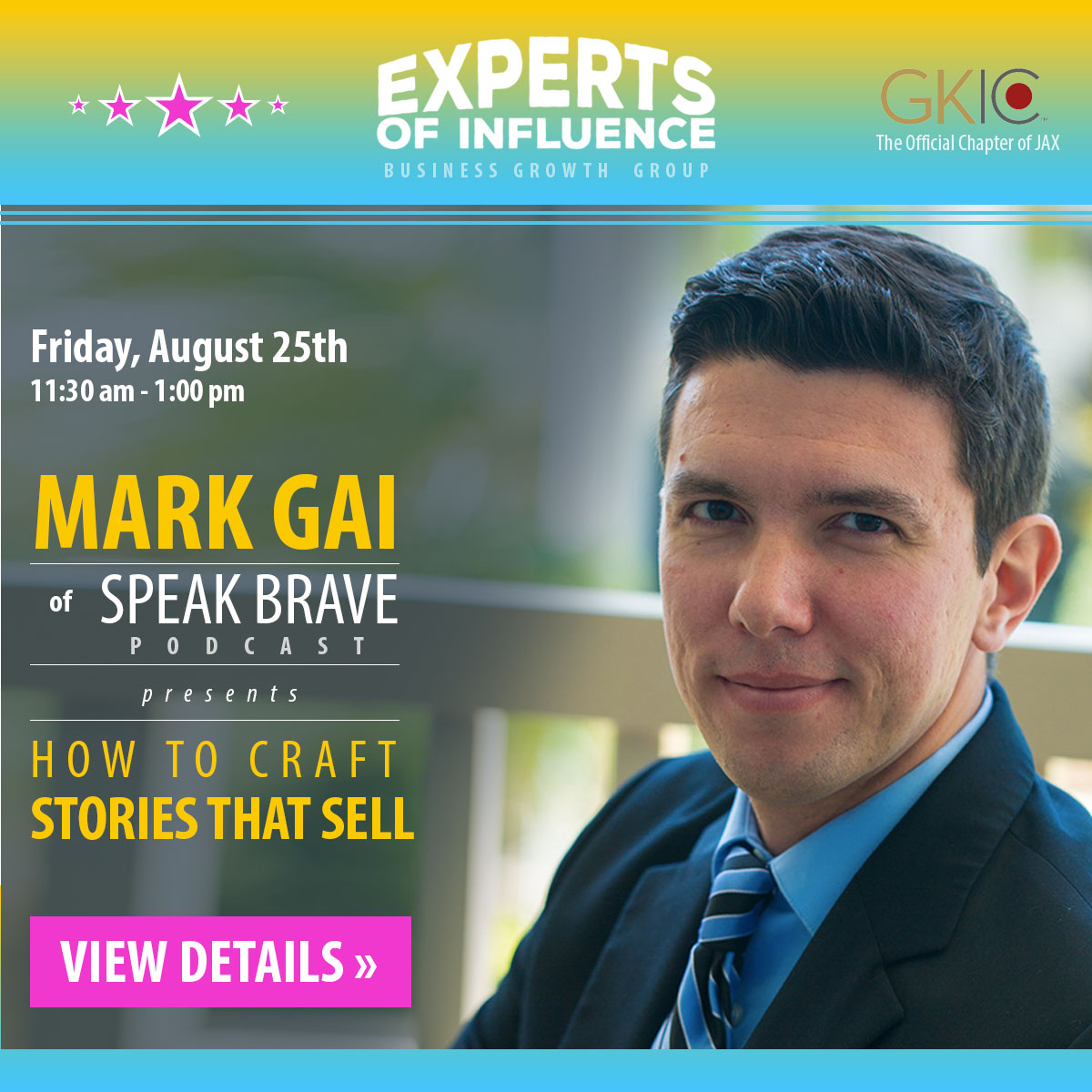 *** Experts of Influence is the Official GKIC Chapter of Jacksonville, Florida ***
In August's Experts of Influence:

I. Up Your Game with Powerful Sales Funnels
Learn the critical components of sales funnels and how you can immediately begin leveraging them to make a significant difference on your bottom line.
II. It's the Beginning Not the End
Have you ever been at a low in your business and had to change direction? In this session we'll look at what you can do to grow your business when things aren't going well. These are the things that successful entrepreneurs wish they had done differently, so listen up.
III. How to Create Stories that Inspire Loyalty
Newsletters need to be read to deliver a return on investment. We'll show you how to recognize and write a good story that people will actually want to read. When you relate with your audience over shared values and experiences, readership comes naturally. This session will be presented by National Award Winning Speaker, Ted X Speaker and professional crafter of stories that sell, Mark Gai of Speak Brave.
Experts of Influence events are powerful, no fluff, get stuff done meetings following a business growth curriculum.
First time visiting Experts of Influence? You are welcome to experience your first EOI meeting at a first timer rate. Simply connect with me at Kenny@rockmyimage.com for a First Timer Admission.
Date and Time
Location
Transamerica Financial Advisors Inc
8081 Philips Hwy, Suite 22
Jacksonville, FL 32256