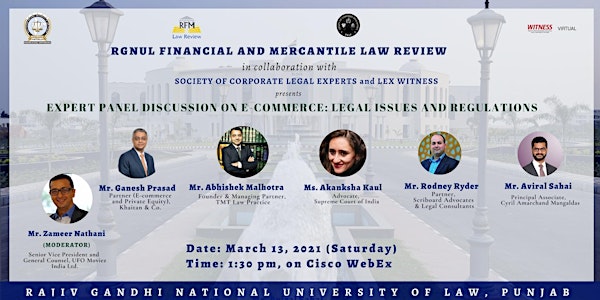 Expert Panel Discussion on E-commerce: Legal Issues and Regulations
RFMLR, in collaboration with SCLE and Lex Witness, brings to you an Expert Panel Discussion on "E-commerce: Legal Issues and Regulations".
About this event
E-commerce, as a framework for buying and selling goods and services, has successfully penetrated the global markets at large, including the Indian market. The associated convenience and accessibility have been instrumental to its rise in India. In this context, it is important to take note of the many allied challenges faced by authorities and consumers alike. Some of these revolve around issues like foreign direct investment, market regulations, anti-competitive practices, etc.
The Expert Panel Discussion aims to initiate, stimulate, and raise the level of discourse qua these legal issues currently being faced in the realm of E-Commerce. The Panel consists of the following people:
1. Mr. Ganesh Prasad, Partner (E-commerce and Private Equity), Khaitan & Co.
2. Mr. Abhishek Malhotra, Founder & Managing Partner, TMT Law Practice
3. Ms. Akanksha Kaul, Advocate, Supreme Court of India
4. Mr. Rodney Ryder, Partner, Scriboard Advocates & Legal Consultants
5. Mr. Aviral Sahai, Principal Associate, Cyril Amarchand Mangaldas
Moderator: Mr. Zameer Nathani, Senior Vice-President and General Counsel, UFO Moviez India Ltd.
Organiser of Expert Panel Discussion on E-commerce: Legal Issues and Regulations