Description
We hope you were able to make it to our inaugural conference, PRIMER, last month. We had such a great time and already planning for next year. To start off our next season of talks, we're hosting Extrapolation Factory's Elliott P. Montgomery.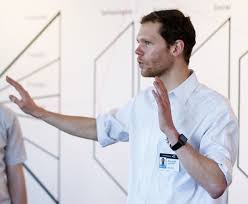 Elliott P. Montgomery uses designed artifacts and experiences to raise questions about impact responsibility. He is an Assistant Professor in the School of Design Strategies at Parsons, co-founder of the design-futures studio The Extrapolation Factory, and an affiliate at the DESIS Lab (Design for Social Innovation and Sustainability) at The New School. Elliott's courses encourage students to take on the systemic challenges faced by communities, industry, nonprofits, and governments, using futures-oriented approaches that cross through system layers.
He earned a Master's Degree at the Royal College of Art in London (Design Interactions, 2011) and a Bachelor's Degree at Carnegie Mellon University in Pittsburgh, PA. (Industrial Design, 2003). He has worked with start-ups, non-profits, design consultancies and government agencies
The Extrapolation Factory is a design-based research studio for participatory futures studies, founded by Elliott P. Montgomery and Chris Woebken. The studio develops experimental methods for collaboratively prototyping, experiencing and impacting future scenarios. Central to these methods is the creation of hypothetical future props and their deployment in familiar contexts such as 99¢ stores, science museums, vending machines and city sidewalks. With this work, the studio is exploring new territories for democratized futures by rapidly imagining, prototyping, deploying and evaluating visions of possible futures on an extended time scale.
Follow us on Twitter @futures_design
Join the Facebook Group
Join the Meetup
Now accepting sponsorship for primerconference.com 2018. Contact matt@primerconference.com
Thanks to our friends at Parisoma for partnering with us and hosting this workshop.