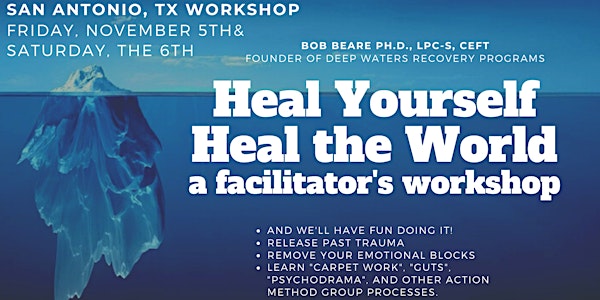 Experiential Facilitator's Training
You'll learn to facilitate dynamic groups while doing your own transformational inner work. And you will have a blast. Watch video below.
When and where
Location
96 Crossroads Blvd 96 Crossroads Boulevard Balcones Heights, TX 78201
Refund Policy
Contact the organizer to request a refund.
Eventbrite's fee is nonrefundable.
About this event
Welcome to The Experiential Facilitator's Training (EFT). We're looking forward to learning and healing together. This is an intense workshop. It is strongly encouraged that participants have some previous personal experience with experiential, body-oriented emotional discharge work.
This is a two day event happening Friday, November 5th from 5:45 pm-10 pm and Saturday November 6th from 9:00 am- 8:00 pm in San Antonio, TX.
What will I learn in this workshop?
• Specific processes to get your group(s) into action
• Presence as a leader and facilitator
• A deeper understanding of the many faces of trauma
• Effective trauma resolution interventions
• Understanding and tools to create sacred spaces for healing
• Mastery of basic sociometric group processes
• Mastery of the 6-stage "Into Action" Carpet Work model, the Dilemma Process (What's at Risk), and the Emotional Integrity process (Accountability).
What are the theoretical models?
• Dr. J. L. Moreno - Psychodrama (a vast set of sociometric tools for insight and healing)
• Dr. Carl Jung – Psychodynamics (the power of the shadow and the unconscious)
• Joseph Campbell – Myth and Ritual
• Alexander Lowen – Bioenergetics (Releasing stuck emotions)
• Dr. Ron Hering – Initiation models of trauma resolution
• Trauma, Codependency, and 12-step recovery community models of healing
Who is this for?
• Mental health and addiction professionals
• Therapists and counselors
• Community-based facilitators (Recovery specialists, Church group facilitators, Clergy, Deep Waters Intensive, ManKind Project, Woman Within, Crucible, and Brave Heart Experience Facilitators)
• Psychology, Social Work, and Counseling students
• Anyone in active 12 step recovery who wants to be trauma informed.
See website on becoming a CERTIFIED EXPERIENTIAL FACILITATOR (CEF) - https://www.deepwatersrecovery.com/the-training-and-programs
12 CEU's Offered
If you are a student, enter promo code STUDENT at checkout to get a 20% discount.
COVID-19 Commitments:
1.) Get a vaccine
2.) Confirm you have not had any COVID-19 symptoms the last 14 days
3.) Confirm you have had no contact with anyone with COVID-19 symptoms the last 14 days
4.) Alert us immediately if you have COVID-19 symptoms or have been in contact with anyone who has contracted COVID-19.