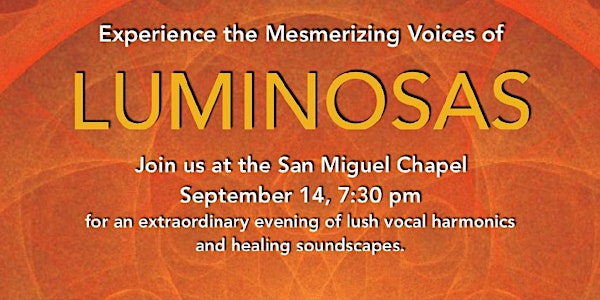 Experience the Mesmerizing Voices of Luminosas
Join us for a special evening at San Miguel Chapel with the a cappella trio Luminosas. Attend their voice empowerment workshop the next day!
When and where
Location
San Miguel Mission 401 Old Santa Fe Trail Santa Fe, NM 87501
Refund Policy
Contact the organizer to request a refund.
About this event
Join us for a very special evening at the San Miguel Chapel with Luminosas. Known for creating lush and harmonically healing soundscapes, the powerful vocal trio Luminosas will grace the historic San Miguel Chapel on Saturday, September 14 with a special concert, The Ripple Effect.
Originally from the Pacific Northwest, the professional vocalists and vocal sound healers perform innovative music, created in the moment, in deep connection with the heart. Weaving lush a cappella soundscapes and sacred sonic environments, the power and beauty of the human voice as a means for healing and transformation is evident. Their music is both angelic and earthy, drawing inspiration and energy from the performance space and the people in attendance.
As such, every Luminosas concert is a truly unique experience.
Luminosas offers a rare combination of intuition, intention, devotion, and musicianship towards fostering personal and collective empowerment.Some pieces form songs, others are like sacred, spontaneous journeys that lift you into different aspects of yourself.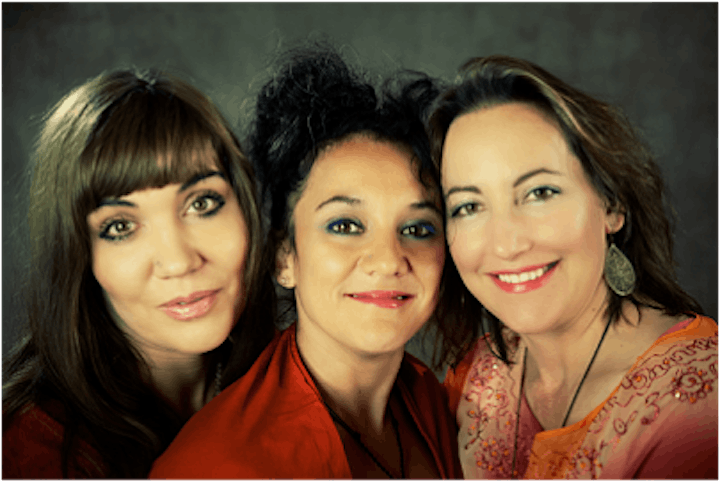 VOICE ACTIVATION & HEALING WORKSHOP
SEPTEMBER 15, 1 PM - 5 PM
Join Luminosas on Sunday the 15th for a special Voice Activation & Healing Workshop.
Susan, Elle, and Ines of Luminosas will lead a powerful workshop designed to help you open and embody the true power of your own voice. Through gentle, fun, yet incredibly cathartic group soundings and individual exercises you'll experience your own voice as a way to reduce stress, gain greater emotional balance, break up energetic blocks, and call in energy that supports your healing and well-being.
In the process the beautifully unique qualities of your voice will emerge even more. The Luminosas are compassionate facilitators, offering an approach that allows you to move at your own pace, even within the group. You will leave the event feeling stronger in your voice and with a deeper understanding of the wonderful healing potential of voice work, along with practices you can incorporate into your own daily life.
Specific things we'll cover:
• Wisdom from both ancient and modern cultures on delivering magic and medicine through sound.
• Sounding through any fear or blocks around using your voice.
• Giving voice to things that you don't have words for.
• Breathing, vocal exercises, and body opening techniques to facilitate easier sounding.
• How to consciously direct vocal vibrational resonance.
• Opportunities to open, sound, and harmonize with others.
$65: Price includes instruction, exercises, handouts, sound tools you can use at home or in your professional practice, a light snack (oranges & almonds). Chairs, cushions and blankets are provided
Notes: You do not have to be a singer or even be able to carry a tune to benefit from this workshop. Susan, Elle, and Ines understand that opening the voice can feel scary for some. This workshop is designed with that in mind while also enabling those who feel ready, to dive deep and open wide as they like :). The trio ensures a grounded and comfortable space to support all participants no matter where they are in their vocal journeys ro healing work.