Join us for a evening of golf, food and drinks supporting Paz de Cristo on March 24th, 2022 from 6-9pm at Top Golf in Gilbert! $25/ticket!
About this event
This fundraiser will be open to anyone interested in supporting our local non-profit, Paz de Cristo. Established in 1988, Paz de Cristo has worked to fulfill our mission to Feed, Clothe & Empower those struggling with hunger, poverty and homelessness across the east valley. Bring your family, friends, golf game, and wallets as we work to set records throughout the night!
Tickets: $25 per person, includes appetizers and 2 drink tickets, access to Top Golf playing time all evening.
Private Golf Bays Available: $1,500 includes 8 admission tickets and more!
Event Sponsorships start at $1,500 - $5,000 with many perks! Interested in learning more? Please reach out directly to our Marketing and Development Director, Geetha Ananthakrishnan for more information (geetha@pazdecristo.org; 480-464-2370 ext. 214).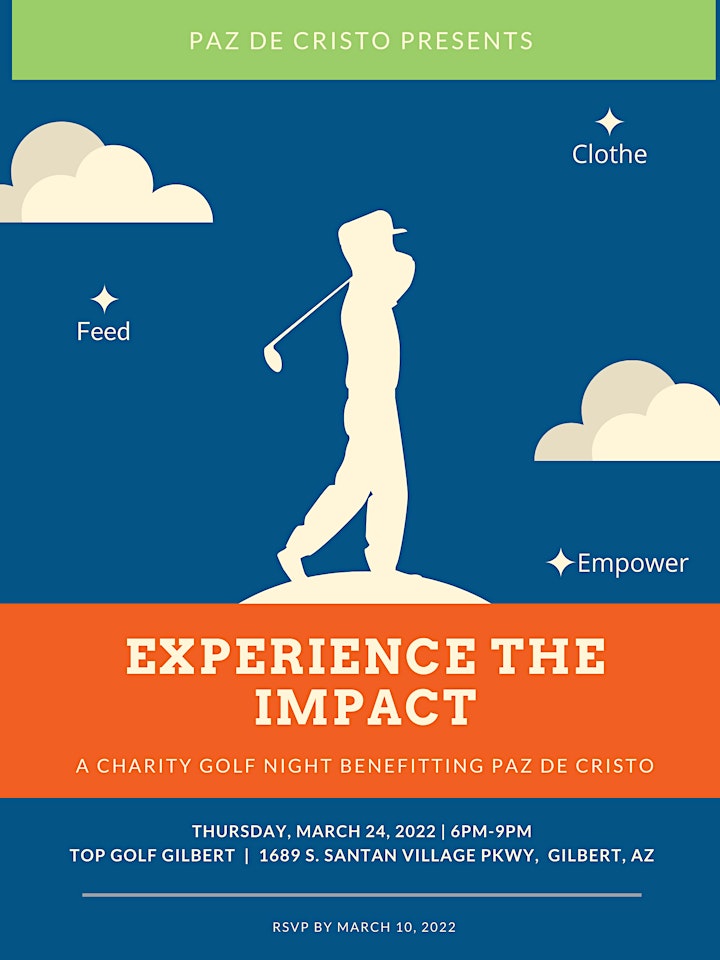 Organizer of Experience the Impact
Welcome to Paz de Cristo!
We are a place of hope for people struggling with hunger, poverty and homelessness.
More than 50,000 meals are provided each month, and we don't stop there. Clean clothes, a hot shower and a haircut give our guests a fresh start. We help people find jobs and remove barriers so that they can get ahead.
More than a meal. We Feed, Clothe and Empower.