Description
Pizza is so important to Italians that Neapolitan pizza and the art of making it has been granted UNESCO World Heritage Status. Isn't that so very… Italian? Here in the US we have our own pizza traditions, and it's easy to lose track of the simple goodness that came here from Italy.
Fiasco Pizza warmly invites our local friends to experience a truly Italian night of authentic food and good company. We have arranged for our friends Ivano and Adriana to come visit us this spring and host a series of events, focusing on the traditional Italian experience. Ivano and Adriana have been creating authentic pizzas for their entire lives, professionally and of course for friends and family. For a detailed story click here.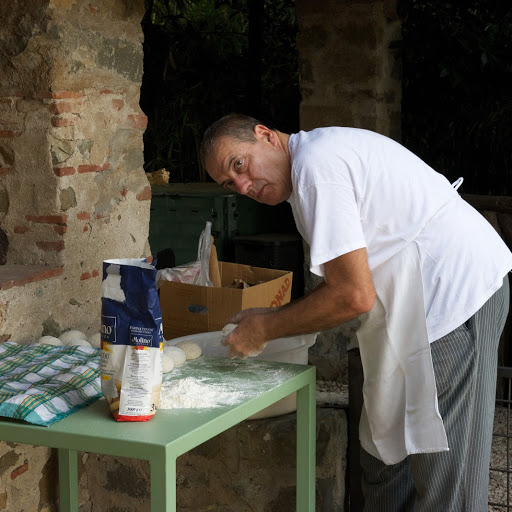 Dinner is a communal affair, long tables with friends old and new. We will serve a "chef's choice" style dinner where pies will arrive in waves. This way you'll experience combinations you may have never tried before, and a crust that is very different – light and satisfying. You'll be surprised at how a simple pizza can have such varied flavors.
Your ticket includes all you can eat pizzas, roasted vegetables, salads, and one glass of wine. There will be more for purchase.
Fiasco hopes you'll come out and be part of the family for our very special night together.
Lots of visitors to Leonida Tuscan Villa in Italy have come to know and love Ivano and Adriana. Now you can meet them for the first time, or catch up with old friends. It's going to be a wonderful event.
---
FAQs
Will the event be outside?
Weather permitting we will be hosting al-fresco. We do however have a covered barn as plan B. Since it is March, bring layers!
Is there a place to stay?
There are multiple options for lodging in town. Check out visitwallawalla.com. We have a few rooms available on-site at Andare for the weekend. Get in touch if you're interested. We can also host campers/trailers on a limited basis.
What are my transportation/parking options for getting to and from the event?
Alaska has flights to Walla Walla through Seattle, and there are easy car rental options. There is plenty of parking at Andare for those who drive.
How can I contact the organizer with any questions?
Drop us a note at tom@fiascopizza.com
What's the refund policy?
Within 7 days we can refund the ticket value. After that we'll be locked in with food quantities etc.