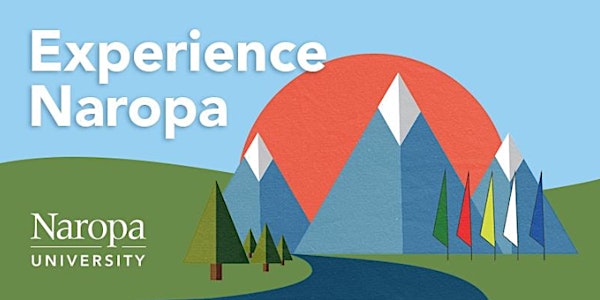 Experience Naropa: Emerging Pathways for Professional Spiritual Care
The Experience Naropa Virtual Open House offers an engaging program where you'll meet people that are changing our world for the better!
About this event
Join us for a special online event that will spark your curiosity and renew your spirit! Learn more about Naropa as you get the chance to learn and interact with Dr. Jamie Beachy,
The Experience Naropa Virtual Open House offers a brief, engaging program where you'll meet staff and faculty that are changing our world for the better. Come for the answers to your questions and learn how a Naropa education will serve you now more than ever.
Schedule
12:00-1:00pm:
o Welcome & Opening Bow with Peter Lenz, Assistant Director of Admissions
o Emerging Pathways for Professional Spiritual Care: Eco-chaplaincy, Movement Chaplaincy, and Psychedelic Care. This lecture will explore emerging contexts for professional spiritual care that address climate change, systemic inequality, and the re-emergence of entheogenic healing practices.
Jamie Beachy, holds a Ph.D. in Religious Studies from the University of Denver and the Iliff School of Theology (2015) and a Master of Divinity from Pacific School of Religion (Berkeley, CA). She has worked as a chaplain and spiritual care educator in diverse settings, including academic medical centers, trauma hospitals, hospice, and palliative care settings. Jamie's interreligious background as a former Christian minister with a deep interest in Buddhism and indigenous earth-based practices serves her well in the diverse and ever-changing field of professional chaplaincy.
Jamie is certified as an ACPE Spiritual Care Educator. She also holds certification in Cognitively-Based Compassion Training through the Center for Contemplative Science and Compassion-Based Ethics at Emory University, under the guidance of Geshe Lobsang Tenzin Negi, PhD and the Emory Department of Spiritual Health.
Jamie has a deep interest in the role of chaplaincy in the emerging field of psychedelic therapy. In addition to her role as Assistant Professor, Jamie serves as a sub-investigator and co-therapist for the MAPS-sponsored phase III MDMA-assisted therapy research study in Boulder, Colorado and is Director of Education for Naropa's Center for Psychedelic Studies.
1:00-2:30pm:
o Open Sessions/Q&A with Student Financial Services, Academic Coaching, and the Office of Career & Life Development
Discover
Learn how mindfulness and contemplative education become a part of our students' daily lives in and out of the classroom. Discover if Naropa is right for you.
Engage
Explore contemplative education first-hand with our passionate faculty and leave with an understanding of what it's like to attend a Naropa class.
Accessibility
Naropa University welcomes participants with disabilities. Persons with questions about accessibility or who require disability accommodations should contact Gianpaolo Stasi at 303-546-3582 or at gianpaolo.stasi@naropa.edu.