Join us at MCC for Afro-Beat dance classes! M/W 1 Hour class: Warm-up, fully choreographed Afrobeat movements and cool down stretch.
About this event
Choose our 6:15 PM Class or 7:30 PM Class
One time Fee of $120.00 covers 12 Classes:
Who: Adults 18 and over
What: Each class will comprise warm-up exercises, fully choreographed Afrobeat movements and cool down stretches.
Where: MCC Dance Studio
Participant Fee: $120 per participant. This Fee covers all 12 Classes.
* Times cannot be swapped. Ticket purchased for the designated time slot will remain through the duration of the class.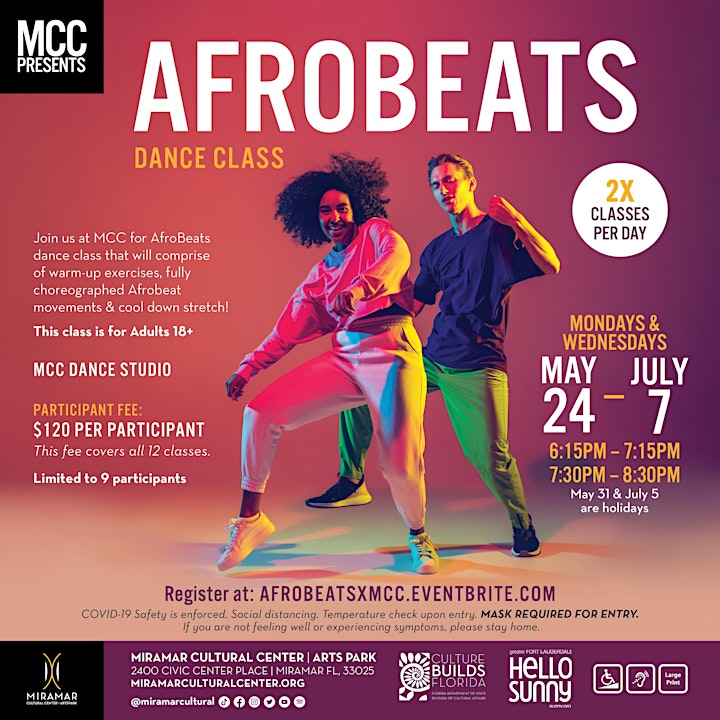 Organizer of EXPERIENCE MCC: Afro-Beat Dance Class : May 24 - July 7
The Miramar Cultural Center / ArtsPark was created to celebrate creativity and diversity within the city. This landmark is a vibrant, urban destination located in the heart of the Miramar Town Center, situated adjacent to our City Hall. Centrally located, the center is visible and accessible from Red Road, Miramar Boulevard and Hiatus Road.