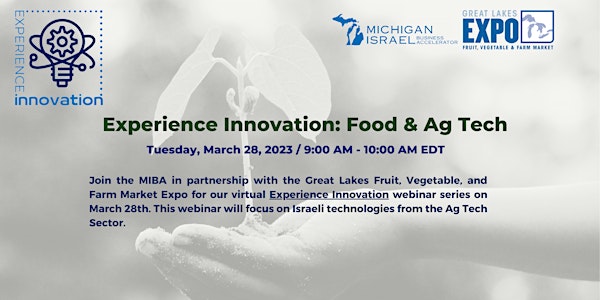 Experience Innovation Series - March Focus - Food & Ag Tech
Join us for Experience Innovation virtual series Experience Innovation Series - March Focus - Food & Ag Tech
By Michigan Israel Business Accelerator
Date and time
Starts on Tuesday, March 28 · 6am PDT
About this event
The Experience Innovation Series is brought to you by the Michigan Israel Business Accelerator.
March focus - Food & Ag Tech
This webinar is being co-sponsored by our partners at the Great Lakes Fruit, Vegetable, and Farm Market Expo, one of the Midwest's largest agriculture trade shows.  We will showcase innovations in robotics, machinery, and processing that can help alleviate the labor shortages the industry is seeing across the board.  Join us and see how Israeli innovation can reduce your carbon footprint, help you reach you carbon neutrality goals and become a leader in sustainability!
Hear rapid fire pitches from Israeli companies with cutting-edge Ag Tech solutions! If you like what you see and want to learn more we will assist with the connection.
Scheduled Speakers (subject to change):
Bluewhite - The Bluewhite mission is to build resilient farms by maximizing the grower's productivity and reducing their operational cost. They equip existing fleets with autonomous technology, an easy-to-use platform, and end-to-end service; supporting their journey to a more profitable and sustainable farm.
AgroScout - AgroScout's data analytics based on autonomous scouting from air , ground and satellite a cutting-edge system. Deep learning algorithms based on artificial intelligence allows quick, efficient detection, identification, and continuous monitoring of crop throughout the entire field. Cloud-based information is available anytime, anywhere. AgroScout is dedicated to detecting early stage crop diseases to, improve crop yields, reduce pesticide use, and increase profits.
Autonomous Pivot - The goal of Autonomous Pivot is to enable growers to maximize yield and reduce costs by turning center-pivot irrigation systems into robotics platform for autonomous irrigation, fertigation, and crop protection. Autonomous Pivot's platform utilizes the world's first on-pivot Ground Penetrating Radar for continuous noninvasive sensing of soil water content, together with proprietary deep learning and AI agronomist technologies, the platform enables fully automatic symptoms detection and autonomous irrigation, fertigation, and crop protection.
Tevel - Tevel Aerobotics Technologies is filling the extreme shortage in agricultural labor using fruit-picking Flying Autonomous Robots™. Tevel's flying robots are driven by state-of-the-art artificial intelligence and computer vision algorithms to identify and selectively pick fruit. Tevel's cutting-edge software provides real-time invaluable data on the orchard's harvesting status and the picking performed by our robot. The data gathered by our software gives farmers a unique knowledge of the exact characteristics and content of each bin prior to delivering it to the packing house. This enables growers to eliminate uncertainty regarding market value, quality, and output.
BeeHero - BeeHero maximizes crop yields through precision pollination, combining sophisticated machine learning algorithms with low-cost sensors to stimulate full output potential during peak pollination cycles. By tracking and optimizing pollination in real-time, BeeHero ensures hyper-efficient pollinators that can increase crop yields by 30% on average. Beehero's platform already enables commercial growers to optimize crop-yield for 70% of major commercial crops.
Robotic Perception - Robotic Perception's autonomous electric vehicle, sprayer, and mower take the hard work off your hands. Through simplified crop detection, irrigation requirement analyses, virus stress detection, and single plant detection.
We look forward to seeing you there!
Your Partner in Innovation,
The MIBA