Description
Get information, meet services and businesses, attend free workshops and presentations, enjoy entertainment shows, networking, meeting people and having fun!
Lectures, workshops, stands, food & drink spots, kids entertainment, fair offers, a pub quiz, 3 live singers, DJ FlexyFrank and much more!
Join the largest bilingual fair in the Haarlem area. Get your FREE tickets now!
---
The bilingual (Dutch & English) program will include free presentations, workshops, stands, and entertainment related to the following themes relevant to locals and newcomers and visitors alike: employment, entrepreneurship, housing, relocation, finance, healthcare, coaching, families, education, culture, food & shopping, social groups, sports, and entertainment—all conveniently brought together under one roof.
Throughout this informative, social day, get inspired by the speeches of entrepreneurs, housing and financial advisers and life coaches, attend a yoga workshop or a degustation, win the pub quiz and get surprised by the musical notes of our singer Anita Sanders and our DJ FlexiFrank. Learn more about finding a house, job, sports team, school, educational course, how to start up your business, or where to meet new friends or get new professional connections.
Families are welcome and can drop the little ones off in our children's area, a supervised play space for children up to age eight.
Entrance is FREE with online registration.


Program
1:45pm: DOORS OPEN
2:00-5:00pm: FAIR
The fair will host stands from a wide range of businesses and organisations as well as workshops and presentations. Professional childcare program for the kids till 6pm.
5:00-7:30pm ENTERTAINMENT & NETWORKING

5:15-5:30 Welcome by Arianna Ardia-Wenink, initiator of the Experience Haarlem Fair & the Sponsors of the Fair: Gemeente Haarlem, Expat Center for the Netherlands, INAmsterdam, Hart Haarlem, Expat Nest en Interhouse Haarlem.
The bar will be open the whole day for all of your social and business networking needs. Hungry? no problem, there will be enough drinks and food for all! Enjoy the food stands!
Read more on the Experience Haarlem website

42 Exhibitors
EDUCATION
GIMS -Gifted minds international school, International School Haarlem, Hart Haarlem, Optimist International School, Taalthuis
EMPLOYMENT & ENTREPRENEURSHIP
Rexus Career Transformation, KGT Consulting

EXPAT CENTER
Expat Center for The Netherlands, INAmsterdam

LAW & FINANCES
Advocura, dutchtaxadvice, Expat Pension Holland, Independent Expat Finance, Mister Mortgage, Mortgage Monster, VanOoijen Belastingadviseurs

FAMILY & KIDS
Childbirth Class Gale, Expat Nest, Kinderopvang Op Stoom, Oppas Madelief Haarlem, The Night Nanny
HEALTH, SPORTS & COACHING
bbb healthboutique Haarlem, Childbirth Class Gale, Expat Nest, Feel at Home Abroad, iyengar yoga haarlem, Haarlemsche Cricketclub Rood & Wit, Kenamju Sport & Health, Platform B
HOUSING & RELOCATION
Interhouse Haarlem, Lighthouse Properties Services, Mie-Lan Kok Estate Agency

INTERNATIONAL COMMUNITY & SOCIAL GROUPS
ExpatsHaarlem, Haarlem Photo Club

FOOD & SHOPPING
Bar & kitchen Zocher, KuierKos, oodles and pinches

TOURISM / CULTURE / GOING OUT
Bar & kitchen Zocher, ExpatsHaarlem, FlexyFrank, Haarlem Photo Club, Hart Haarlem, Stadsschouwburg & Philharmonie Haarlem, Toneel- en Filmschuur, Urban Bistro

MEDIA PARTNERS
Access, ARPN, ExpatsHaarlem, Kidsproof Haarlem, Haarlem Marketing, Haarlem XL, INAmsterdam, The Holland Times.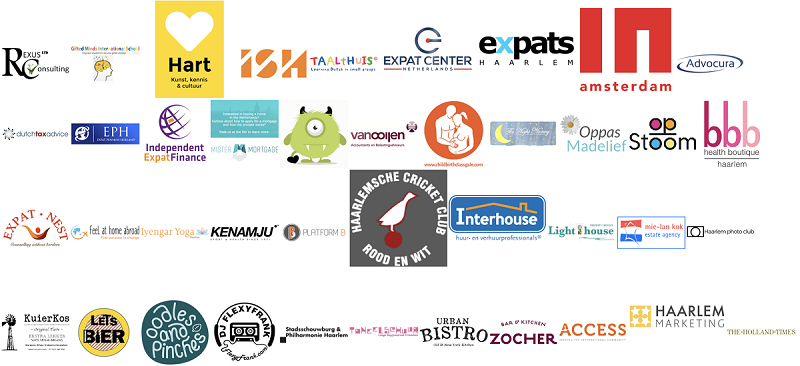 17 Speakers
2:20- 2:50

- Mie Lan Kok, director at Mie-Lan Kok Estate Agency, How to buy a House? The house-hunting process explained by an estate agent.

- Dessy Rutten and Ramesh Mahalingam, scientist and founder at Gifted Minds International School, Education services through international school for expatriates in the Netherlands.
- Truus Gale, midwife and prenatal coach at Childbirth Class Gale, How to prepare for Childbirth in the Netherlands.
3:00-3:30
- Robin Uijdehaage, financial specialist at Mister Mortgage, Financial insights: Explore your personal finances.

- Vivian Chiona, psychologist and counselor at Expat Nest, Lift Your Mood Now.
- Martine Hulsman, expat coach at Feel At Home Abroad, 5 steps to feel at home abroad: listen, laugh, reflect and connect.
- Hildo Makkes van der Deijl, Business Owner at Bierlokaal de Uiver, Make a dream come true: Create your company with crowdfunding.
3:40-4:10
- Hella Contrucci, director at the Expat Center for The Netherlands, Dancing with The Dutch.

- Arnoud Noordam, employment law specialist at Noordam Advocatuur, Dutch employment and dismissal law.
- Jacinta Noonan, life coach at Platform B, Find Your Passion.
- Inge Echterhoelter, founder at oodles and pinches, Get a head start with Zero Waste Lifestyle.
4:20- 4:50
- Mienke Lok, bbb health boutique, Yoga workshop.
- Liesbeth den Hollander, Irene Bunt, managers at Settle Service, 30% developments explained.
- Tom de Haan, city pastor at Protestant Church in Haarlem, What does it take to feel at home in Haarlem?
- Anita Sanders, singer and coach at Anita Sanders, Your voice, Your identity!
- Margit Tera of Tera Languages, Workshop for children 6+ (glass corridor).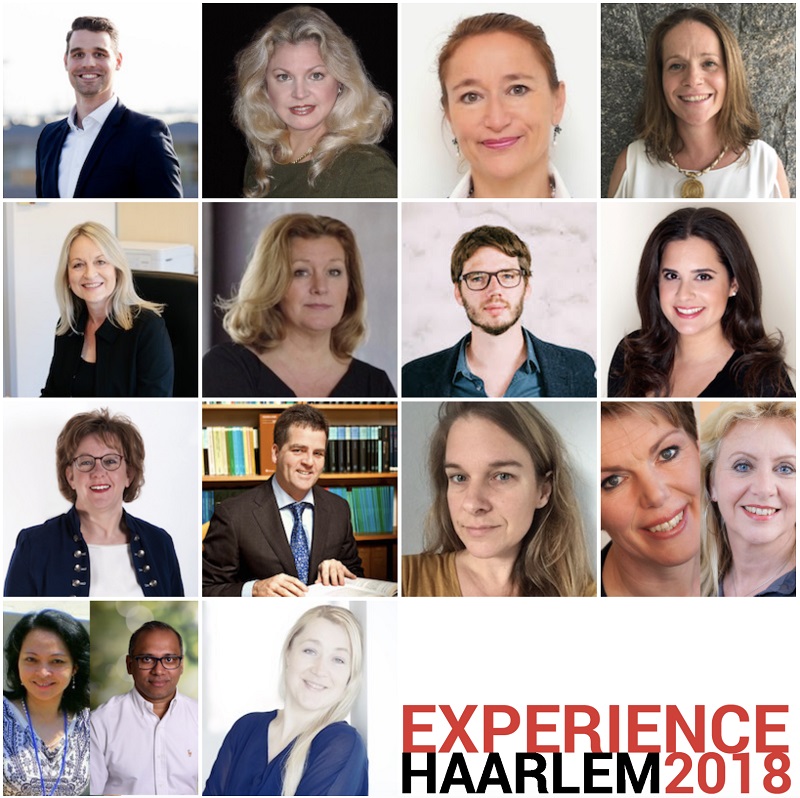 Kids Entertainment
Professional childcare company Oppas Madelief will make sure the kids are entertained. Find their program and sign up your kids here. Parents can enjoy the fair and have a coffee together while the kids are having fun. Kids can also get information about learning a language & music, theater performances & movies, kids karate, judo, kickboxing, swimming (diploma) and cricket at the fair or go the workshop Brain Games and Puzzles (workshop for children 6+)
Entertainment Program
A warm welcome by the organizers, sponsors & local international community, three live singers, a guitarist, a pub quiz, a popular DJ, drinks, meeting people and having fun! What else?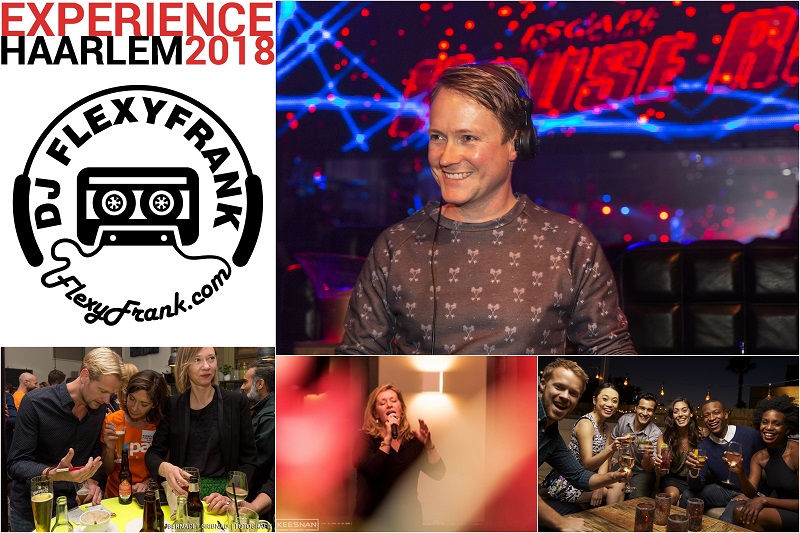 Read more on the Experience Haarlem website.
Sponsors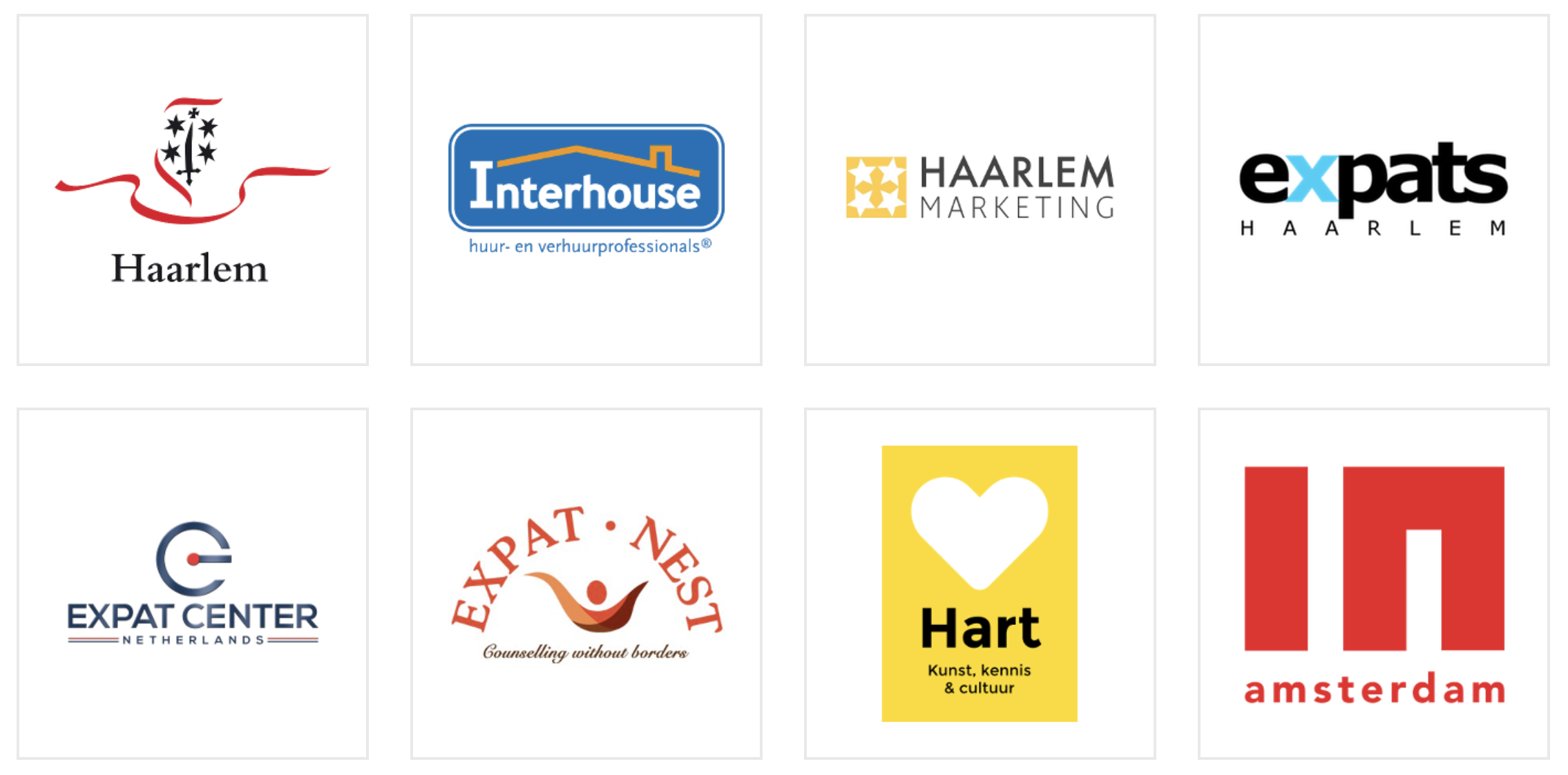 Costs and registration
The event is FREE. Please show your FREE online tickets at the door. The price at the door is € 5.


Get your free tickets now! Don't miss it!