Description
What are you waiting for!
The West African country of Ghana has officially declared 2019 the "YEAR of RETURN" for people of color. Come and celebrate this monumental moment with us. Bring in the New Year Right, join our small group in Accra, Ghana, for a unique and meaningful experience with like-minded individuals, in a hotel centrally located in a safe and relaxing environment. Embark on an unforgettable and reflective experience as we retrace our ancestors' footsteps as we pass through Elmina Slave Castle and the "door-of-no-return" before their journey to the Americas. Visit Kakum National Park and stroll along the 100 feet high Canopy Walkway and the famous Makola Market, which was featured on the Travel Channel show Anthony Bourdain: No Reservations one of Accra's epicenter for trade, wholesale, and retail marketplace. Learn your traditional Ghanaian name and meaning based on the day of the week you were born, while exploring Ghana's vibrant culture, food, and history.
This experience is ideal for first time travelers, solo travelers, and individuals interested in doing business with local merchants in the country. Low to moderate physical activity can be expected for this travel. A program coordinator will accompany guest on site visits. Flight and travel documentation is not included in cost.
Valid passport, visa, and proof of yellow fever immunization should accompany travelers before departure. Passport should be valid for at least 6 months before departure date. A email copy of the itinerary and suggested packing list will be sent after your experience is paid in full.
Flight booking assistance is available.
GREAT NEWS! Need help budgeting for airfare, Airfordable give you more flexibity when booking your flight. Visit www.airforable.com for more information.
Have any questions please call/text 707-653-6711or email rerayford@gmail.com.
Deposit $150
Cost
$1,450 per person (double occupancy)
(If you wish not to have a roommate assigned "single supplement" is available for single travelers, space is limited contact us for further information)
Dates
Arrival: December 27, 2019
Depart: January 3, 2020
Package Includes:
On-site orientation
Welcome Dinner
New Year's Eve Mixer
Airport transfers
City Tour
Breakfast
Hotel Accommodation
Museum Visit
Networking opportunities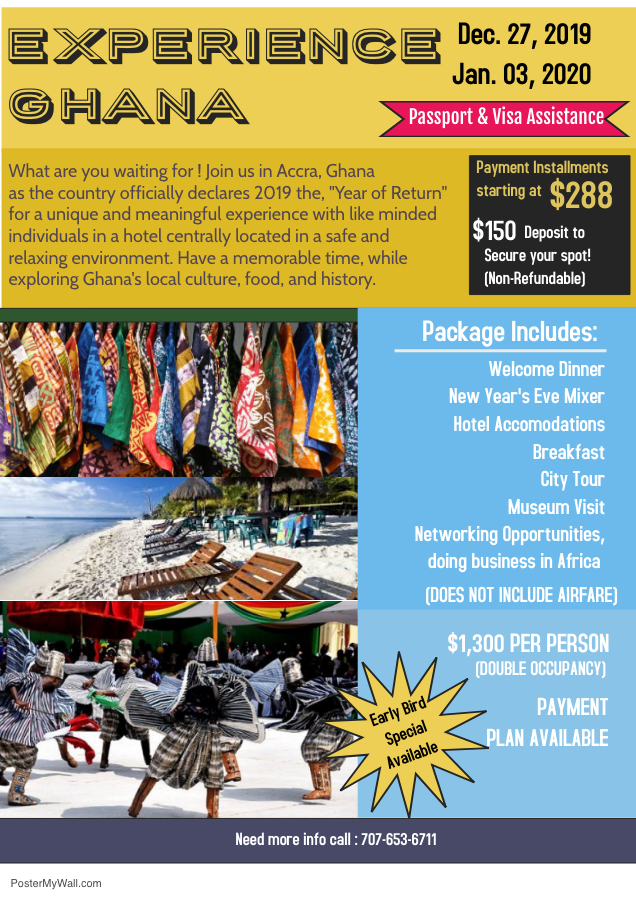 Organizer of Experience Ghana 2019
HBCU Alumni Abroad provides opportunities for alumni and supporters to expand their horizon & make new friends . Our organization encourages entrepreneurship, bringing awareness of international issues, building cultural sensitivity, and understanding of the world around us, by educating adolescents and travelers who seek meaningful and engaging experiences abroad and domestic. HBCU Alumni Abroad believes that diversity and culture awareness enriches individuals and the community at large.