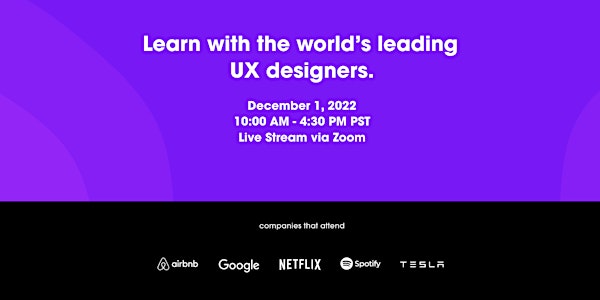 Experience Design Summit
Learn with the world's leading UX designers. Limited number of spots are available.
Refund Policy
Refunds up to 7 days before event
About this event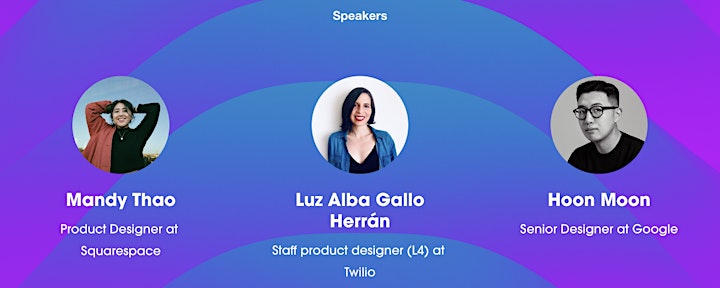 Why attend?
Are you interested in learning how to design extraordinary user experiences? We'd love to have you at Experience Design Summit. This is a one-day online conference where you'll get practical advice from some of the world's leading UX designers on how to make your users happy and how to become a great design leader. Get a view into design focused companies and learn about their design process, how they tackle problems, and important things that they've learned.
"Fantastic event! Hands down the best conference I've been to."
— Anna Sparrow, UNIVERIS
"Informative. Inspiring speakers. Great take aways."
— Ashley Hamilton, Demac Media
"Great opportunity to get insight into practices at companies."
— Shehzad Akbar, Architech
"Glad I took the leap and came to this event."
— Jack Lee, MDDT
Schedule
10:00 AM PST
Derek Torsani, Designer on Design Systems at Plaid
Building Useful Design System Practices.
Design systems teams have incredible amounts of influence and responsibility. From collaboration to communication, having the right design system practices in place can help benefit not only an entire product organization, but those who use said products every day.
10:30 AM PST
Elizabeth Zhu
Senior Product Designer at Dropbox
Growth Design: Tying Design to Business Outcomes.
You'll learn about what makes Growth Design unique and the value it can bring to your organization. Even if you're not on a growth-driven team, this talk will help you define and measure the success of your work in a way that speaks to product managers and business leaders.
11:00 AM PST
Victor Stelmasuk
Interaction Designer at Google
The future of UX.
I'm passionate about how technology shapes our daily lives, so I would talk about how the UX has evolved to become what it is today (mixed with stories from my own experience) and a prognostic, from my perspective, to where it's heading to. I think this would be useful both for young professionals who are considering several fields of expertise as well as more experienced designers who have interest in broader technology trends.
11:30 AM PST
Sindhu Narasimhan
Design at Roku
Enabling E-Commerce on TV.
TV is the biggest and most-watched screen in most homes, and technologies are making it possible for consumers to buy directly from brands in real time using their remote. This is uncharted territory from a UX perspective as we move users from a leaned-back experience with content viewing to a leaned-in one with shopping on TV. Let's walk through UX considerations to make this experience stunning and seamless.
12:00 PM PST - 1:00 PM PST
Networking Lunch
1:00 PM PST
Aahel Iyer
Senior Product Designer at Faire, Financial Products
New Year, New Me.
A designer's new year resolutions to up level impact, creativity and fulfillment. A 2023 vision doc for how you work.
In this talk I plan to go over learnings and observations I've made over the last few years about craft, collaboration, challenges, etc. These are formatted as new year resolutions and how I plan to work on these. These resolutions will be relatable and actionable, leaving the audience with useful takeaways they can adopt.
1:30 PM PST
Leandro Incetta
Interaction Designer at Google
Let's Think Visually.
Did you ever work developing a complex product, teaming up with people with different roles and specializations? Were these people coming from all corners of the earth? Each one of them with a different cultural identity, with a different language?
Visual thinking is a way to organize your thoughts and improve your ability to think and communicate. It's a great way to convey complex or potentially confusing information. Learn a vital skill for developing new ideas and designs, communicating those ideas effectively, and collaborating with others to make them real.
Let's explore the science behind it. Alongside tools, tips, and resources I learned during my career working for many industries and collaborating with different cultures around the world.
2:00 PM PST
Luz Alba Gallo Herrán
Staff product designer (L4) at Twilio
Going with the (user) flow.
A talk about how the endless tension between business, design and engineering turned into a collaborative relationship. A walkthrough of some design cases where the use of user flows and service blueprints started a a conversation between the three roles and kept everyone on the same page along the ideation and implementation of different projects.
2:30 PM PST
Mandy Thao
Product Designer at Squarespace
Growing Mentorships by Design
Mentorship is a key part of any designer's journey. In this session, Mandy will share ways anyone can establish and grow valuable mentor relationships over time. Covering different approaches to mentorship in relation to connecting, documenting sessions, communicating change — and what's worked. This session is relevant to anyone looking to improve their approach to mentorship or simply learn about Mandy's perspective of the subject.
3:00 PM PST
Hoon Moon
Senior Designer at Google
Design System: From Pixel to Product & Brand Experience
Design System is a collection of design foundations, scalable elements, reusable patterns and guidelines that allow teams to design or develop products and collaborate with different teams to share and express the same brand experience to users. I'll walk you through what UX means from a Design System perspective and how small components can ultimately impact a company's brand value.
3:30 PM - 4:30 PM PST
End of day networking
Visit xdesignsummit.com for more details.