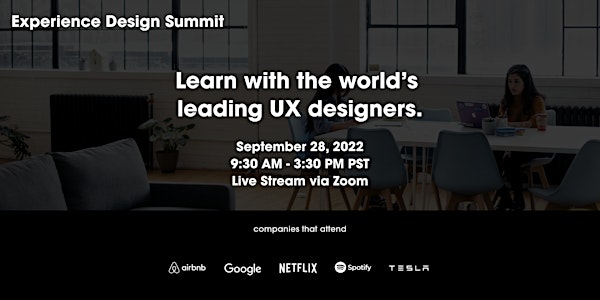 Experience Design Summit
Learn with the world's leading UX designers. Limited number of spots are available.
Refund Policy
Refunds up to 30 days before event
About this event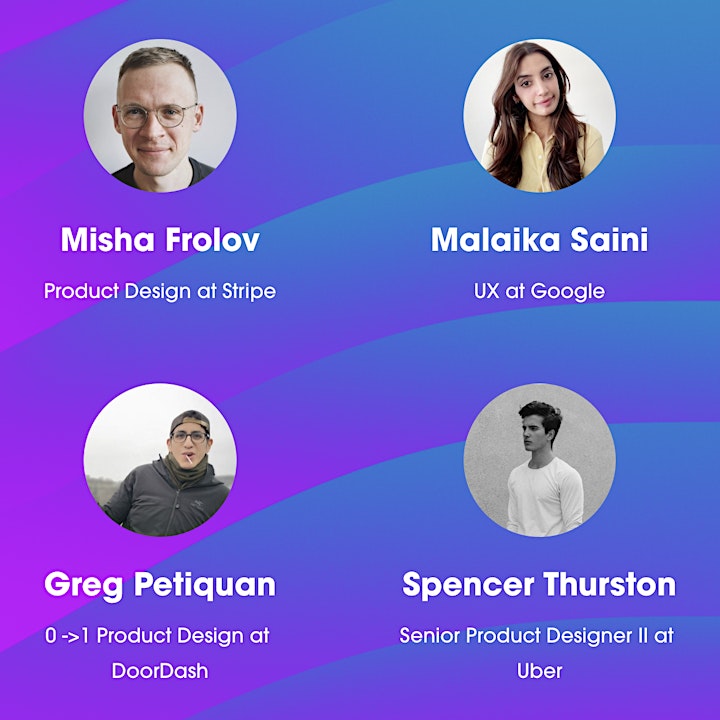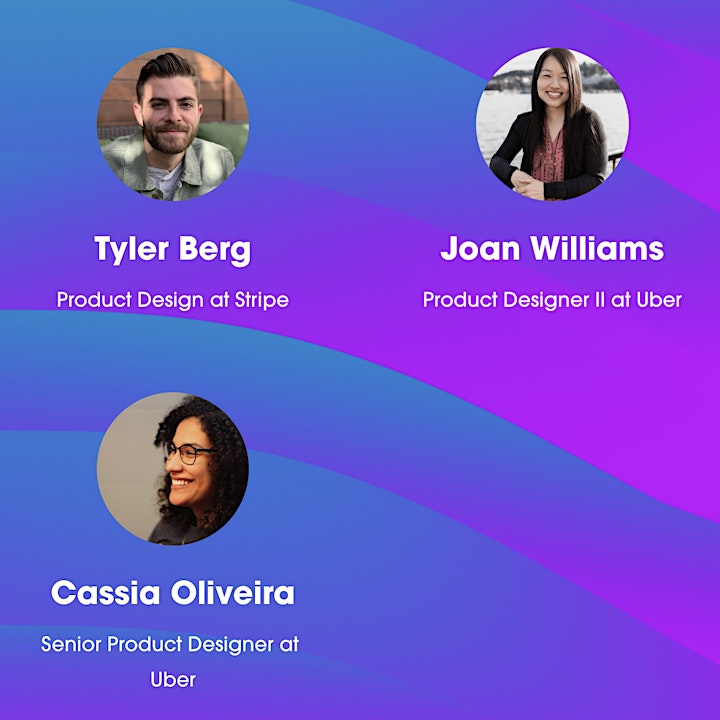 Why attend?
Are you interested in learning how to design extraordinary user experiences? We'd love to have you at Experience Design Summit. This is a one-day online conference where you'll get practical advice from some of the world's leading UX designers on how to make your users happy and how to become a great design leader. Get a view into design focused companies and learn about their design process, how they tackle problems, and important things that they've learned.
"Fantastic event! Hands down the best conference I've been to."
— Anna Sparrow, UNIVERIS
"Informative. Inspiring speakers. Great take aways."
— Ashley Hamilton, Demac Media
"Great opportunity to get insight into practices at companies."
— Shehzad Akbar, Architech
"Glad I took the leap and came to this event."
— Jack Lee, MDDT
Schedule
9:30 AM PST
Morning networking
10:00 AM PST
Malaika Saini
UX at Google
Good Storytelling in UX
How to present a project during an interview and how to strengthen good UX storytelling skills to pitch to your prospective employer's better.
10:30 AM PST
Greg Petiquan
0 ->1 Product Design at DoorDash
The Pursuit of Problems
We will dive into the number of problems facing many indigenous peoples here in Canada and how taking a design approach helped me narrow down to help with some of those issues.
11:00 AM PST
Joan Williams
Product Designer II at Uber
Bringing teams together and building community with user problems
With larger and larger organizations, scale often puts teams into silos. How do we break out of our silos and create momentum with relevant and adjacent teams to solve user problems together with design thinking? As a community organizer outside of work, I'll share how I combined my community building strategies with design thinking to get multiple teams and work streams to join forces and work together.
11:30 AM PST
Cassia Oliveira
Senior Product Designer at Uber
How working as a sous chef made me a better designer
In a complex world, with each person being unique, I find a lot of benefits in coming from a non-privileged background and being a neurodivergent (autistic) person when designing with a global team for a global product.
A lot of components were important to make me the designer I'm today and one of the experiences I found important is having worked as a sous chef in a restaurant for one year. I can see a lot of relation between these two worlds (the struggles, the processes, the excellence, and the interaction with people) and I want to share it with others.
12:00 PM PST - 1:00 PM PST
Networking Lunch
1:00 PM PST
Tyler Berg
Product Design at Stripe
Transitioning From Agency to Product
As a designer at an agency, making the decision to go in-house at a large product company can be a difficult one to make. If you're thinking of making the leap, what are some of the differences you should be aware of? How do you navigate the adjustment between the two worlds? In this session, I'll share some thoughts on how you can work through differences in scale and how to make the transition more efficient.
1:30 PM PST
Spencer Thurston
Senior Product Designer II at Uber
UXR for Designers
User research can be intimidating - but it doesn't have to be. In this session, you'll learn basic research principles, methodologies, & practical tips on how to build a process that allows your design team to consistently uncover impactful insights.
2:00 PM PST
Misha Frolov
Product Design at Stripe
In this talk I will share my experiences working at large companies vs. founding my own startup. Together, we will look at how seemingly unrelated skills had impacted my design practice.
2:30 PM PST - 3:30 PM PST
End of day networking
Visit xdesignsummit.com for more details.