Location
Trinity Nightclub
117 Yesler Way entrance
Seattle, WA 98104
Wizards and Witches grab your robes and wands and transport yourself to Seattle because the Expecto Bar Crawl will commence on Sep. 14th.
About this event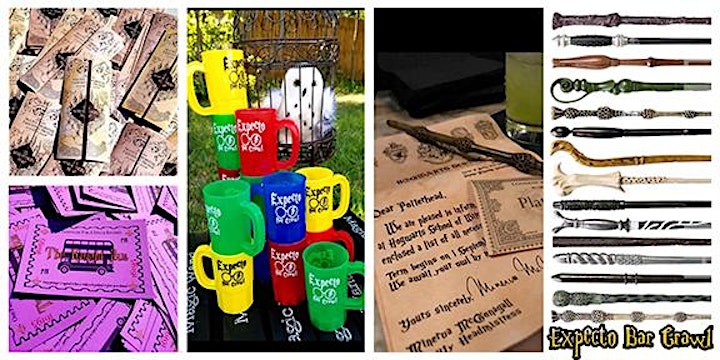 🔥We are combining Wizardry and booze for an utterly magical mixture that you won't want to miss!⚡️⚡️ALL NEW surprises and gifts! ACCIO BEER!!!🍺🍻
(🎟s are required if you are dressing up to gain bar entry)
Tickets Include:
🔮Magic Wizard Character Wand
🦉(NEW) Marauders Map
🔮(NEW) Purple Night Bus Ticket
🦉Themed drink specials during the crawl
🔮House Sorting Lanyard
🦉Acceptance Letter
🔮Exclusive beer stein souvenir cup
🦉No cover at participating locations.
🔮Hundreds of Wizards and Witches
🦉Wizard Sorting lanyard to ensure bar entry and drink specials. (Lanyards are required if you are dressing up to gain bar entry)
Participating Bars:
⚡️Trinity Nightclub
⚡️STAGE
⚡️Shawn O'Donnell's Irish Pub
⚡️Fuel Sports
⚡️Xtadium Lounge
🎯Check-in will be from 3:00pm to 4:00pm at Trinity 🎯
Tickets are mandatory in order to participate in the Bar Crawl 🍻
VOLUNTEERS NEEDED!! We're looking for a Wizard or Witch to help us during check-in! Help would be needed from 2pm-4:30pm! Volunteers would get a ticket refund and a Time Turner Necklace!
If you're interested in volunteering please email us at Expectobarcrawl@gmail.com and type "Seattle Volunteer" in the subject line🍻🍻⚡️⚡️
-------------------------------------
🔥🔥Please Note: Participating bars and specials are subject to change at the sole discretion of the bars and/or promoter.🔥🔥
Must be 21+ to participate. Don't drink and drive, arrange a designated driver, take public transportation or call a cab/Uber/Lift. 🚕🚕
-------------------------------------
Expecto Bar Crawl FAQ's
🦁Q: Do we have to dress up to participate in the bar crawl?
🐍A: No. Costumes are not required but we do encourage dressing up to enhance the experience. If you are dressing up a lanyard is required.
🦁Q: Can I join the bar crawl at any time?
🐍A: Guest check-in and bar crawl lanyards will only be handed out during the designated time. (Lanyards are required if you are dressing up to gain bar entry) If you are unable to pickup your lanyard during the designated time you may have a friend pick it up for you as long as they have your un-scanned ticket.
🦁Q: If for any reason I can't make it to the event, can I get a refund?
🐍A: No. All sales are final, rain or shine event. You can however transfer your ticket to another person by logging onto your Eventbrite and Editing your ticket.
-------------------------------------
🎗A portion or proceeds will be donated to the National Multiple Sclerosis Society🎗
"Multiple sclerosis is a complex disease of the central nervous system (brain, spinal cord, and optic nerves) characterized by relapses (neurological symptoms which appear rapidly but often improve over weeks or months), remissions and often progression of disability over time. MS is currently not a curable disease.
Learn more by visiting http://www.nationalmssociety.org/
Attention: This event is in no way affiliated with the Harry Potter franchise, J.K. Rowling, Warner Bros. Entertainment Inc. and/or any of their affiliates.