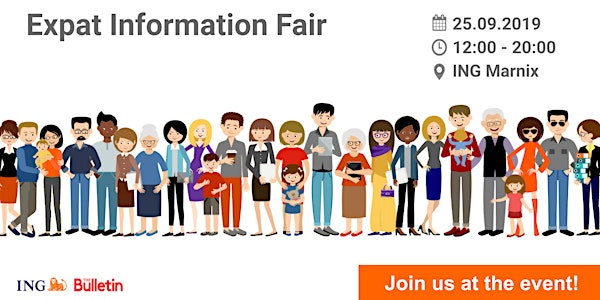 Expat Information Fair
By The Bulletin (Ackroyd Publications NV)
When and where
Date and time
Wednesday, September 25, 2019 · 12 - 8pm CEST
Location
ING - BRUXELLES MARNIX 24 Avenue Marnix 1000 Bruxelles Belgium
Description
The Bulletin and ING Belgium are delighted to invite you to the Expat Information Fair!
The day-long event features booths and workshops all geared towards getting settled, meeting people and learning more about Brussels and Belgium.
The event will take place on 25 September 2019 at ING Marnix, which is easily accessible from the Trône/Troon metro/bus stop.
Registrations start at 12:00, and from there visitors can enjoy free catering and drinks and become familiar with the various international clubs, associations, schools and service providers specifically geared to expats.
During the event you will be able to attend the workshops on the following topics:
1. Registration in Belgium and dealing with the administration
Anaïs Jouzdani, Commissioner Brussels - De Spot: 2 & 4 PM
2. Financial planning as an expat (investments, real estate, pension, estate planning):
Dave Deruytter, ING Belgium - De Spot: 3 & 5 PM
3. Starting your own business: legal and social aspects, taxation:
Hugues Thibault (Group S); Marianne Coenderaet / Olivier Grenson - Auditorium: 2 & 4 PM
4. How to spend your leisure time: sports, walks and tours, clubs and associations
Pannel discussion - Lead: Lisa Bradshow (The Bulletin)
Expat Club: Edgar Hütte, Tourism Flemish Brabant: Kristien Petrlic, HEBE Sports ASBL: Jean-Paul Judson, ICAB - International Citizens Alliance of Brussels: Chalks Coriette
Auditorium: 3 & 5 PM
5. Stress prevention, well-being for expats
CHS: Alice Mano, Art of Good Living (International coaches): Greet Selderslaghs, WBAW (Well-being Coaching): Sara Del Bene
Dils: 2 & 5 PM
And finally, the day closes with networking and a cocktail with several surprises!
Please register now for this free event.
See how the event went in the past years!
Disclaimer: by registering to this event you agree to give your name and email address to The Bulletin and ING Belgium for the purpose of contacting you about this event. By coming to our event you agree to be photographed and filmed for the purpose of event promotion and reporting.
About the organizer
The Bulletin: the portal for Belgium's expatriate community since 1962.
Find us on www.thebulletin.be !