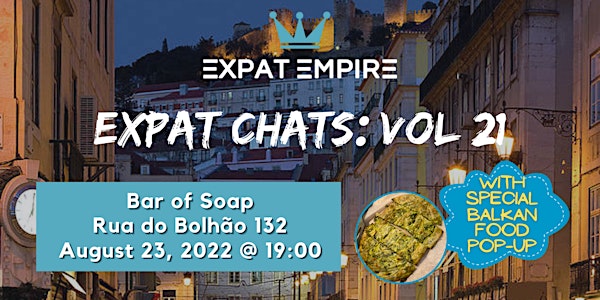 Expat Chats: Vol 21
We will meet to share our expat experiences in Portugal and around the world over drinks!
When and where
Location
Bar of Soap 132 Rua do Bolhāo 4000-456 Porto Portugal
About this event
Expat Empire Porto's Expat Chats Vol. 21 will be held on August 23, 2022, starting at 19:00. This event will be held at Bar of Soap (Rua do Bolhāo 132).
In addition to our usual sharing of expat experiences over drinks, we will also have a special Balkan food pop-up at this event, a savoury filled baked pastries made out of phyllo dough that are popular throughout the Balkans, a legacy of the Ottoman Empire. Be sure to arrive at the event on time to get your fill of Balkan food before they sell out!
Both veterans and first-timers, and expats and locals, are more than welcome! Hope to see you there!
Note: We will be following all governmental health guidelines in Portugal. All attendees will be expected to respect and comply with the rules. Please know that this is an in-person event and so you will be attending at your own risk.
===ABOUT EXPAT EMPIRE
Expat Empire is focused on inspiring people to move abroad and showing them how they can do it. Through individual consulting, courses, books, blogs, podcasts, meetup events, and more, Expat Empire provides the information, know-how, and personalized advice to help turn international dreams into reality for people living around the world!
Please visit our website at https://expatempire.com and download our FREE eBook Top 10 Tips for Moving Abroad!
If you want to show your support and appreciation for this group, please help us cover the cost of the organizer fees at https://bit.ly/ExpatEmpireDonation. Thank you for your help!