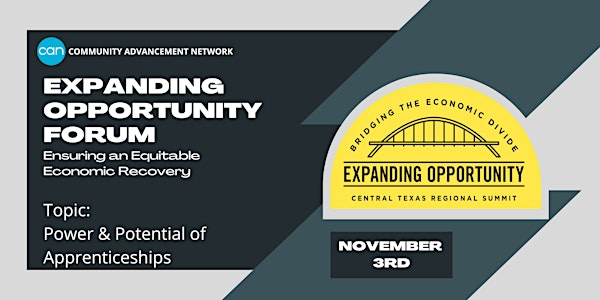 Expanding Opportunity Forum: Power & Potential of Apprenticeships
Expanding Opportunity Forums are focused on how our community can ensure and equitable economic recovery.
About this event
On November 5th, CAN hosted the Central Texas Expanding Opportunity Summit focused on topic "ensuring an equitable economic recovery." The summit touched on a variety of topics including the state of the current workforce, public private partnerships aimed at expanding access to economic opportunity and pathways to more inclusive growth. All topics could not be addressed in the half day summit, so CAN is holding these follow-up Expanding Opportunity Forums to have deeper conversations on critical issues and challenges pertaining to the economic recovery, building on the foundation established at the November 5th summit.
We've held three Expanding Opportunity Forums already this year covering Communities of Color and the Post-Pandemic Economic Recovery, Building a Family- Friendly Workplace, and Women and the Post Pandemic Economic Recovery. This Expanding Opportunity Forum will discuss apprenticeships and how they can help our community have an equitable economic recovery by highlighting successful apprenticeship programs in neighboring communities. Further details to come.
To view the panelists, their bios, and recordings of past Expanding Opportunity Forums visit https://canatx.org/initiatives/summit/
This forum will be VIRTUAL.