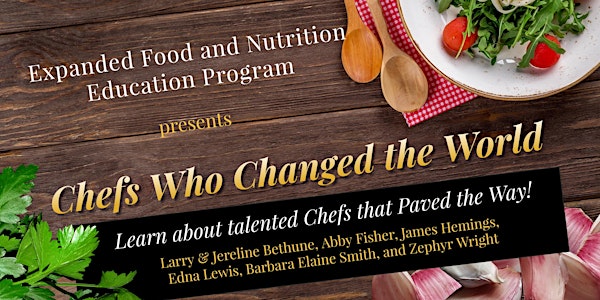 Expanded Food and Nutrition Education Chefs Who Changed the World
EFNEP Highlights African American Chefs that made a difference in the culinary community in recognition of Black History Month.
About this event
We are searching for 7 volunteers in the Granville, Vance, and Warren, Counties between the ages of 8-18 who enjoy working in the kitchen and would enjoy assisting with food demonstrations to register to help with this class. Each Thursday from 3:30 to 4:30 p.m. beginning January 21, 2021, through February 25, 2021.
You are what you eat...so each culinary representative will be asked to research their chef and prepare a healthy recipe that made their chef famous. They will teach others how to incorporate healthy eating habits while preparing their nutritious meal.
The food demonstration will be presented virtually to their peers while learning also about food safety, food resource management skills, and food security with Black History education.