Description
Dear Friends,
We are officially SOLD OUT for The Zen Party and Cacao Ceremony. But we will have another one soon! Please connect with us at www.ExpandtheLove.com and get on our newsletter to make sure you receive information about this and other heart opening events in south Florida.
Much Love to ALL xoxo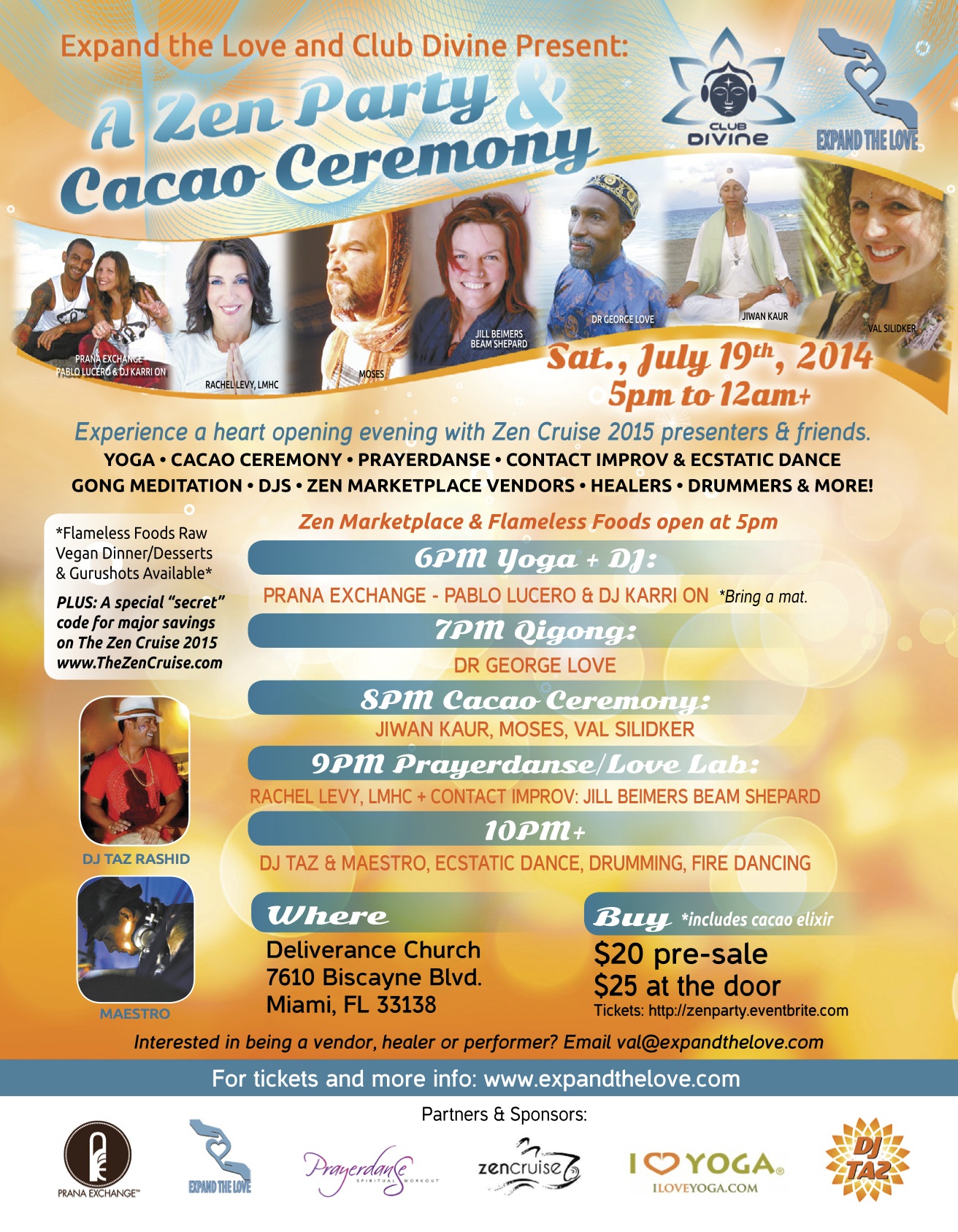 Expand the Love and Club Divine Present: A Zen Party & Cacao Ceremony

Saturday, July 19th, 2014
5pm to 1am+
Experience a heart opening evening with Zen Cruise 2015 presenters & friends.
Yoga, Cacao Ceremony, Prayerdanse, Contact Improv & Ecstatic Dance, Gong Meditation, DJs, Zen Marketplace Vendors, Healers, Drummers & More!
*Flameless Foods Raw Vegan Dinner/Desserts & Gurushots Available*
PLUS: A special "secret" code for major savings on The Zen Cruise 2015 www.TheZenCruise.com


Deliverance Church
7610 Biscayne Blvd
Miami, FL 33138
Cost: $20 pre-sale/$25 at the door *includes cacao elixir
Zen Marketplace & Flameless Foods open at 5pm
6pm Yoga + DJ: Prana Exchange- Pablo Lucero & DJ Karri On *BRING A MAT
7pm Qigong: Dr George Love
8pm Cacao Ceremony: Jiwan Kaur, Moses, Val Silidker
9pm Prayerdanse: Rachel Levy, Contact Improv: Jill Beimers Beam Shepard
10pm+ DJ Taz & Maestro, Ecstatic Dance, Drumming, Fire Dancing