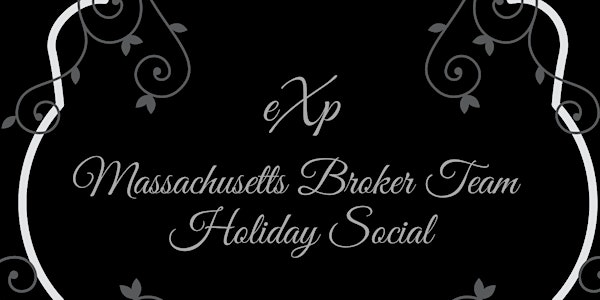 eXp Massachusetts Holiday Social
Please join us for our 2022 year-end celebration. Come meet your fellow Massachsetts agents and Broker Team!
When and where
Location
Framingham Country Club 16 Gates Street Framingham, MA 01702
Refund Policy
Contact the organizer to request a refund.
Eventbrite's fee is nonrefundable.
About this event
In Real Life Event Terms & Conditions
Acceptance of Terms & Conditions:
Thank you for registering for that eXp Realty event ("Event") indicated in the registration form to which these In Real Life Event Terms & Conditions ("Terms") are appended. These Terms apply to each attendee ("Attendee") participating in the Event, regardless of whether any Attendee's registration is submitted directly or by proxy. Depending on the type of event, certain terms below may not apply. Each Attendee's participation at the Event constitutes their irrevocable acknowledgment and acceptance of these Terms. Should any Attendee not accept these Terms, they should not participate in the Event.
eXp Realty reserves the right, in its sole and absolute discretion, to limit or deny access to any entity or individual for any time and for any reason, without refund.
Covid-19 Measures:
In the effort to mitigate the risks associated with Covid-19, Attendees must fully comply with all applicable Covid-19 rules and regulations, including but not limited to those promulgated by federal, state, county, and city authorities, and those promulgated by the Event venue.
Use of Personal Registration Information:
By registering for the Event, you grant eXp Realty the right to use your personal registration information, including your name and e-mail address, which eXp Realty may, in its sole discretion, provide or sell to event sponsors or other vendors for marketing or advertising purposes. If you do not wish your information to be provided or sold in this way, you may opt out by selecting the appropriate option during the registration process, or by contacting eXp Realty by email at ma.broker@exprealty.net. Please review eXp Realty's privacy notice by clicking here, which may be updated from time to time.
Liability Waiver & Release:
In consideration for being allowed to participate in the Event, you hereby warrant and represent that you (and any individual for whom you are registering as a proxy) are age 18 or above and that you (and each individual for whom you are registering as a proxy) freely and irrevocably waive, release from liability, assume all risks, covenant not to sue, and forever discharge, eXp World Holdings, Inc., each of its subsidiaries, and any of its or their respective members, managers, directors, officers, employees, independent contractors, agents, or volunteers, jointly and severally, for, from, and against, any and all demands, costs, claims, causes of action, liabilities, penalties, debts, obligations, fees, expenses, losses, damages, personal injury (including loss of life), illness (including but not limited to COVID-19), injury, disability, property damage, or property theft or actions of any kind that you (or any individual for whom you are registering as a proxy) may hereafter suffer or sustain before, during, or after the Event. You, and each individual for whom you are registering as a proxy, assume all risk and liability for your own respective actions and your own respective safety and security. This Liability Waiver and Release is specifically binding upon your heirs and assigns, and those of any individual for whom you are registering as a proxy) and is knowingly given. You further represent and warrant that you have the authority to provide eXp Realty with this waiver on behalf of any individual for whom you are registering as a proxy.
General:
eXp reserves the right to amend these Terms in its sole discretion and without prior notice. If one or more of the provisions in these Terms should become invalid, the remaining provisions will continue to be valid and apply. These Terms apply to all event participants (attendees, speakers, sponsors, exhibitors). The views expressed by any event attendee, speaker, exhibitor, or sponsor are not necessarily those of eXp Realty. All speakers, exhibitors, and sponsors are solely responsible for the content of all individual or corporation presentations, marketing collateral, and/or advertising.