Description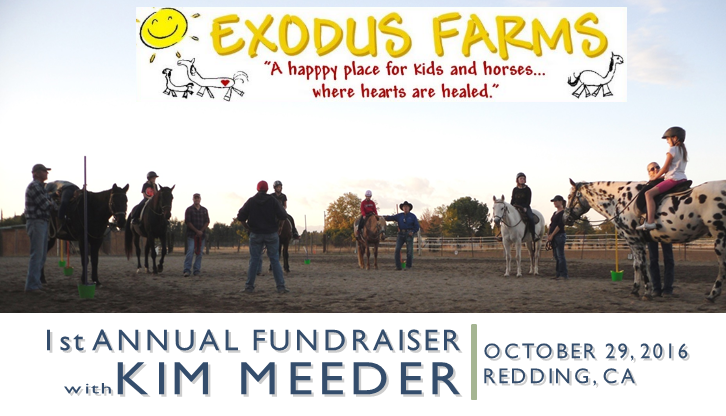 EVENT DETAILS:
Saturday, October 29, 2016
2:00 - 4:00 p.m. (doors open at 1:30 p.m.)
Redding Christian Fellowship
2157 Victor Ave., Redding, CA
Come hear Kim Meeder, author of Hope Rising and founder of Crystal Peaks Youth Ranch, as she shares inspiring stories about the healing power of horses in the lives of broken youth. Then learn what Exodus Farms Ministry is doing in our community each week in the lives of local youth and find ways you can get involved.

There is no charge to attend the event; please come as our guest! Opportunities will be presented on how you can get support Exodus Farms Ministry throughout the year.
ABOUT EXODUS FARMS MINISTRY

Exodus Farms Ministry operates (free of charge) in Anderson, CA as a program to help youths with broken lives rebuild their lives alongside horses that also need healing. Over 600 local youth and their families have been impacted already.

We found that what works best for children with broken hearts and broken lives also works miracles for discarded horses — unconditional love and acceptance, kind words and care, clear boundaries and a new found purpose for their lives. As the kids focus on 'healing and restoring' these unwanted horses, consistently their anger and bitterness melt away as they become more responsible for the care and re-purposing of Exodus' horses. Our purpose here at Exodus is to help all who come to move forward in their lives — out of old patterns of brokenness, abuse, loneliness, dependence or fear and into a new place of wholeness, healthy relationships, freedom, community and purpose as we teach horsemanship in a safe environment where they can experience love, peace, and a sense of family. The name Exodus was chosen because it symbolizes the journey from a life of captivity to a life of freedom through a relationship with God through His son Jesus Christ.
Find out more at: www.exodusfarms.org

Like our page! facebook.com/exodusfarms
ABOUT KIM MEEDER
Kim Meeder is the cofounder and director of Crystal Peaks Youth Ranch, an organization that rescues abused and dying horses and pairs them with children in need. Kim's first book, Hope Rising, propelled the ranch to win the national Jacqueline Kennedy Onassis Award and launched her extensive public/motivational speaking schedule at schools, churches, and governmental conferences across the United States. She and her husband, Troy, have been married for twenty-five years and live in Central Oregon. The size of their family fluctuates each year with the number of horses and kids that they rescue.
In 1993, Kim and Troy purchased the only piece of property in Central Oregon that they could afford: a nine-acre, abandoned cinder mine. The land was so completely ruined that no one else wanted it. Together, they began the rehabilitation process by collecting organic waste materials from neighboring ranches. For two years, the Meeders spread moldy hay, using stall shavings, and manure over the rocky floor of the mine to help create a nutritive base that would once again support life. Troy brought home broken and discarded trees, and in 1995, Kim brought home the first two broken and discarded horses. One had been starved to the point of near death, while the other had been beaten so badly that a vet was needed to suture her beautiful face. Shortly after the horse's rescue, children began to find their way to Troy and Kim's home. The kids came not for what they could get, but for what they could give. In their efforts to help the horses recover, something miraculous took place in the heart of each child. As they cared for the horses in need, healing began. Lives were being transformed by love. After witnessing a mute girl speak freely to one of the rescued mares, the need to build a ranch where horses and children could help each other heal became vitally clear. Watching this powerful redemption of children and horses inspired the Meeders to build Crystal Peaks Youth Ranch. Founded on hope, the ranch is a place where broken children, horses and families can find wholeness, belonging and trust. This richness is expressed through the healing embrace of God's unconditional love. Find out more at www.crystalpeaksyouthranch.org.

View a short video of one of Kim's stories at https://www.youtube.com/watch?v=-K0Gx4AAGQA.
THANK YOU TO OUR SPONSORS FOR MAKING THIS A FREE EVENT!