EXHIBITOR - Women Entrepreneur Summit 2021 #WESummitSB
Sales Have Ended
Ticket sales have ended
Thanks again for participating in the 3rd Annual Women Entrepreneur Summit. We ask all our attendees to take a few minutes to answer a market survey. This information is used to identify who is attending, if we are reaching our target market, helps us with sponsorships and grant awards which is critical to being a sustainable nonprofit organization. Please take a few minutes to take this quick survey. https://forms.gle/r3yrQm7JWdihdus69
Sales Have Ended
Ticket sales have ended
Thanks again for participating in the 3rd Annual Women Entrepreneur Summit. We ask all our attendees to take a few minutes to answer a market survey. This information is used to identify who is attending, if we are reaching our target market, helps us with sponsorships and grant awards which is critical to being a sustainable nonprofit organization. Please take a few minutes to take this quick survey. https://forms.gle/r3yrQm7JWdihdus69
4th Annual Women's Entrepreneur Summit - Round Tables for Success We are expecting 150 attendees 20 exhibitors #WESUMMIT
About this event
Vendor / Exhibitor space fee: $55 plus a registration ticket is $50 total price $105. If you have additional help at your booth an additional registration ticket will need to be purchased.
4thAnnual Women's Entrepreneur Summit, Wednesday, November 17th, 2021 Will be held at the Rio Park Events Center, South Bend, Indiana.
The summit activities will include:
set up 7:30 am
morning networking 8 – 10 am
summit conference 10 – 4 pm
after hours networking 4pm – 6 pm
take down 6 pm
The Business Spotlight Exhibitors / Vendors are encouraged make appointments and sell items at the event. The attendees will have access to your business during the event, before, and after.
ABOUT THE SUMMIT
This November 17th, 2021 the C2 Your Health Women's Initiative (501c3) aims to fix precisely that, by educating and empowering women to find success in business and fulfill the multiple roles in their lives. Round Tables for Success is the platform for aspiring women entrepreneurs to get inspiration, education and empowering advice by bringing together business leaders, entrepreneurs and investors to empower women in entrepreneurship, leadership and relationship. This year we are partnering with the international Women's Entrepreneurship Day organization including us in a global movement to positively impact poverty through women entrepreneurship.
This 6-hour Women's Entrepreneur Summit – Round Tables for Success includes multiple inspirational women entrepreneurs, panel discussion with Q & A, round table discussions and lunch. Topics such as scaling-up and growth strategies, next-generation innovation, and business strategies will be discussed, along with sharing inspiring stories by extraordinary women in our community. This is where women entrepreneurs and future entrepreneurs can gain insights, tips, and inspiration from other fellow women to be a better you, and how you can reach your goals without compromising your personal commitments.
RECORD YOUR BUSINESS SPOTLIGHT: You are welcome to send us a recorded a SNEAK PEEK of what you will be doing at the event and we will promote your brand.
COMPLETE THIS EXHIBIT FORM click here
MAKE MEANINGFUL CONNECTIONS: Before, during and after the conference will be available for meaningful connections. You will be able take advantage of all happenings at the summit as an attendee and exhibitor. Each exhibitor will receive an attendee list.
The summit is intended for professional networking, collaboration, open exchange of ideas, expression, information about products, services and retail sales is encouraged, recruiting in any form will not be permitted during this event.
PLUS EXHIBIT BONUS PERKS
1. You will receive a eBook copy of Self Marketing Handbook for Women Online and Offline (value $17)
2. You will receive a eBook copy of Supercharge Your Body (value $12.00)
3. Opportunity to have your business be seen on Women Entrepreneur TV Channel, Women Entrepreneur Mentoring Channel, Facebook, Twitter, Pinterest, Instagram social media channels, (14,000 impressions)
4. 1st 50 registrations will receive FREE MEMBERSHIP to #WomenMoveForward Entrepreneur Mentoring Membership Community. www.womenmoveforward.info
5. Automatically enrolled in a Grand Prize Drawing
www.WomensEntrepreneurshipSummit.org
You will receive email confirmation of the received application.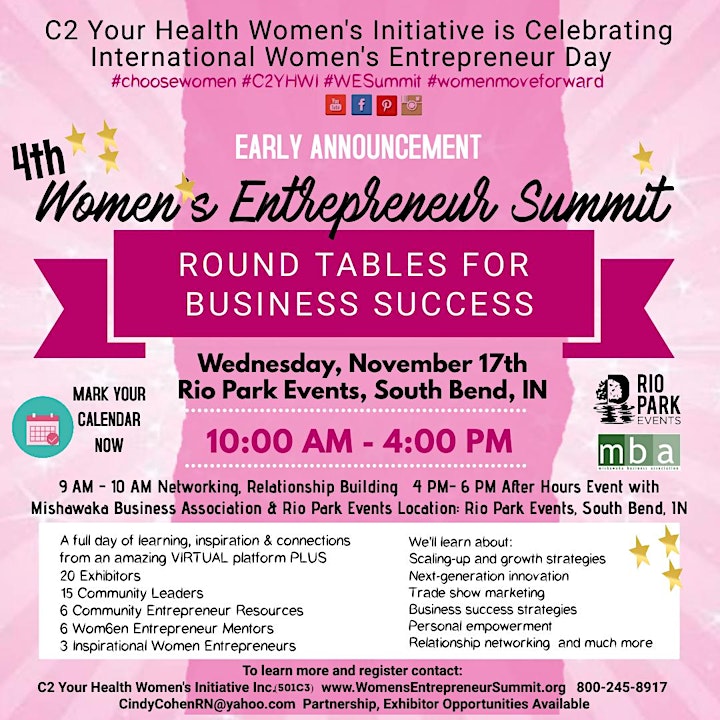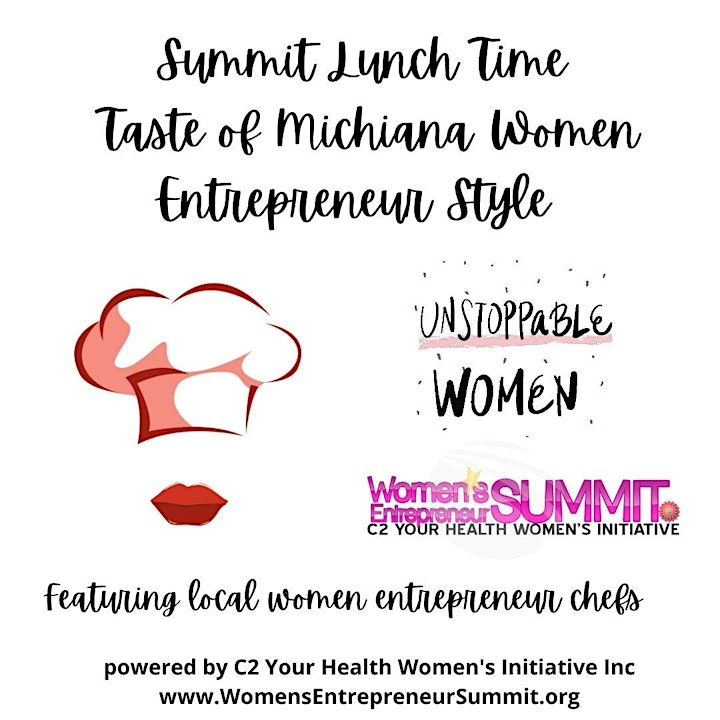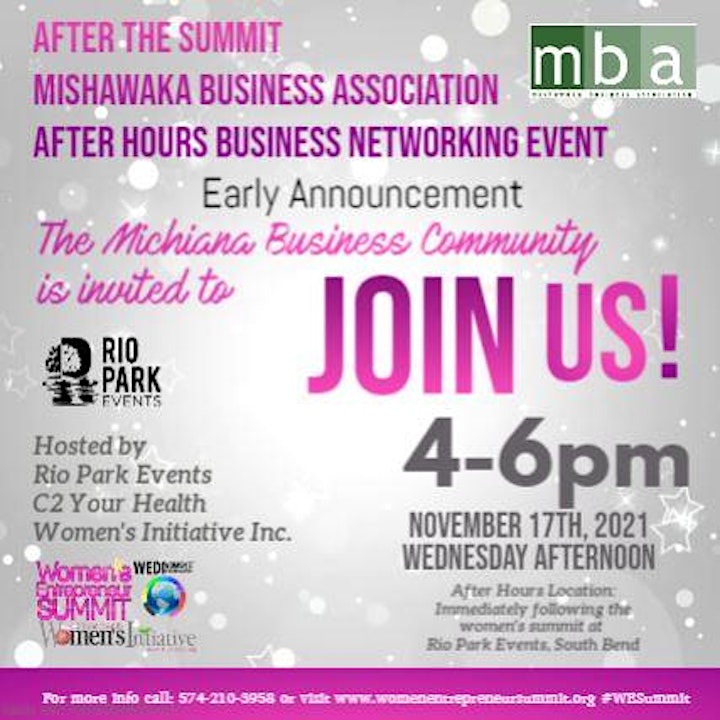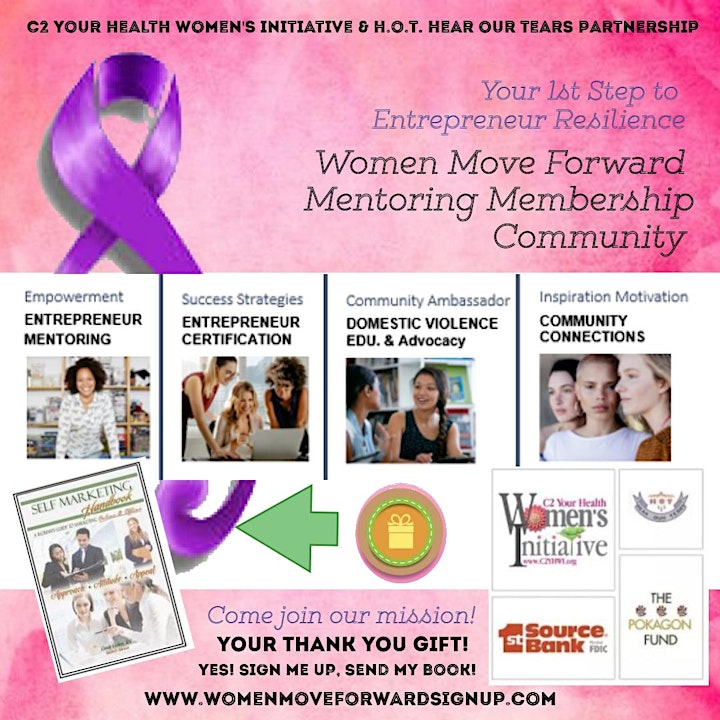 Organizer of EXHIBITOR - Women Entrepreneur Summit 2021 #WESummitSB
Through C2YHWI programming and services we connect aspiring, and seasoned micro-business women entrepreneurs to mentoring, role models, city, state, local, regional resources, education, and confidence building activities. Our goal is to help women become successful business owners, and economic stable entrepreneurs to be resilient during COVID-19 and beyond.
Volunteer opportunities: We are seeking women and men who have a hear for women entrepreneur small business owners, women seeking to escape from domestic violence through entrepreneurship who would love to mentor, support and assist the women entrepreneurs in our community of women.
Fundraising events: VIRTUAL Women's Entrepreneur Summit , LOCAL Community Advisory Board Meetings, LOCAL Women Entrepreneur HUB gatherings, Domestic Violence Awareness programming . We are seeking event sponsors, exhibitors, and scholarships for those who would not normally be able to attend due to limited financial resources. Find Women's Entrepreneur Summit on Facebook.
Mentoring memberships: Women Move Forward Entrepreneur Mentoring Community This is a new VIRTUAL women entrepreneur mentoring and certification program. Sign up in pre-launch for your free gift. Join us in our group Facebook Women Move Forward We are seeking community partners.
Women Entrepreneur Certification: The benefits of certification are: Gain a competitive edge, become more efficient, increase earning potential, expand knowledge and skills and build professional credibility.
Scholarship awards for women impacted by domestic violence seeking entrepreneur mentoring, women summit attendees, and entrepreneur memberships. Contact Cindy Cohen to learn how you can help by email CindyCohenRN@yahoo.com or voice mail 800-245-8917
Domestic Violence Advocacy, Education, Community Advisory programs in partnership with H.O.T Hear Our Tears click here