EXHIBITOR REGISTRATION for The 30th Annual CHEF of Alabama Homeschool Convention and Curriculum Fair

Friday, June 22, 2018 at 8:00 AM

-

Saturday, June 23, 2018 at 5:00 PM (CDT)
Event Details
Exhibitor Invitation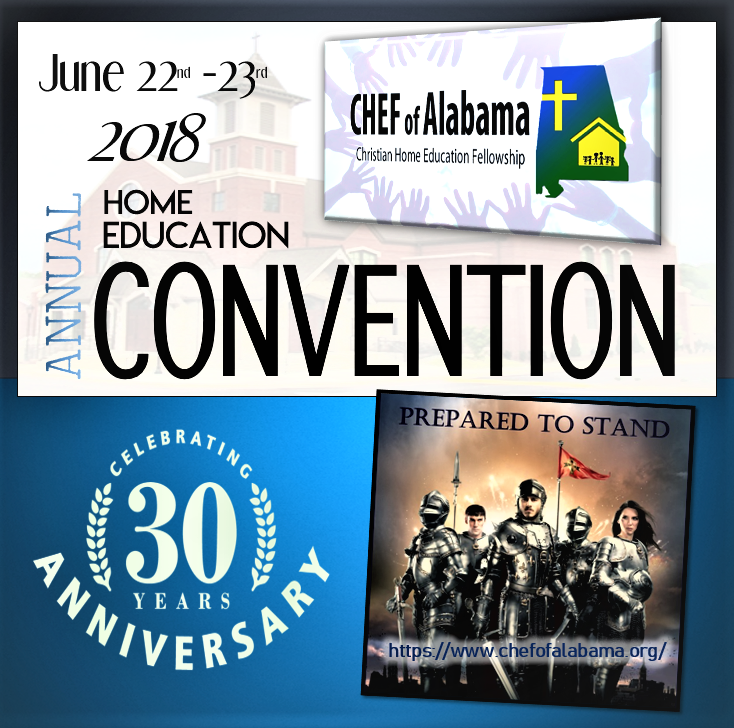 You are invited to submit a registration online to display and sell merchandise at the 30th Annual CHEF of AL Homeschool Convention & Curriculum Fair June 22-June 23, 2018.
The attached Vendor Information Packet has all the information needed to register, to sell your products, and minister to the home educators of Alabama and surrounding states.
Vendor Information Packet
The 30th Annual CHEF of Alabama Homeschool Convention & Curriculum Fair
"PREPARED TO STAND" 
Friday and Saturday, June 22-June 23, 2018
Friday, 8:00am-6:00pm;
 Saturday, 8:00am-5:00pm
Oak Mountain Presbyterian Church
5080 Cahaba Valley Trace
Birmingham, AL 35242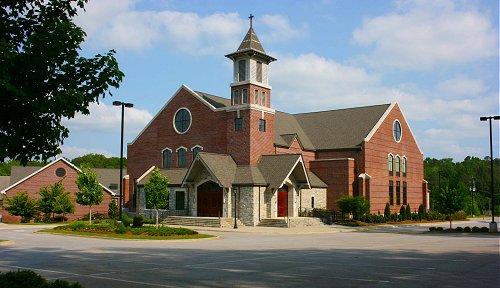 The CHEF Convention is a two-day event packed full of a variety of excellent speakers and workshops, an exhibit hall filled with curriculum providers, an exciting children's program and a teen track. For full convention information, visit www.chefofalabama.org
Where can I contact the organizer with 
questions?
If you have questions about Exhibitor registration, please contact
 Exhibit Hall Coordinator
 Barbie Whitefield
 205-306-6177
If you have any other questions, please contact
 Convention Coordinator
 Mark Holden
CHEF of AL Exhibit Hall Policies, Terms, and Conditions:
To display and sell merchandise at the CHEF Convention, you must agree to the following terms and conditions:
Arrival and set up is scheduled for Thursday, June 21, 2018 between 11 a.m. and 5 p.m.
Check-in with the Exhibit Hall Coordinator upon arrival for booth assignments.
Exhibit Hall Hours: (subject to change)
Friday, June 22 - 8:00 AM - 6:00 PM
Saturday, June 23 - 8:00 AM -5:00 PM
Exhibitors' booths will remain set up and available for business until the close of the Convention at 5 p.m., Saturday, June 23, 2018
You will have a booth space measuring 8' wide x 8' deep. Booth space will be supplied with an 8' back wall and 3' side dividers.  Each booth will also be equipped with one 6' skirted table, two chairs, one waste basket, and one ID sign.   You must display all your materials within your space, and you must stand or sit within your allotted booth space. You may not use the aisle for displays, signs, materials, or seating.
**If you need electricity for your booth, please mark it on the application form.
üYou may not share booth space with another exhibitor or display materials from another exhibitor (not normally in your product line) without our prior written approval. If you agree to hold materials for an attendee at your booth (after it has been paid for), you do so at your own risk. If you are a multi-level marketer, you may sell services and merchandise, but you may not under any circumstances recruit. You may not display signs, sign-up sheets, or any sort of publicity for business opportunities, home parties, or any other type of multi-level marketing. You may provide brochures and business cards for these activities only if specifically requested by an attendee. If we find that you have used the CHEF Convention Exhibit Hall to recruit for a multi-level marketing business, you will be asked to leave without a refund and you will not be invited to display at future CHEF conventions.
You will be given three exhibitor badges to gain admission to the Exhibit Hall and Convention. The badge covers admission to the exhibit hall for the entire convention. Badges may be used by different shifts of workers, but everyone working at a booth at any given time must wear a CHEF exhibitor badge. BADGES ARE REQUIRED WHEN ENTERING THE EXHIBIT HALL.
Children must be adequately supervised at all times. Children left wandering un-supervised throughout the facility will be returned to their parents or guardians, with risk of removal from the event.
Workshop space will be available in classrooms holding approximately thirty people. The rooms can be reserved for 45-minute time slots, for $50.  Please fill out the Vendor Workshop Request form and include with the application. We must receive your workshop title and description by May 20 to be included in the convention program. Please keep titles and descriptions brief.
A hospitality room with coffee and refreshments will be provided for the vendors. 
Internet service is provided to you free of charge.
ADVERTISING OPPORTUNITIES
Every family attending the Convention will be given the CONVENTION PROGRAM SCHEDULE. Advertising space is available in the Convention Program. This publication will be 8 1/2 inches by 11 inches, printed in black and white. You may advertise in this CHEF publication whether you do or do not attend.
CTo be included in the Convention Program, ads must reach us by May 15, 2018. On submission of your ad, we will acknowledge by email.
**Artwork Format: Electronic files are preferred. PDF, EPS, CDR (Corel Draw), WPD (WordPerfect) or Adobe are the best formats. We do not accept Word or MS Publisher files. If you have a file format other than these or have questions concerning compatibility issues, contact Mark Holden at markholden56@gmail.com.   When submitting ads in electronic format, please state in the email the name and type of file and provide the contact name and telephone number in case we have questions.  Please fill out the Convention Program Advertising form and include with your application.
Plastic bags filled with fliers, catalogs, and brochures will be distributed to attendees as they arrive at the Convention. These bags represent an excellent opportunity for you to get your advertisements into the hands of interested parents. Contact the exhibit hall coordinator for instructions.
**We will notify you via e-mail of any new advertisement opportunities that may develop after you register.
SALES TAX
You are responsible for collection and payment of sales tax to Shelby County, and the State of Alabama. CHEF will provide more information concerning taxes prior to the convention.
APPLICATION/DEADLINES/CANCELLATION
You are invited to apply to exhibit and sell merchandise at the 2018 CHEF of AL Convention. Application and fee does not guarantee CHEF's approval to display. Please include a brief description of your products and services so the benefit of your products and/or services to home educators can be determined. The application responses must be typed or legibly printed. If we find reason to deny your application. If we are full, your company's name will be placed on a waiting list and you will be notified of any cancellations. Please complete, sign, and return the application along with full payment. We will not deposit your check until your application has been accepted. By sending in the application, you are agreeing to the conditions and rules stated.
Exhibitor applications postmarked before March 31, 2018, receive the regular booth fees. After March 31, 2018, a late fee of $50 per booth will apply.
**Cancellations after March 31, 2018, will not be refunded. Cancellations prior to March 31, 2018 will be assessed a $25.00 processing fee.
ADDITIONAL INFORMATION   *You do not have to subscribe to CHEF's statement of faith. However, no merchandise may be offered to our Convention attendees that promotes or encourages values and worldviews that conflict with our statement of faith or would be offensive to Christian home educators. We will not approve merchandise that contains depictions of occult images or materials, new age philosophies, evolution, secular humanism, values clarification curriculum, multi-cultural curriculum (promoting lifestyles contrary to the biblical interpretation), fantasy or role-playing games or curriculum, or any material that demeans the Bible, Christianity, or Christian values, or presents these as untrue or one among many equal religions. CHEF reserves the right, at the Convention, to exclude specific items or entire displays which, in CHEF's opinion, would be inappropriate for display. Exhibitors who refuse to remove items deemed inappropriate by CHEF will be asked to leave without a refund. Participation at the Convention implies you understand and agree to these conditions and releases CHEF from any financial or other liability related to such exclusion.
If you send representatives in your place, it is your responsibility to make sure they understand all these policies.

A website link will be posted on CHEF of AL website at 

www.chefofalabama.org

  for all approved vendors.

For new exhibitors please enclose a detailed and accurate description of 

your complete line of product(s) or service(s) and a company brochure or catalog.

Space is limited, so please don't delay with your application.

Hotel information and lunch arrangements will be emailed to you closer to convention time.

You may also apply on our 

website

. You can find a printable PDF version of this exhibitor invite/info packet there as well.

 Thanks... We hope to see you there!
Have questions about EXHIBITOR REGISTRATION for The 30th Annual CHEF of Alabama Homeschool Convention and Curriculum Fair?
Contact CHEF of Alabama
When & Where

Oak Mountain Presbyterian Church
5080 Cahaba Valley Trace
Birmingham, AL 35242


Friday, June 22, 2018 at 8:00 AM

-

Saturday, June 23, 2018 at 5:00 PM (CDT)
Add to my calendar
Organizer
Alabama's Homeschool State Organization   
Encourage, Inspire, Equip
Christian Home Education Fellowship (CHEF) of Alabama exists to promote and encourage Christian home education for the glory of God. Whether you are considering homeschooling, just beginning your homeschooling journey, or are a veteran homeschooling parent, our goal is to encourage, inspire, and equip you.