Exhibitor Registration - Bellies, Birth & Babies Expo- April 10, 2013

Wednesday, April 10, 2013 from 6:30 PM to 8:30 PM (PDT)
Event Details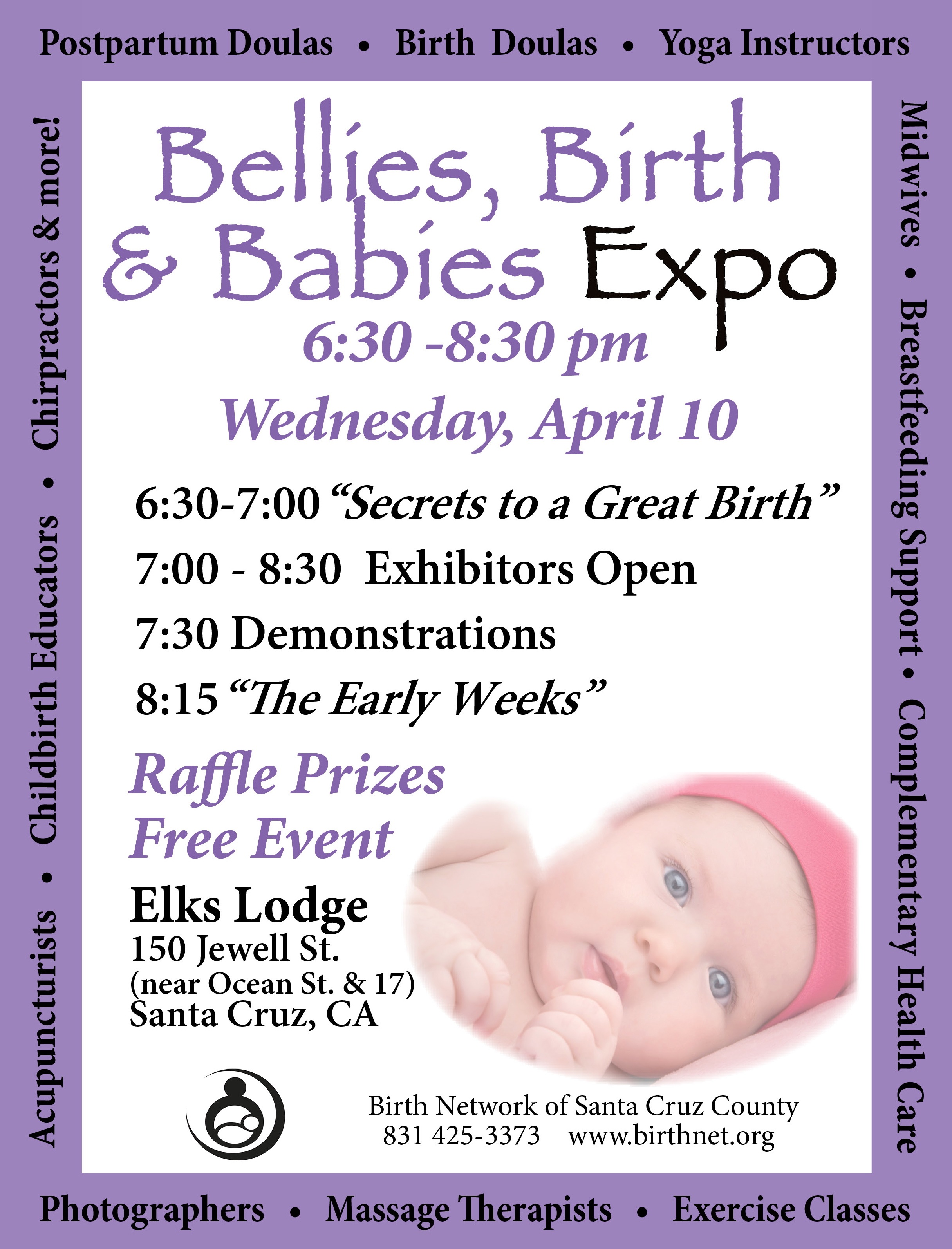 New Day • New Location • New Energy & New Time:
6:30 -8:30!

Bellies, Birth & Babies Expo

Wednesday April 10, 2013

Location: Elks Lodge,
150 Jewel St. Santa Cruz  
(just blocks from Ocean & 17)
Expectant and new parents can click here for free tickets to this event. 
More advertising - More attendees in 2013.  Contact birthnetwork for more postcards or larger posters. Exhibitors, market your services to pregnant women and their partners and families. Help Birth Network of Santa Cruz support Mother-Friendly Childbirth. Be a part of the Bellies, Birth and Babies Expo!
~ We are now offering a pre-Expo discussion entitled "Secrets to a Great Birth," which will begin at 6:30. Exhibitors are welcome to join the discussion after they arrive and set-up. The exhibits will open up at 7pm and will now close at 8:30. 
~A second discussion will take place at 8:15 "The Early Weeks" focused on life with a newborn
~There will be a short demo for parents at 7:30


~ Please note that all exhibitors must be registered for the event, even if there are two people at a table.
There's lots of room at the Elk's lodge. The table layout includes: full six foot tables for those who wish more space and independance; or, for those looking for less table space, sharing half an eight foot table is the other option.  

Please use the pay online option if at all possible.  If you must pay with a check at the door, please go to the bottom of the registration page and select "show other options", then select "pay at the door." Please note: if you have chosen to pay at the door, you must arrive and pay by 6:30 pm or your table may be forfeited. 

Set up begins at 6pm. The exhibitor registration table will be taken down at 6:45pm.
• Please be checked-in and set up 6:45
• Any standing displays must have a neutral back, as the back of your display may be featured in the display area of the table behind you. 
• There is electricity available at some, but not all of the tables.   If electricity is important to you, be sure to arrive early (first come first served.)
• Please plan to stay until 8:30pm.  
• No food is allowed in the expo room.
• There are tablecloths on all the tables
• Park farther back in the parking lot. Please leave the closer spots for pregnant women.  You can park close to unload your car, then move it.

Registration fee will be carried over to the next expo if you are unable to make it due to attending a birth. Thank you for registering online!

All exhibitors must be familiar with and supportive of the Mother-Friendly Childbirth Initiative (MFCI), incuding endorsement of the document.  Please go to MFCI to read and endorse the MFCI.

Registration will end at 6pm on the night before the Expo. (Tuesday Jan. 29)
Please note: You must be a current member (2013-2014) to recieve the Professional member price! To update your membership status please go to http://birthnet.org/enter.php
When & Where

Elks Lodge
150 Jewell Street
Santa Cruz, CA 95060


Wednesday, April 10, 2013 from 6:30 PM to 8:30 PM (PDT)
Add to my calendar