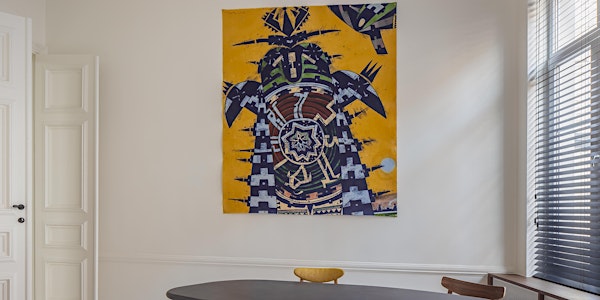 Exhibition "Unbearable lightness" in an apartment in the centre of Ghent
Location
Mageleinstraat 4
4 Mageleinstraat
9000 Gent
Belgium
Second Off-site exhibition by The Nomadic Art Gallery in Ghent
About this event
NL
"Ondraaglijke lichtheid" is de tweede off-site tentoonstelling van de in Leuven gebaseerde The Nomadic Art Gallery in een appartement in het centrum van Gent.
Als galerie vertegenwoordigen wij voornamelijk kunstenaars van Aotearoa (Nieuw-Zeeland) en dat telkens op veranderende locaties doorheen België.
Deze tentoonstelling brengt het werk van gereputeerde kunstenaars Philip Trusttum en James Robinson samen met Street Art Fenomeen Milarky en opkomende kunstenaars Marcus Hipa en Merijn Verhelst.
Opening Zondag 5 Juni Mei: 13-18h
Daarna open op afspraak
*foto gemaakt door Cafeine
Over The Nomadic Art Gallery
The Nomadic Art Gallery, opgericht in 2020 door Arthur Buerms en zijn jarenlange partner Gie, is een galerie voor hedendaagse kunst en een openbaar kunst- en onderzoeksproject dat momenteel gevestigd is in Leuven, België. Voortbouwend op een cyclisch model dat geworteld is in de notie van nomadisme, ontvouwt het initiatief zich in twee afwisselende fasen. De eerste is een onderdompeling in een ondervertegenwoordigde kunstscene, waarbij Buerms en Gie een mobiel voertuig inzetten om onderzoek te doen op de gegeven locatie, wat uiteindelijk een openbaar kunstproject wordt. De tweede fase speelt zich af in transitionele en onconventionele galerijruimte(s) - een tijdelijke locatie in Europa die verandert met elke tentoongestelde kunstscène en waar het duo een dialoog op gang brengt tussen hun onderzoek en de Europese hedendaagse kunstscène, via een programma van zowel fysieke als online tentoonstellingen.
ENG
"Unbearable Lightness" is the second off-site exhibition of the Leuven-based "The Nomadic Art Gallery" in an apartment in the centre of Ghent.
As a gallery, we primarily represent artists from Aotearoa (New Zealand) and do so in changing locations throughout Belgium.
This exhibition brings together the work of renowned artists Philip Trusttum and James Robinson with Street Art phenomenon Milarky and emerging artists Marcus Hipa and Merijn Verhelst.
Opening Sunday 5 June : 1-6pm
Afterwards open by appointment
*Photograph taken by Cafeine
About The Nomadic Art Gallery
Founded in 2020 by Arthur Buerms and long-time partner Gie, The Nomadic Art Gallery is a contemporary art gallery and public art and research project currently based in Leuven, Belgium. Building on a cyclical model rooted in the notion of nomadism, the initiative unfolds through two alternating phases. The first is an in-situ immersion within an underrepresented art scene, during which Buerms and Gie invest a mobile vehicle to conduct research in the given location, the latter ultimately becoming a public art project. The second phase is set in a transitional gallery space - a temporary location in Europe which changes with each showcased art scene and where the duo initiates a dialogue between their research and the European contemporary art scene, through a program of both physical and online exhibitions.