EXHIBITION MAGISTER RAFFAELLO 2022
The Embassy of Italy and the Italian Cultural Institute present a Video Art Installation MAGISTER RAFFAELLO 25 February - 31 March 2022
When and where
Location
Ciputra Artpreneur Gallery Retail Podium 11th Floor, Jl. Prof. DR. Satrio Kav. 3-5, Ciputra World 1, Kuningan, Jakarta Selatan Kecamatan Setiabudi, Daerah Khusus Ibukota Jakarta 12940 Indonesia
About this event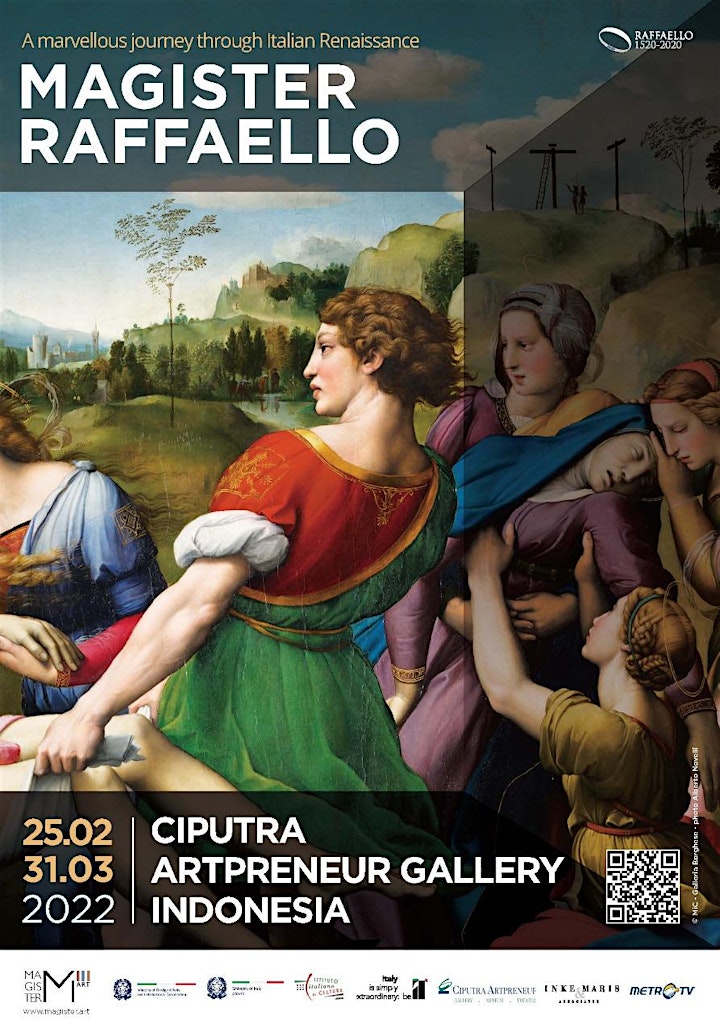 In commemoration of the 500th anniversary of the death of the eminent maestro, Raphael, the Italian Embassy, and the Italian Cultural Center in Jakarta will hold a Video Art Installation Exhibition entitled 'Magister Raffaello'.
Raffaello's Master was presented to the international public after a long and unprecedented preparation. This exhibition is designed as a journey through contemporary spaces that evoke history and the places where the Maestro lives and works.
Visiting hours
Tuesday to Sunday 11.00-20.00 (Mondays closed)
Each day has six sessions:
Session 1: 11.00-12.00 (max. 30 visitors)
Session 2: 12.30 - 13.30 (max. 30 visitors)
Session 3: 14.00 - 15.00 (max. 30 visitors)
Session 4: 15.30 - 16.30 (max. 30 visitors)
Session 5: 17.00 - 18.00 (max. 30 visitors)
Session 6: 18.30 - 20.00 (max. 30 visitors)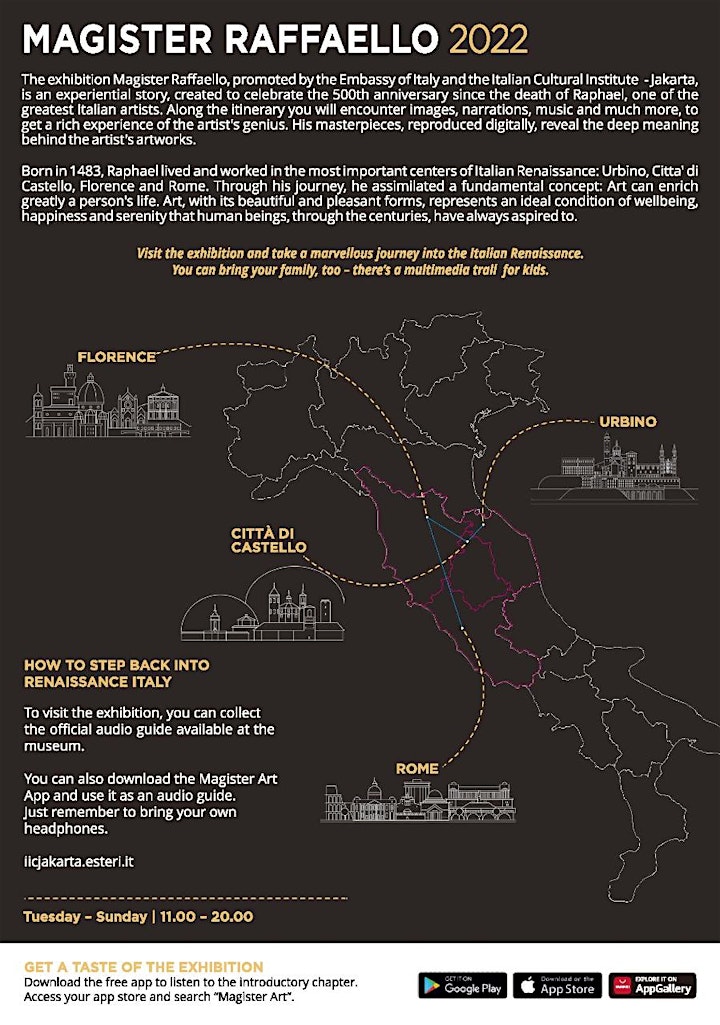 IMPORTANT INFORMATION
1. Visitors must show 2 dose (requirement) and 3 dose (if done) vaccine certificates through PeduliLindungi App at the entrance of the exhibition.
2. Children below 12 years old must be accompanied by adults.
3. The exhibition can be explored using the dedicated app MAGISTER ART. The App can be downloaded from Play Store and App Store.
4. Due to health protocols, visitors are invited to bring personal smartphones and earphones/headsets in order to have a comfortable and secure during the visit.